VERY CONCERNING NEWS: What does new BAN ON CRYPTO means for Nigerian users?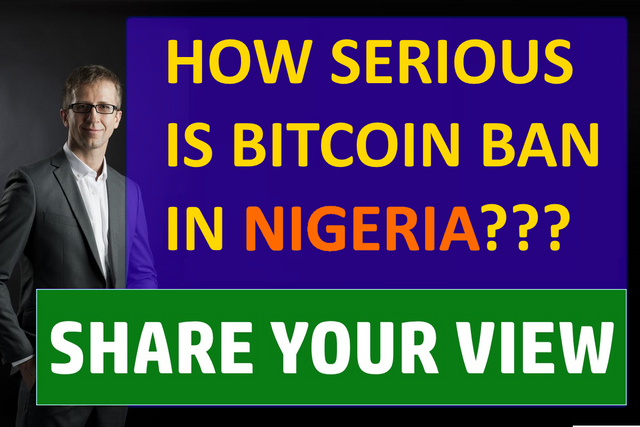 INTRODUCTION

I started a day the way I pretty much always do. Some morning pushups, a cup of hot tea, and right away I would open discord to see who wrote to me while I've been asleep. And no one else, but my friend @eloghosa wrote to me quite an interesting news. One that may be the reason for concern to many Steemit users. Especially those from Nigeria:
The government over here has just announced plans to ban all accounts involved in cryptocurrency. They didn't even give any notice. Just wake up one day and ban crypto during a bull run
Today I would like to discuss this topic and learn more from people, who are directly affected by it.
CRYPTO BANNED IN NIGERIA (?)

I must admit, that I found it quite shocking to learn about it and I instantly googled that topic. Truth is - with the current amount of fake news available online, I found it still difficult to figure out how real is this unfortunate announcement. I wonder if mass media exaggerated this ban, hoping to get more attention to their articles. I wonder how real is this issue and how will it affect some of our Project.hope community members.
This is very concerning to read headlines like the one below:
"The Central Bank of Nigeria, today, announced a sweeping ban on cryptocurrency purchase and trading in the country."
(source: https://www.benjamindada.com/cbn-nigeria-ban-crypto/)
In this article, the author asked a very good question. One that many people out there will be asking themselves today. One that I would like to ask here, hoping that some of those affected the most (our Nigerian community members) will be able to answer:
"What CBN's new ban on crypto means for Nigerian users and the local industry"
HOW CAN YOU BE AFFECTED?

I've been on Steemit for a couple of years and I've met quite a number of honest and amazing users from Nigeria, whom I've learned to value and respect. Some of them are part of our Project.hope the community and many of them put so much effort to grow their accounts. Some are relying on their crypto earnings to cover part of their live expenses.
Could you, dear readers, share your thoughts about this issue? Do you fear that it will affect you one way or another? Is it only illegal to trade crypto to FIAT and another way around? Or is the fact of having an account on Steemit (with some STEEM tokens in our wallets) also a threat?
Allow me to quote one more sentence from the above article, which seems to summarize the current state of things quite well:
It is also a reminder of the high-handed nature of the current administration as regards regulatory practices - no warnings no discussions, just punitive measures.
It is hard not to have an impression, that most regulators do not seem to care about businesses and lives they are often destroying by implementing rapid and strict changes. Sometimes I wonder, why their work is not regulated. Why they seem to be above the law ...
RESTEEM AND SHARE YOUR VIEW

I would obviously appreciate every single RESTEEM, which would help this publication get better exposure. And definitely, I would be glad to read all your valuable comments. I do read them all.


Yours, Piotr
@project.hope founder

cc:
@josediccus,
@empato365,
@davonicera,
@nicholasilechie,
@tfame3865,
@joetunex,
@antigenx,
@acheever,
@focygray,
@xturna,
@gbenga,
@amec,
@solcross,
@idrix,
@danielwrites,
@uyobong,
@hardaeborla,
@jodekss,
@maxijgcomm,
@ogt,
@pangoli,
@ulqu3,
@gandhibaba,
@ketcom,
@deeclown,
@kryptarion,
@iamchijamz,
@straighttalk,
@belemo,
@maduprecious,
@afolwalex,
@paramimd,
@kingtamarah,
@fasholamaxwell,
@maxiemoses-eu,
@amikable,
@uraniumdavid,
@richardgerald,
@aremuadekunle,
@gponsard,
@sandraodozi,
@nigerian-yogagal,
@benie111,
@lebey1,
@menoski,
@adesojisouljay,
@valchiz,
@samminator,
@tolustx,
@tomlee,
@joelagbo,
@bhoa,
@everyoung,
@futurekr,
@eni-ola,
@ben-edom,
@ojerinde,
@busted1,
@chensuccess,
@michaeljerry0,
@sholly1,
@thekachi,
@gifxlove,
@jehoshua-shey,
@churchangel,
@mandate,
@doppley,
@josepha ,
@kenny-writes,
@taiwo-writes,
@mato445,
@mccoy02,
@oredebby,
@great-a,
@focusnow,
@gamsam,
@deathcross,
@eloghosa