Perfect example of Bitcoin MARKET MANIPULATION - how to spot and avoid it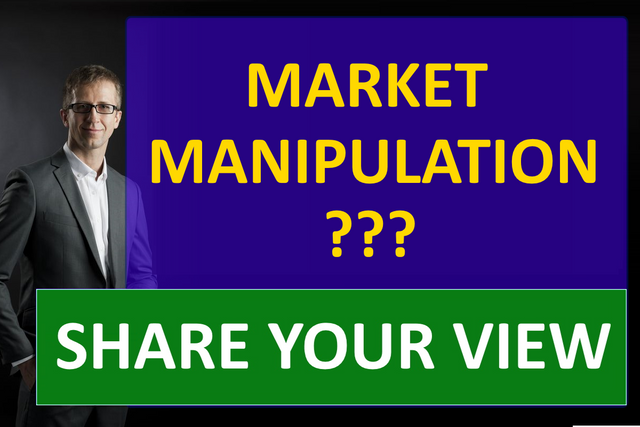 INTRODUCTION

For many of us, it's not rocket science to know that crypto markets are greatly manipulated. It is easily possible for a few major reasons. For example, the lack of laws and regulations "protecting" investors from such manipulations is definitely one. Another fact is that this is still a small market in which most Bitcoins are not even stored on exchanges (instead are being often held on cold wallets) which in turn results with quite low liquidity.
And that is making it much easier for market makers to move the price of BTC in any direction.
I believe that yesterday we witnessed one such perfect example of market manipulation and today I would like to discuss this topic. I hope that more people would learn how to spot such manipulations and figure out how to protect themselves from falling into bull/bear traps. Which are often set up by those market makers.
WHAT HAPPENED YESTERDAY?

I wonder how many of you noticed the very strange BTC price and volume action which took place yesterday. A friend of mine pointed this out (respect to you Rene) and asked me about my opinion and my own short-term expectations.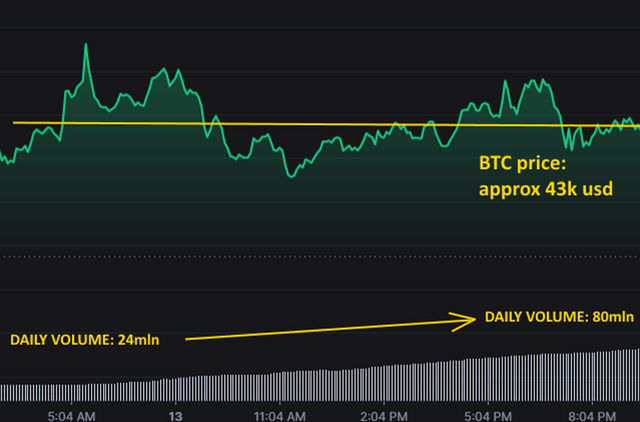 To understand what happened, please check out the graph above.
Do you see anything unusual? Let me give you a hint. Pay attention to growing trading volumes.
Daily BTC trading volume rose within just several hours from 24mln all the way to 80mln, which is quite MASSIVE. Such daily volumes hardly ever happened last year, even during the best times of the current "bull run".
What is even more surprising is the lack of price movement. It's pretty much STAGNANT. Shouldn't it ring some sort of alarm bell already?
MY FRIEND QUESTION made me wonder

My friend, who is pretty new to the crypto space asked me how would I interpret that BTC price/volume action? Initially we both seemed to think of it as something positive and we wondered if that may be a sign of a growing demand.
However, things didn't add up in my head.
In such an uncertain time (as we've been going through since the beginning of 2022) appetite for risk is usually low. Investors not knowing what to expect are often just patiently waiting on the sidelines. Uncertainty is something that makes us all quite uncomfortable and buying/selling during such moments are usually lower than average.
So I wondered: how is it possible that volumes grow to such high levels without pushing prices in either direction. Neither up or down?
SEEKING ANSWERS

The only solution I could come up with which could explain the steadily growing trading volumes (without any sort of price movement) is one: MARKET MANIPULATION.
After all, I can imagine volumes rising which would be caused by some extra selling pressure or buying demand coming out of nowhere.
But if volumes almost trippled and price didn't move, then both demand and selling pressure must have been rising AT THE SAME SPEED.
So ...
considering current uncertain times - I found it very unlikely to happen. What would the possible scenario be? That buying and selling pressure would grow almost 3 times within several hours in similar fashion.
That both demand (buyers) and supply (sellers) would be growing within similar speed. Without having an impact on the price? (almost like changing same hands back and forth).
MARKET MANIPULATION?

That sounded to me like a clear manipulation. Someone was simply buying and selling from himself/herself. Which didn't really cause prices to move, but it surely increased trading volumes and encouraged some investors to get bullish and become victims of such a manipulation.
I myself felt very tempted to open new positions. Luckily, I decided that I smelt "bull trap" and I closed a few positions instead. Taking profits wherever I could and preparing for a potential downturn.
HOW DID IT ALL END?

If you're curious on how it all ends, then check out my comment below :)
RESTEEM AND SHARE YOUR VIEW

I would obviously appreciate every resteem and I will read every comment. So please, share your thoughts with me :)
Yours, @crypto.piotr
@project.hope founder
check out our community: https://hive.blog/trending/hive-175254