HIGH APY - does it make you EXCITED or discourage you from investing in DeFi Projects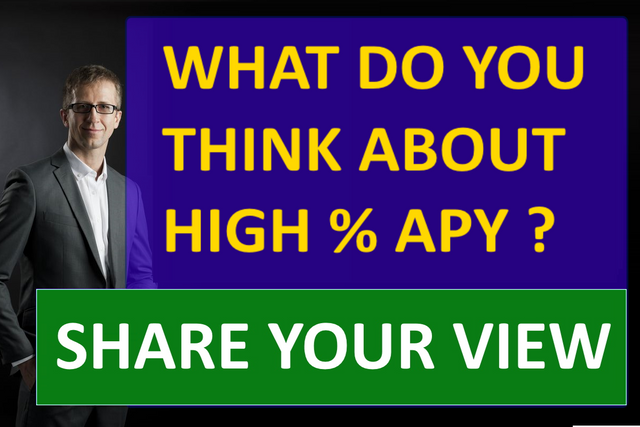 INTRODUCTION

Last year, I've been partly involved in the process of launching a few projects built on top of blockchain technology. Two of them were DeFi pancakeswap fork built on different chains (one on top of BSC - Binance Smart Chain, other one used TRON network). During that time, I've tried to learn reasons for why some of them were successful while others were total failures.
I then quickly learned that most of those projects seemed to be providing early investors with absolutely high APY (annual percentage yield) and I know that many people are excited to see huge APYs, however I have my concerns. Concerns which I would like to share with you.
Today, I would like to learn what emotions and approaches you have to similar projects. The ones which are offering very high returns for those who join early. I would obviously share my own personal view as well, which you may use as a point of reference for the discussion.
MY LINE OF THINKING

My own experience within a few DeFi projects has taught me that pretty much all of them are offering high returns for early supporters and those who provide liquidity into the pool. I do understand the idea behind it; offering high APY is a great marketing tool, which allows to build more HYPE around the project and attract greater attention.
However, my strong impression is that it mostly attracts investors who only care about quick gains. They often do not care about the future of the project and do not think about providing long-term financial support. They will provide liquidity or stake tokens only to enjoy extremely high initial rewards and they will then dump most of it on the market. Crashing token prices.
The moment when the entire process is not profitable any more - they will just pull out the remaining of their funds and look for another opportunity.
Isn't that an impression you also may have? How many DeFi projects did we see, which followed that footpath?
Unwanted consequences
How does offering high APY affect long-term supporters? How would they potentially look at such a project? Would they be optimistic, while knowing that high initial APY = high "dumpage"? Or would they feel that they need to dump their minted tokens ASAP, before the price collapses?
What do you think?
Small real-life example
I recently had a friend, who was interested in investing 1000usd into the upcoming DeFi project. Byt then he realized that those who provide liquidity into the pool in the early stage will receive a bonus of 50k % APY within the first few days after the launch.
He told me that seeing such a huge APY made him feel uncertain about the ability of the team behind this DeFi to stabilize the price of their token. And I must admit, that I feel just like he does. I am myself also put off investing in any project, which offers high APY for initial investors. I also feel that high APY may force me to join "dumpage".
What about you? Would you feel just the way I do?
LONG TERM SUPPORTERS
In my personal view, each project in its early stage should realize the importance of focusing their strategies on long term investors and supporters, and to offer them something other than high APY. Something, which would build their trust towards long-term project survival. So early supporters would not be focusing mainly on getting high rewards and looking for ways of selling it before others would.
Instead, ensure that communication with them is working fine. Make them feel that they are part of the project. Involve them into efforts of building community around it. Give them a "sense of belonging". Make sure that they would see and appreciate efforts and transparency.
Instead of offering high APY, those projects should focus on working closer with those who want to take long-term risk and support projects in the long run. It may be a more challenging way, but one that could provide more token price stability. It may take much longer to bring investors and initial growth but it would definitely be much more steadier.
However, is it THAT BAD to grow slow?
MVP (minimum viable product)
I've learned a number of times that it's best to launch a project on a small scale, with a small following base, with only few investors, with minimum functionality.
And only then SCALE IT.
Would you agree with me on that?
SHARE YOUR FEEDBACK and your experience

As always - I would appreciate every single valuable comment. I would like to learn your opinion, your view and I hope you can share your experience with investing in any project, which attracts investors mostly by offering high APY.
Yours, @crypto.piotr
@project.hope founder
check out our community: https://steemit.com/trending/hive-175254