Addressing recent concerns related to SteemAuto "asking for" our ACTIVE KEYS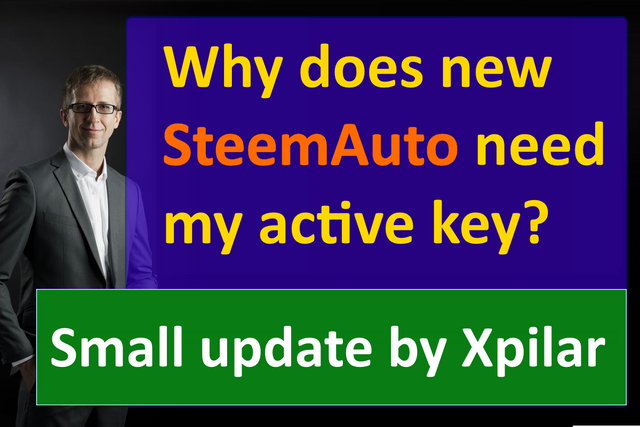 INTRODUCTION

Recently I've been helping @Xpilar to test and promote his new "clone" of the old SteemAuto. So far, it has been working much better and it's more reliable than the previous version.
However, several users asked me a few simple yet straightforward questions such as those below:
Is it a must I enter my active private key?
I'm a bit skeptical about the Active Keys
posting key would be fine for me... but active key?
I tried joining the curation trail using my private posting key, but it said the transaction requires an active key. Ideally, a private posting key should be good enough
Have you also wondered about it? I surely did. And it did concern me a little bit.
MY PERSONAL CHOICE

My personal choice was to put my trust in Xpilar's work, as I have known him for quite some time and I think he would have too much to lose (and too little to gain) if he would like to abuse the trust of all people supporting him as a witness.
I'm fully aware that the previous version of SteemAuto (launched by @steem-supporter) also required an active key to authorize access. I've never really understood why, but during all those months of me using it, I never had an unpleasant experience. My funds were never missing.
So I have even fewer concerns to trust Xpilar.
However, I did ask him to clarify why is an active key required and he finally published a post about it:
There have been questions about the use of active keys when using SteemAuto, We will explain it
I deeply recommend checking it out.
RESTEEM and earn my appreciation :)

I would appreciate every single resteem. Let's help Xpilar's message to reach as many people as possible.
Yours, @crypto.piotr
Founder of Project.hope community