Tipestry – A New Kind of Social Media Platform

Nearly every day we can find new social media platforms all hoping for a piece of the market. Today, I am writing about Tipestry who are trying to do something new.
From the Tipestry white paper:
Tipestry adds a meta layer to the Internet, allowing users to interact and earn cryptocurrency anywhere online. The main component of the platform is Tipestry.com, a web portal that effectively adds a comment section with built-in tipping to any website.
That is, Tipestry allows you to discuss any web page anywhere on the internet and to tip the person who posted the page. Their aim is to provide a new revenue stream for content creators by providing a stream for tips, regardless of the website they post their content to.
At the moment, tips are given out in Dogecoin payments and when your balance gets to 200 Dogecoin you can withdraw to an external wallet. I successfully tested this to my own private Dogecoin wallet.
In recent news, Tipestry have now partnered in the launch of Dogecoin Cash which is being released soon. This will provide a new opportunity for growth and an additional revenue stream for Tipestry users.
Tipestry are also raising funds through their own Tipcoin token that is now on sale at the link provided.
To get a quick view of what it looks like, then see the above Tipestry entry for the Project Hope main page on PeakD.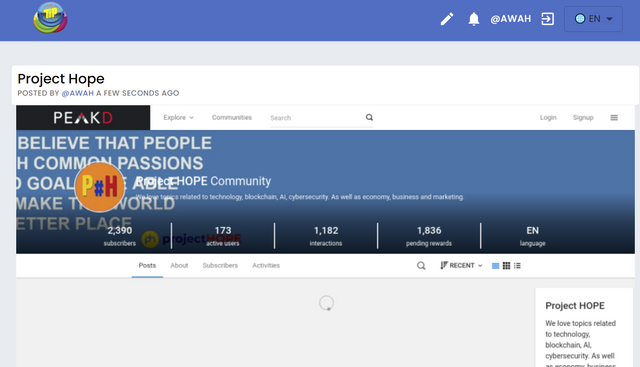 My view is that Tipestry is in early development still and it is not clear to me yet how site owners are authenticated so we know we are tipping the right person. Also currently, like most new social media platforms, there is too much spam. However, there seems to be movement to keep developing the platform and Tipestry are announcing big news soon.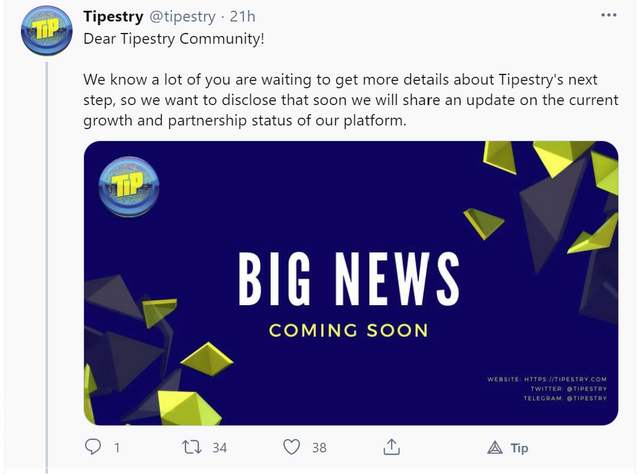 So sign-up to Tipestry and let me know what you think. You can find me as @awah and happy to tip any PH users for your posted content.
---