Nimiq - The browser based crypto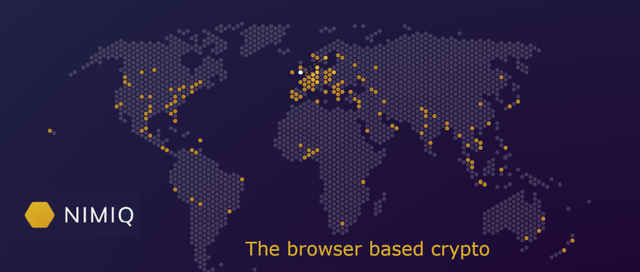 As you know, there are so many different cryptos out there and many are going to sink rather than swim. Finding a niche is one of the keys to success and today I am going to write about Nimiq as I do believe they are doing something different.
NIMIQ'S VISION

Barrier-free value exchange for everyone.
The project vision doesn't sound anything new but the underlying web-enabled technology that they have created the blockchain on gives it makes a difference. The blockchain is designed to work within the browser.
The map above was taken from my own browser and show the current connections from around the world to the blockchain all through web technology. Using my own web-based non-custodial wallet takes less than a couple of minutes to establish connection wich is notably quicker than Bitcoin or Ethereum.
The technology
The core blockchain code is written in Rust and JavaScript making it easy for web developers to implement. As a developer you can load the nimiq.js, connect to the blockchain and establish consensus with just 3 lines of code. The code is all opensource and licensed under MIT and Apache 2.0 licenses.
There is also a bounty programme to try to find security problems with the code to encourage peer review and thorough auditing of the code.
It is relatively easy therefore to develop Nimiq payments and transitions into your web applications.
The roadmap
The Nimiq project started in 2017 with the mainnet being launched in Q2 2018. The NIM currency on the Nimiq blockchain was released and was tradeable on the first exchanges. The PoW based blockchain could be mined through web-based miner and through applications.
In Q3 2019 the Nimiq 2.0 whitepaper was released and work started on its new Albatross consensus algorithm with the alpha testnet being released in Q2 2020.
The new Albatross consensus algorithm is PoS based which is now due to go to mainnet early in 2021. So one to watch and see the impact on NIM price.
The full Nimiq roadmap is here.
Getting started and getting some NIM
You can easily create a Nim wallet through the Nimiq website.
From there you can buy Nimiq directly or through KuCoin or HitBTC and others.
There are also a few fun ways to earn a little NIM to test the system out and earn some real crypto:
Funding and the future
The development team are quite active with a number of researches given grants to work on the project and also Nimiq Foundation has a 10-year fund locked on the blockchain which uses 2.5% of the overall NIM total supply.
Further to this, Nimiq set up a charitable foundation called ImpactX Foundation that has 2% of the total NIM being released to it over a 10 year period to support projects that have a social impact using Nimiq blockchain.
It may be an underdog - Nim is currently ranked 318 by CoinGecko - but is perhaps one to watch.
---