More Login Options and Authorities Panel
And here we are with another small update. You can read about the previous release here and here. This release include some updates to the login and a new panel to manage the authorities granted by your account.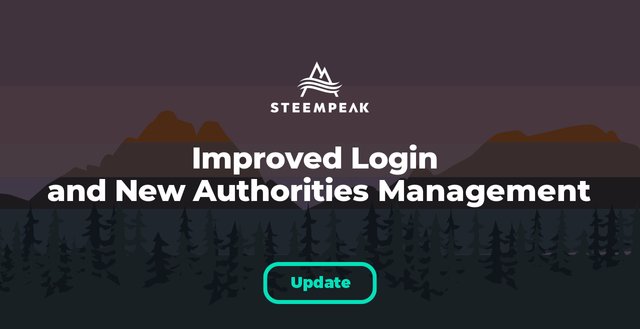 1. [Experimental] Login with Keychain and an Authorized Account
This is marked as experimental as the feature is only supported when installing Keychain from the source repository.
As soon as the new version will be available you'll be able to login to Steempeak using an account that granted the posting authority to an account you have already added to Steem Keychain.
This is especially useful for users who share an account but don't like to share the private keys. This way will be much easier to handle the whole process.
2. New 'Authorities' Page
This is somewhat related the the previous point. You can now add or review authorities you have granted from your account.
The new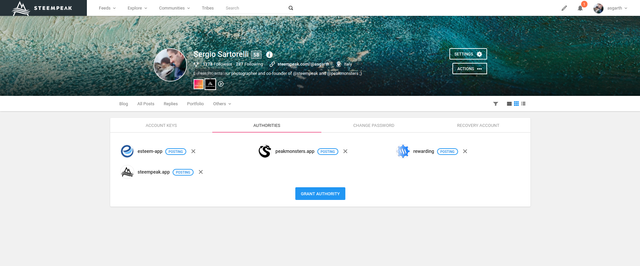 panel is available at https://steempeak.com/@USERNAME/permissions
3. Keep account unlocked with PeakLock
Some of our users requested to be able to keep an account 'unlocked' when using PeakLock. Especially useful on mobile or when using multiple browser tabs at the same time.
Now it's possible to keep an account unlocked for 24 hours on a device. Keep in mind that during this period the posting key will have to be stored in the device.

4. Some minor bug fixes and minor improvements
As always some minor fixes and improvements across the website ;)
---
Support the @steempeak witness/proposals
Now is probably a nice time to remind you of the ways you can support the development of @steempeak.
Recently we submitted a proposal to the Steem Proposals System (SPS). You can review the proposal here and directly on the proposal page.
If you agree to the proposal and you think the points mentioned add value to Steem consider supporting it using the above links or directly with this link.

---
We also run a witness server to help produce the blocks for the Steem Blockchain. You can vote for our witness so we are in a position to process more of them.
Vote on out profile page: @steempeak
Vote on the witness page: https://steempeak.com/witnesses

Using Keychain: You just have to click and approve the transaction
Using SteemConnect: You'll need access to confirm the transaction with your Active Key at least
---
The SteemPeak Team
About us: https://steempeak.com/about
Join us on Discord: https://discord.gg/6hCAcVp