Introduction to BADGES on SteemPeak.com
Another day another cool announcement... we're getting people aware of new features before we soon move every tool from https://beta.steempeak.com to https://steempeak.com
WHAT IS A BADGE?
Visual representation of a connection to a group/theme.
A public decentralized list with actual graphical badges on SteemPeak.com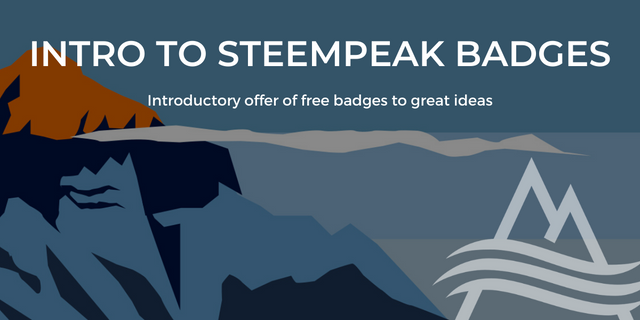 We've started a new feature set that we think will
Help connect people
Help users find content that is interesting to them

BADGES
Badges will show up on your profile page
Which badges show up on your profile will eventually be customizable
They may even extend to allowing you to share a badge on posts and comments
You can mute the badge account to be removed from the badge
They are built on top of a Decentralized Public List that any interface can use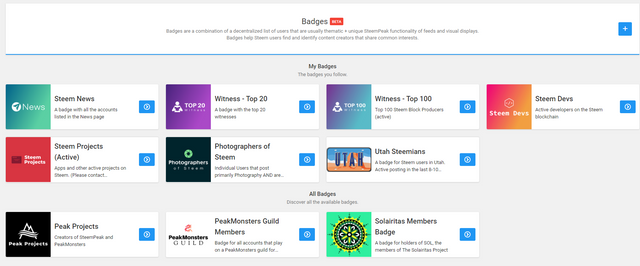 see them live on https://beta.steempeak.com/badges
BADGES HAVE UTILITY
They have extra utility because clicking on them takes you to other people who post about similar things... thus it's a great tool to help users find content that relates to them.
Feed of users who have that badge
List of users who have that badge
Graphical connection on their profile (then later other places)
COMMUNITY VS BADGES
Communities on Steem are WHERE you post content related to specific topics... badges help identify and maybe help UNITE even users from varied but similar communities.
---
IDEAS FOR BADGES
Locations, Interests, actual group membership, achievements etc
Utah Steemians
Photographers of Utah
Full time photographers
Splinterlands Guilds
Baseball fans
Tesla Owner
Steem developers
Witnesses
Scuba Certified
2 Years on Steem
Youtuber with 10k+ followers
Verified Charities
Elected politician
Twitter user with 5k+ Followers
Painter
Nascar Fan
Bolivian Steem Users
DECENTRALIZED PUBLIC LISTS
We do not presently have an easy badge creation system for badges.
However it's pretty easy to make one because we use a pretty common and decentralized system for the Public Lists. We are simply using the following list from designated accounts.
For our badge system we will use the following list from accounts
@ badge-000000
"badge-" then 6 numbers. (Find one that is available)
HOW TO PREPARE TO TURN A PUBLIC LIST INTO A BADGE
Create an account
Follow all the users you want to give the badge to
Edit name of the account and the description
Badges will display as square... so please upload a SQUARE image for the profile image of the account.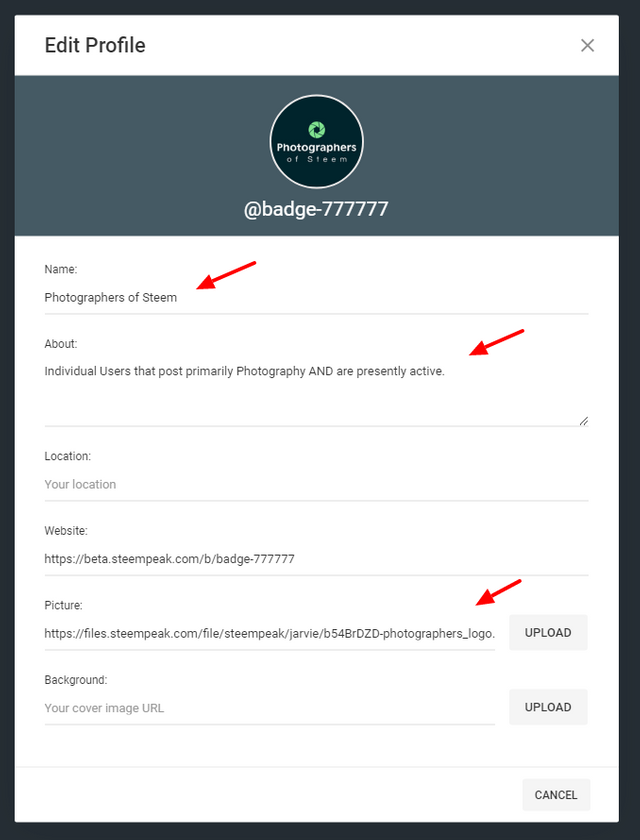 HOW TO GET AN ACTUAL STEEMPEAK BADGE
You can create a public list with or without us.
A badge from SteemPeak does much more than give a list of users.
SteemPeak reviews badges and will add them on our end
SPECIAL DEAL
Presently as we are developing this feature we are willing to do some badges at no cost.
WANT TO CREATE A BADGE?
Contact us or write below to tell us the name of your idea.
And we could pre-approve your badge.
Or contact us with the account name and we'll look to see if you've done it ok
See some examples here: https://beta.steempeak.com/badges
---
LIKE WHAT WE DO?
A WORD ABOUT OUR WITNESS
We are one of the top 20 block producers on Steem and help govern present and future changes to the blockchain if you are a fan of that and want to see that continue please help by voting.
@SteemPeak -> https://steempeak.com/@steempeak/



This works for all witnesses btw