Two Sides Of A Raging Bull | Lamborghini V12s, And Face Masks.
Credits to: Motor1 (Lamborghini Squadra Corse)
Enzo Ferrari is a name that needs little introduction, as his legacy and contributions to the automotive industry speak louder than words. What started as a career racing driver for Alfa Romeo, he turned to create one of the most iconic car brands in the world. A figure with infinite passion for his craft, the automobiles that would soon bare his name will inherit the fiery emotions of their creator.
He has plenty of words to dispense onto others, as his pride would not only help to shape the future of his own company, but would later lead his rivals to their own successes. Enzo's temper was explosive, and this augmented the vigour of his competitors through quarrelsome feuds and disagreements. His disputes with Henry Ford III would lead to the creation of the GT40, winning Le Mans for three consecutive years. Tensions with his own staff would follow the sacking of Giotto Bizzarrini, a star engineer that would form his own company to fight Ferrari.
But the most legendary rivalry of them all, is the public spat between Enzo Ferrari, and Ferruccio Lamborghini. Having founded the company by making tractors, agricultural equipment, and even boats, Ferruccio would celebrate his successes by expensing wealth on the best sports cars of the era. But even the very best have their faults, after having complained to Enzo on the poor interior quality, inferior clutches requiring frequent maintenance, and shoddy after-sales service of Ferrari.
The very proud Enzo was quick to ignore Ferruccio's complaints, however. The latter also disliked the discomfort of Ferrari's early cars, as he felt that they were none other than race cars, repurposed for roads. It was this intense feeling that would leave Ferruccio to founding his own car company, built to his standards, and conceived to demolish Ferrari. Nearly 60 years on, the Italian blood rivalry is stronger than ever, with both companies trading blow after blow. It's Lamborghini's turn to take up the fight, and they're prepared something special for that occasion.
---
---
A Swansong For The Good Old Times.
Oddly enough, the company that was first founded to manufacture soft, comfortable grand-tourers now makes some of the most hardcore, and high-strung performance cars on the market. Now, Lamborghini is on the verge of moving even further away from softness. A collaboration between their works racing division, Squadra Corse, and their in-house design studio, Centro Stile Lamborghini - they have been hard at work teasing a new, track-only supercar, for the enthusiast that has petrol running in their veins.
With ever stricter emissions regulations, it's unlikely that we'll be seeing V12 engines in the near future. That's a shame, as its creamy smooth power delivery, and thunderous exhaust notes are something that every petrol-head envies, and even fewer will get to experience. As more carmakers are turning to down-sizing and turbo-charging to meet new rules, Lamborghini remains among the few bastions that maintain this age-old tradition.
Now, they've bolted this engine onto a car that is inherently illegal to drive on public roads, and you'll know why after you've watched those videos. Just like Aston Martin's Vulcan, building a track-only vehicle is any carmakers chance to truly go mad with pushing the limits of automotive design and engineering. In this tiny niche of the automotive world, there are no rules governing how these cars can be created and shaped, neither for road-going, or even race cars.
That exhaust note alone is enough to shatter windows, and trigger alarms as it storms down the streets. Just like the sound of a thunderstorm, a cold-start will awaken an entire neighbourhood. Given that Lamborghini's typical clientele aren't usually the most subtle of people, I think it might be a good idea to keep this locked away from the road. Rumoured to be named the Aventador SVR, following the equally ridiculous Miura SVR, it'll have a truly Jurassic engine.
Credits to: CarPixel (Lamborghini Miura SVR, 1975)
Based on the naturally-aspirated, 6.5L V12 engine from a "regular" Aventador, the SVR has been tuned to make 830hp - which is 60hp more than an SVJ, and is now the most powerful V12 car in their line-up. It's amazing that Lamborghini has managed to extract that much more power from an already raw supercar, but lacking any need for sound or emissions regulations, might be the reason.
Another change includes the transmission, as the SVR will carry a motorsports-borne 6-speed Xtrac gearbox, which will help to power all four wheels. More on its footwear, the SVR will exemplify its Italian-ness with some Pirelli tyres, and Brembo brakes. It'll also have a mechanical self-locking differential, allowing the driver to manually adjust how much grip they need through each wheel, depending on the conditions of the tarmac.
Credits to: Lamborghini - Squadra Corse
From the silhouette on the teasers, we can discern that the striking shape is based on the road-going Aventador. However, there's more than meets the eye. Helping the car breathe, the SVR has vast intake vents on the bonnet, with a large roof-scoop to direct cooling air to the engine. Making sure it doesn't take-off, is a large carbon-fibre rear-wing to add immense downforce, and complemented with big rear-diffusers along the bottom.
Here, you'll also find twin-exhausts, and an F1-styled fog-light. Additional attention is spared to making sure the SVR is lightweight, with the monocoque chassis having more carbon-fibre in its construction, and the integration of a steel roll cage to add stiffness. While it might carry Lamborghini's trademark scissor-doors, it'll omit any trim pieces to save weight. With a launch this summer, and first deliveries taking place in 2021, this is something worth considering if your investments are doing well.
Credits to: Motor1
---
---
Taking The Fight To The Enemy.
Credits to: Instagram - allanlambo, Motor1 (Lamborghini Huracan "STO" Leak)
Credits to: CarPixel (Lamborghini Huracan Perfomante, 2017)
There's even more good news from Sant'Agata Bolognese, as there's been leaks of another super-special supercar from the Raging Bull, though this one seems to be compatible with ordinary roads. Courtesy of their smallest car, rumours have pointed to the future launch of a Huracan STO, short for "Super Trofeo Omologato", meaning that it has been homologated from their Super Trophy racing series.
As these are merely leaks, no information can be certain, but we can pass judgements based on what we have here. We can see that it follows the design cue from the Huracan Perfomante, but with the addition of roof-scoops, and a very large rear-wing. Both echoes a similar trait to the SVR, and we can expect the same ethos to be employed here, as well. Apparently, Lamborghini is targeting a weight saving of 150kg (330 pounds), which is rather ambitious. It's not yet certain whether it'll carry a two-wheel, or all-wheel drive platform, but we can be sure that it'll use the Huracan's V10 engine.
Credits to: AutoEvolution (Medical Face Shields)
Other good progress involves Covid-19 (Coronavirus), which is difficult to accomplish, given how terrible of a plague it has been on mankind. Italy is already starting to flatten of the curve, and our friends might finally see some reprieve soon, as cases and casualties see signs of slowing down. Just as a whole nation rallies against a common enemy, carmakers are getting into the fight, too. This includes Lamborghini, who've been utilising their manufacturing prowess to engineer equipment for the front lines.
Just as armouries would equip soldiers for battle, Lamborghini is helping to arm frontliners who are helping to fight the virus. As their factories remain devoid of cars, some production lines are going back online. Its industrial 3D printers, often used for carbon-fibre bits and pieces, are now being used to make frames for plexi-glass face shields, at a rate of 200 every day.
Credits to: AutoEvolution (Surgical Masks)
Meanwhile, it's saddlery, the department that hand-stitches all the wonderful leather and Alcantara in its cars, will not step-in to make 1000 face masks daily. Along with the face shields, they are to be donated to hospitals and emergency workers. It's great to see the car industry putting their strength together in fighting this pandemic, and my compliments to the lucky ones who'll gets to use Lamborghini's face shields and masks.
What might not be so good, is for each one of the 26 customers that bought an Aventador SVJ in the US. I get that Lamborghinis are exciting cars, and you just want to keep driving them all day. But eventually, your legs start to get cramped, and your back begins to hurt. You'll have to leave, unless you can't, as the doors won't open. All because the new guy at the Lamborghini factory didn't fit the mechanisms right, there's a risk of entrapment in that supercar of yours. Though if you're like most Lamborghini owners, you're probably loud enough to make someone hear your cries.
Credits to: Jalopnik
---
---
Fin.
After all my time writing about cars, very rarely do I talk about Lamborghini. I suppose they're just a bit too mad for me, as I prefer something more understated, although there isn't much understated about the flamboyant Italians. Between Maserati, Alfa Romeo, and Ferrari, I have enough to keep me company for a while, so I hope you've enjoyed all the Lamborghini for today, because this is something truly rare from me…
---
---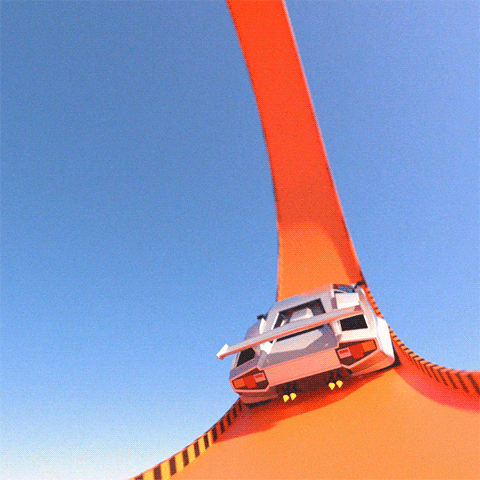 Credits to: GIPHY
Thanks for reading! For more updates on my blogs, or the more minute things in life, feel free to follow me on Twitter, LinkedIn, and Medium, and maybe give a shout there as well!
While you're at it, follow along @zacknorman97 for more, coming soon :-)