Crime Pays, Very Well | Inspector Norman, and the Case of the 26 Homologation.
No, I'm not encouraging you take up a criminal life, but all I'm saying, is that if I knew it was this easy to attain my dreams, then I would've considered taking up thievery as a hobby a long time ago. Perhaps with subtle refinements over the years, I may have shaped up to be a fairly competent antagonist in a crime novel. I believe the most serious thing I've ever stolen thus far, are fistfuls of creamer from McDonald's. To be fair, they never said you can't take more than you could carry, did they?
While some, such as myself, are more modest in our robbery, others are more ambitious. I can't condone what they've done, but at least they have good taste. Specifically, they have good tastes in cars. Sure, burglars might look for the low-hanging fruit, like Lamborghinis and McLarens, while others might look out for simpler cars, like Volkswagen Polos. It takes someone with an adept knowledge in automobiles to know the provenance, and value of these special cars that you see here.
Credits to: Behance - Twain Forsythe | Thankfully, a Quattro wasn't part of this "collection".
Sure, we can all admire with envy upon a Ferrari, but they're expensive enough that few will ever see them, and fewer will have the chance to drive one. Nevertheless, it doesn't take a Ferrari to experience the pleasures of driving, and in fact, one could fine something just as, if not more capable for a fraction of the cost. That lustful romance, the surge of emotions, and fumes of petrol flowing through your body, giving out endless adrenaline can be had with cars approachable to most mortals, without fear or timidity.
They're different, and unlike a supercar that prefers to sit pretty, these ones can be trashed around. They won't mind a bit of mud and grit, with scratches and dents aplenty. That's what they've been built for, and clearly, whoever's behind this terrible crime shares a similar understanding with me. To be more specific, a lot of these cars appear to be 'homologation' specials. If the police happen to be reading this, then no, I wasn't involved.
---
---
I came, I saw, I conquered.
Credits to: Grassroot Motorsports | Some Homologation Specials coming your way!
"Homologation" is a process where carmakers intending to take part in a race series - such as rallying, GT, or touring-car racing - need to make a certain amount of road-going models, derived from the race-cars that are taking part. This ensures a level playing field, where all manufacturers agree on a set of rules governing the general specifications of how cars can be engineered into that series. For example, if a carmaker wishes to take part with 10 race-cars, they might be required to make 200 road-cars in tandem, fitting the necessary regulations for civilians to buy them.
With that understanding in mind, let's begin our story. In a barren landscape of rural Spain, a construction site reported the loss of an industrial generator. Having then picked up the trail, the police traced the generator to a fairly unassuming farmhouse, where hidden inside of it was the industrial generator in question, hidden under tarp, and next to a lorry that was presumably used to have stolen it. As to why anyone needs a heavy, 3-tonne generator, your guess is as good as mine.
Credits to: CarBuzz | Neither that jacked-up Citroen, nor that van is worthy to be among legends.
Having then arrested the perpetrator, the police acquired a warrant to search other barns in the area. Upon opening the large doors of one nearby, and to the surprise of Spain's finest, they found what I can only describe as heaven. The found a total of 26 cars, mostly from the 1980s and 90s, and all of them were stolen. Nestled alongside some rather ordinary cars, are some of the legends that enthusiasts pray to see. Here's a rundown of what these legends are, and how they've earned their mettle...
---
BMW M3 - E30, and E46.
Credits to: CarBuzz | A sea of white. Spot the Beemer?
I suppose we can start-off easily first, before we get into the truly quirky cars. Here, we have a brand name that everyone can recognise, from your grandma, to your unborn child - BMW. Just three letters are all it takes for weak knees to tremble, so naturally, if you're planning to steal cars, a BMW or two would be required. The BMW M3 has long been regarded as an attainable luxury for anyone who consumes petrol, as it's refined over the years. Though one thing we can somewhat agree on, is that the earlier M3s are the better ones.
Credits to: CarPixel - 1987 BMW M3 (E30) | See if you can spot the E30 in the crime scene photos way up top.
There's a good reason for this, however. These early cars are simplistically engineered, and well-built. Nothing excessive, and truly Germanic in its form, with careful modifications made to each little component. The E30-generation - the first of the M3s - had an inline-four engine known for bulletproof reliability. It's high-revving nature created 197hp, modest enough by the late-80s. Combined then, with an aerodynamic and lightweight body, one can see why this old car was legendary, and a collector of trophies in touring-car championships.
Credits to: 1995 BWW M3 GT (E36) | Hint: The stolen ones are in white.
More fine-tuning was done to the upcoming E36-generation M3, where the small-yet-capable four-cylinder engine has now been replaced with a much spikier, naturally aspirated inline-six. Now, it cranks out a whopping 286hp, and 226lb-ft of torque. Despite the now porky kerb-weight of over 1.5-tonnes, it could easily top out at the electronically-limited top speed of 155mph, as part of a gentlemen's agreement among German carmakers.
---
Mitsubishi Lancer Evolution(s).
Credits to: CarBuzz | There's four Evos in here. One's behind the blue Peugeot.
You might discern thus far, that our thief friend here might be a BMW fan, given that he's owned two of them. But, you'd be wrong, as he shares this lovely farmhouse with not one, nor two, but at least half a dozen Mitsubishis. Unlike those Beemers, these Lancers aren't just road-cars made to go fast. Lancer Evolutions are bred to go rallying, with great speed and poise on loose surfaces, before being reverse-engineered to perform regularly for more normal chums like you and I, to enjoy.
If there's a reason why you've heard of the name 'Evo' quite so often, it's probably because of this one in particular - the fourth (IV)-evolution of the Lancer. A major distinction of this Evolution can be seen with the rear-wing, and equally large front fog-lights - fitted by the factory to help illuminate dirt tracks, and trees that you'll eventually hit. Changes were made to the overall durability and reliability of the engines from previous Evolutions, but constrained by homologation rules, no attempts were expensed to make it more powerful.
Credits to: 1996 Lancer Evolution IV, 1999 Evolution VI Tommi Mäkinen Edtion | Truly legendary.
From the IV, to the VI, the Evolution-ary process continues, with the same 276hp output, and a small increase of torque to 275lb-ft. It was at least more aerodynamic, as if the designers took a file, and shaved just a bit off those sharp corners. Mr. Thief here also owns a special, Tommi Mäkinen edition of the VI - so called the 6.5, and one of only 2,500 cars made in total - to celebrate his four World Rally Championship wins. The changes were mostly cosmetic, made obvious by the red paintwork - of which the regular Evo VI can't have. The power was left untouched, but a titanium turbine was mated to help the turbochargers spool up faster, mixed with a lowered ride-height, and a quicker steering ratio.
Credits to: Lancer Evo VII (?!) 1 and 2 | Evos doing what Evos do best.
The latest Evolution of the Lancer that can be seen here, is the VII. I'm more familiar with this, given its appearance in the first video games that I've played. Or, that could've been the later Evo VIII instead, since there were no visual tweaks until the X came out. Your eyes might be sharper than mine. Well anyways, it had smoother bodywork, and a much softer silhouette. This continued a bloodline that was known to compete against supercars, but for a portion of the money. Stringent regulations meant that small tweaks made by Mitsubishi's engineers have allowed this blue-collar worker's express to competently keep up with their CEO's Ferrari or Lamborghini.
---
Mercedes-Benz 190E Cosworth Evo II.
Credits to: TheDrive | A monster lurks beneath the sheets.
Ah, another Evo, yet a mouthful. It seemingly has a similar principle in mind, just judging by its exterior - large rear-wing, and an aggressively-shaped bodywork. But this is no common man's Mitsu, and this old Merc has a special story behind it. Keen to re-enter into motorsports, Mercedes wanted to create a winning car, and had asked British tuner, Cosworth - a legend among enthusiasts, and a name you'll hear more of later - to help create an engine capable of doing it.
Despite having succeeded, Mercedes' initial attempts to enter rallying was halted, knowing the dominance of Audi's Quattro at the time. Now, they turn to the German Touring-Car Championship (DTM), where they've enlisted the regular, boring 190E saloon car onto the forefront. After several iterations went well - with at least 3 world speed records, and 12 international endurance records - this mad era in Mercedes performance cars ended with the Evolution II in 1990.
Credits to: 1990 190E Cosworth Evolution II | This one's been slightly modified, but I think it's all the better now.
A homologation-special, and just like those before it, the Evo II had its engine detuned for road use, compared to the high-revving race-cars. Some say that Mercedes had put little attention it, created only to serve homologation requirements. Yet, it's so crazy, that I love it so. Looking past that eye-catching body-kit, Cosworth's engineers have managed to pump out 232hp and 181lb-ft of torque from the tiny, 2.5-litre inline-4 motor. Not bad, but a bit behind the 370-or-so horsepower of the DTM cars, nor does it sound as good. If I had to get one, the first step would be to modify the engine, thus giving it the horsepower that it truly deserved.
---
Ford Sierra RS500, & Ford Escort RS Cosworth.
Credits to: CarBuzz | This thief really likes white, doesn't he?
On the subject of Cosworth, here's another two to add to their amazing background of taking boring old cars, and turning them into world-beaters. In this case, the subject matter are two of the most innocent and dull cars you can imagine, commissioned by Ford Europe to sell to households that just want four-wheels, and an engine. Not long ago, Ford dominated racing - remember the Ferrari-thrashing GT40 at Le Mans? Yet, it was quickly losing touch of it by the 80s, so they asked their old partner, Cosworth for help.
First came the Sierra, Ford's leap of faith into touring-car championships. With Cosworth's expertise, they turned this poorly-received economy car into a winner of trophies, and hearts. It had an uprated inline-4 engine from the Ford Pinto, a five-speed Mustang transmission, with suspension and aerodynamic learnings from the IMSA racing team. Then, to prevent the aerodynamic lift - read: the ability to fly - that plagued the Sierra, the now-legendary whale-tail was added. It provided a reduction in drag, and much needed downforce to prevent take-off at 300km/h.
Credits to: 1986 Ford RS500 Sierra Cosworth | That whale-tail... Say NO to rear visibility.
The rare RS500 you see here was part of a limited-production run of just - you guessed it - 500 cars, homologated in 1987. It was converted from the 'regular' Sierra Cosworth by none other than Aston Martin-Tickford, the latter of which was an automotive testing and tuning company. Visually, it remained mostly the same, with improvements made to airflow and cooling. The rest of the changes happened under the skin, with larger intercoolers, bigger turbochargers, among other small tweaks to punch out 224hp, and 204lb-ft of torque.
Following the successes of the Sierra Cosworth, Ford than decided a few years later to transport that recipe to the Escort, another car at the bottom of the brochure's pricelist. This time, they decided to pivot to the dirty world of rallying, and works on the Escort "Cossie" came even before the regular car was put onto showroom floors. While most of the underlying design was taken directly from the Sierra Cosworth, the bodywork was specially built by coach-builder Karmann - famous for their Ghia sports car - in Germany. A total of 7,145 cars were made, with the first 2,500 being homologation specials.
Credits to: 1994 Ford Escort Cosworth | I don't think you've had enough of this tail, just yet.
With the retention of the 'whale-tail', another highlight is what Cosworth has done to the engine, once more making iterative improvements to the inline-4 motor. It had an oversized, hybrid turbocharger and air-to-water intercooler, providing a brutal kick of power once surpassing 3,500RPM. Officially, the engine was rated for 224hp, but its robustness meant that one could feasibly tune it for upwards of 1,000hp. Suffice to say, it dominated the rally stages, and without elaborating too much on its entire career - Escort Cosworths were presented with 10 WRC victories between 1993 and 1997, not to mention the myriad of regional championships that it also won.
---
Peugeot 205 GTI, and Renault 5 Turbo.
Credits to: TheDrive | Both the Frenchies are coloured in blue. The decal on the door will give you a clue.
Now, we have a couple of little French pocket-rockets - both equally small, but with big hearts, and equally lofty ambitions. The first is a Peugeot 205 GTI, honed and tuned from a low-cost supermini. It made around 120hp depending on which engine you chose, although the earlier 1.6-litre motors were more eager to rev, compared to the brutish 1.9. It may just appear to be a modest hatchback to most eyes, but this little bulldog created a successful recipe that Peugeot themselves can't replicate with later variants.
Credits to: 1989 Peugeot 205 GTI | Few cars can lift a wheel off the ground. That's how you know you're having fun!
Even with a small amount of horsepower, and a meagre front-wheel drive setup - the whole car weighed just 860kg, thus creating a lively experience behind the wheel. Alongside the Mk.I Volkswagen Golf - first of the GTIs - the 205 GTI helped to popularise the idea of a 'hot' hatchback - a segment built-on the idea of simple, accessible fun, but with day-to-day usability in mind. Cheap wheels, plenty of room for the groceries, smoking tyres, with loads of fun and smiles along the way. Drive this, and it gives you one less reason to get a supercar.
Something a lot more ridiculous, though in a good way, was the Renault Turbo 5. The basis of it follows the same concept, using what could've been your mum's car, and then radicalise! Renault's plan was to challenge Lancia's dominance in the 1980s rallying scene, with the oh-so-pretty Stratos on the prowl. Dynamically, a mid-engine setup was most ideal. Hence, the practicality of a hatchback has been eschewed in the name of performance, with the engine now located where the rear-seats and luggage space used to be. A perfect fit, if I say so myself.
Credits to: 1983 Renault Turbo 5 | Not the prettiest thing ever. That lump in the back is where the engine sits.
The regulations-friendly turbocharged, inline-4 engine churned out 160hp, and unlike a regular Renault 5, the Turbo sent them exclusively to the rear-wheels. Built by Alpine - makers of the A110 - the styling was redesigned with lightweight body-panels, including the distinctive intake-vents along the side, given the placement of the engine. Nearly 5,000 Turbos were made, and among those that raced, they accrued four WRC Championships between 1981 and 1986, including the famed Rallye Monte Carlo. Unlike Peugeot however, Renault did follow up its legacy with the equally-mad Clio, by putting a rorty V6 in the middle. It was a rarity, wholly unpractical, and dangerously fun.
---
Lancia Delta HF Integrale.
Credits to: CarBuzz | The decal on the side is a big spoiler alert.
Finally, we've arrived at the crème de la crème of this collection of plunder, at least in my view. The vehicle in question is nothing less than a Lancia Delta HF Integrale, one of the most legendary rally cars in history. Between the abolition of the lethal Group B rally in 1987, and onto 1992, four-generations of the Delta Integrale won 46 World Rally Championships for its human companions, while winning 6 successive Constructors Championships for Lancia - a record that remains unbeaten. If one thinks of Lancia, this car often comes up first, and it marked the end of their Golden Age.
It looks like our thief friend here has stolen one of the later ones, the HF Integrale Evoluzione. Compared to earlier iterations of the Integrale, the bodywork has been widened as a result of the wider front-, and rear-tracks, made for better handling. Now focused on minute improvements to the aerodynamics, an adjustable rear-spoiler was mounted on the rear. The core components which made the Integrale great on the rally stages were also tweaked around.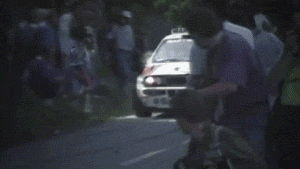 Credits to: 1990 Lancia Delta HF Integrale | Presented here with the best motorsports livery, period.
The winning ingredient to the Integrale's success, even with Audi's popular Quattro on the prowl, was its four-wheel drive system. Match that with a 2.0-litre turbocharged engine, it made 207hp and 220lb-ft of torque, and this created an unrivalled entrant into Group A rallying. Delta Integrales had superb amounts of grip and handling, as the all-wheel drive system kicks in to deliver power with ease on any surface - mud, dirt, sand, or snow. It's considered to be the last, truly great Lancia, before Fiat's bosses decided that they should make rubbish cars from that day onwards. Sad times.
---
---
Fate Hangs In The Balance.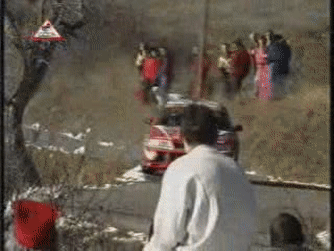 Credits to: GIPHY | Mmm... Those moves.
Our 42 year old baddie now lands himself in jail cuffed, and charged with theft, while also in the possession of illegal firearms, and about $10,000 in shady money. The story now comes to an interesting juncture. We can presume that these cars will be returned to their respective owners, freed from captivity, and once more able to enjoy the open roads. Though some of them carry forged VIN numbers, which may make it difficult to find their lost partners, and they'll probably end up in some auction.
I do hope these homologation-specials will find their homes, safe and sound. Still, seeing this lovely collection of automotive nobility from the 80s and 90s gave me an interesting question to pose to you - which one's your favourite? Say you had to steal one, and only one, which car would it be? Personally, and this might stem from my unfair bias for Italian cars, I'll take the Delta any day of the week. You might disagree, and you have the right to be. Just know that if you don't choose the Lancia, you're wrong. If you are a fellow Lancia fan, let's band together, cry havoc, and #MakeLanciaGreatAgain!
Credits to: Behance - Dylan Nowak | Here's a cute little Peugeot, as a thank you for reading :-)
---
---
Thanks for reading! For more updates on my blogs, or the more minute things in life, feel free to follow me on Twitter, LinkedIn, and Medium, and maybe give a shout there as well!
While you're at it, follow along @zacknorman97 for more, coming soon :-)