❇️ JOBLESS CLAIMS: 30+ MILLION AMERICANS HAVE FILED FOR UNEMPLOYMENT!! OH SHIT! 🤦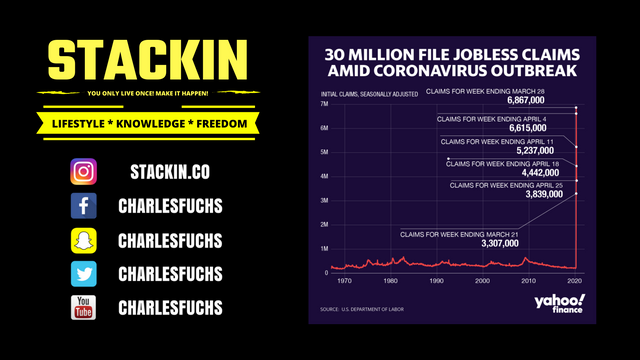 You heard that right, 30+ Million Americans have filed for unemployment in the last 6 weeks in the United States... pretty damn insane. 😱
The new jobless claims just came out and an additional 3.8+ Million workers are out of work last week. It's getting worse and there is no letting up in sight. 🤷‍♂️
Research is showing that America will reach up to 30% Unemployment in the near future.
There are many people who are being very optimistic about the economy right now but it seems that they are just lying to themselves.
Tuff times are ahead and things are going to get much... much... worse and there will be no recovery for a very long time.
Yes, we are heading straight into a recession in the next few months which will lead all of us into a very long depression. 📆
This will be 10X worse than "The Great Depression" that we all experienced in 2008!! You think that was bad? Wait til' you see what will happen in 2021. 🙇
I'm not here to be a "Doom and Gloomer" but spittin' real truth and cold hard facts. No sugar coating non-sense from most people. 😅
However, there are some good news!
In the next 1-3 years, so many of these "assets" will be so damn cheap (after a huge crash) and if you have "Money"... you're going to be able to pick up tons of stuff very cheap!
Stay safe out there guys, its all going to be ok at the end of the day... only if you take action and prepare yourselves right now.
Keep on STACKIN! 😎
~ Charles Fuchs
For those who's interested in following my "Content" and "Daily" Posts... you can just follow me @stackin to get my updates.
You Can Follow Me Here:
➡️ UpTrennd: https://uptrennd.stackin.co
➡️ Facebook: https://facebook.stackin.co
➡️ Twitter: https://twitter.stackin.co
➡️ Instagram: https://instagram.stackin.co
➡️ Hive: https://hive.stackin.co
---
PI NETWORK: Pi is a new digital currency you can mine on your mobile phone for free without draining the battery or using data. Use The Referral Code: ( stackin ) to be on my personal team.
---
WEBULL: A stock trading mobile app that offers a commission-free trading platform. Get 2 Free Stocks (Value $12 - $1400 Each) for just opening a Free Account!
---
Crypto.com: Get The World's First ELITE Cryptocurrency MCO Debit Card and we both get $50! NOTE: You must stake 50 MCO to get the $50 + 2% cashback on all purchases. Must use Ref code: ( mqanqykcym )
---