❇️ GOT MY $1200 STIMULUS SCAM CHECK! WHAT A HOAX!! 🤦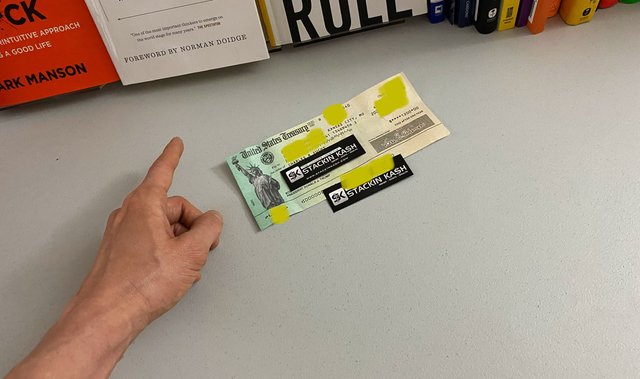 Well, it finally arrived... my $1200 Stimulus (SACM) check from the U.S. Government. It's one of the biggest scams in history. 🤷‍♂️
It seems like "extortion" to me to keep our mouths shut while the powers to be just stole 98% of all the money. Yes, The people only got 2% of the scam printed money. SMH 🤦
While Trillions of dollars being printed this year to "bail out" all the banks, hedge funds, stock markets, crony friends etc... etc.. the American people were left in the dust and fed bread crumbs once again.
I'm not sure why most people are not mad, it seems to me that most people are just sheep and ignorant on what is "really" going on. 🙇
In my opinion, we haven't seen anything yet. I can see the economy getting 10x worse from here.
Why would I say that? The fed and governments of the world will start printing Trillions more in the next few months and I can see them continuing this until they completely default. 📉
Is this negative? Absolutely not! It's just based on facts. I'm just a messenger, spreading out the truth to the masses. 😂
It's going to be a really ruff in the next few years for everyone unless you prepare yourself now.
How do you do that? You got to play the damn game starting right now.
Start protecting yourself by having assets (Gold, Silver, Precious Metals, Bitcoin, Cryptos), learn new money making skills, have a side hustle, stop buying shit you can't afford, don't waste time watching TV and Netflix all day etc... etc... In other words, get off your ass.
This is the best time to change your life. It doesn't have to be that bad because when the shit hits the fan, thats when you see the biggest opportunities.
However, everyone must prepare now because if they do see a great opportunity... most average people won't be able to take any action because they were not ready.
The future is bright guys, you just have to open your eyes. 😄
Keep on STACKIN! 😎
~ Charles Fuchs
For those who's interested in following my "Content" and "Daily" Posts... you can just follow me @stackin to get my updates.
You Can Follow Me Here:
➡️ UpTrennd: https://uptrennd.stackin.co
➡️ Facebook: https://facebook.stackin.co
➡️ Twitter: https://twitter.stackin.co
➡️ Instagram: https://instagram.stackin.co
➡️ Hive: https://hive.stackin.co
---
PI NETWORK: Pi is a new digital currency you can mine on your mobile phone for free without draining the battery or using data. Use The Referral Code: ( stackin ) to be on my personal team.
---
CRYPTO.COM: Get The World's First ELITE Cryptocurrency MCO Debit Card and we both get $50! NOTE: You must stake 50 MCO to get the $50 + 2% cashback on all purchases. Must use Ref code: ( mqanqykcym )
---
CLAIM YOUR FREE HEX TOKENS - The first high interest blockchain Certificate of Deposit (time deposit) that is designed to go higher, faster and retain its value.
---