You can see in my video clip just how stylish the place looks by admiring the houses up on the hill overlooking Lookout Beach. Some of them remain empty all year long, except for the holiday season in summer, when the owners arrive to enjoy them for a few weeks. The rest of the time they sit empty, and locked up. This is the town of Plettenberg Bay, the topmost luxury tourist destination in the entire Garden Route. It's half empty most of the time, although it is idyllic all of the time. It's just that not everyone can afford to spend all their time here.
Even those that own houses here are obliged to work hard for the money to afford it by living in the cities and running a corporate career of some sort. I, however, am a digital nomad, a wandering traveler, who has the mentality to be able to explore these luxury resorts as much as I desire, without having to go back to some undesirable location just because I am obliged to earn money there.
Because of my lifestyle choices that I made decades ago, I have chosen to rather live the dream now, as opposed to having to slave away for the dollars to be able to retire to my dream location. Many retired folk do in fact settle here in this exquisite holiday resort at the end of their careers, but by then they are too old to really enjoy the facilities as much. I prefer to claim the prize now already, and it's easy if you set your mind and heart to it, and if you know how to budget, become self-sufficient and particularly if you know what the real luxuries of life consist of.
Real luxuries that facilitate quality of life and consciousness consist of good health, a good state of mind and an appreciation for the best things in life – namely those things that are free. It costs nothing to spend as much time as you like on the beautiful Lookout Beach, basking in the health-giving sunshine by the invigorating sea shore while being uplifted by the super-clean fresh air, which is full of healthy negative ions. You don't need lots of money to relish these free treasures. You just need the right priorities. And in our ever-decaying cities, smothered by pollution, these natural things which we used to take so for granted, are now much sought after rare commodities.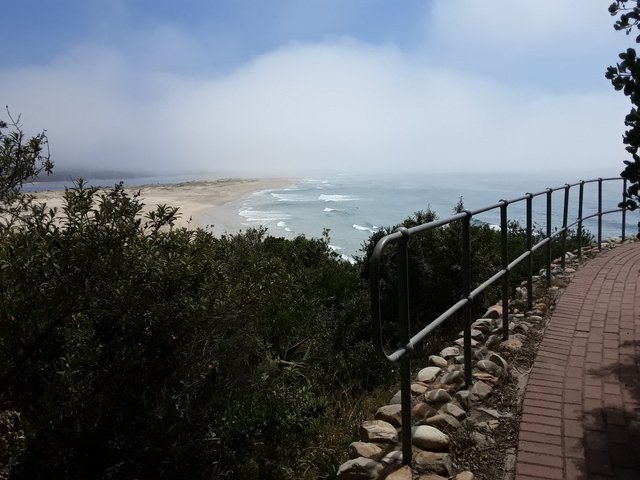 Many work themselves into poor health, living in unhealthy cities, breathing toxic air for years to be able to spend perhaps a little time in this uplifting environment, only to be too late to salvage their health or sanity after being squeezed dry by the capitalist wheels on industry. By then no amount of money can rescue you from your own bad lifestyle choices. It's about getting the correct perspective on life. It's about prioritising your needs and wants.
Well I am not going to fall into that trap. I have chosen the healthy way from the start. I chose to live the live of a full time holiday maker. I am living my dream, this month in the most opulent seaside resort of the land– as far as real estate, location and health is concerned. And it costs me almost nothing. As I said, all the real treasures are free and are here in abundance all year long. The little bit of money required to live in paradise is easy to obtain for any intelligent person.
For example I am self-employed with multiple income streams, all totally legal and honest. I write and publish my writing online and thereby earn cryptocurrency, like this very blog post. In this way I can earn money to eat, pay for accommodation and travel. I also invest my cryptocurrency for long term profits. Bitcoin and the other cryptocurrencies are a revolutionary means to make a fortune if you simply educate yourself in the technology as well as the techniques of trading. And my other services I offer also bring in as much fiat as I need.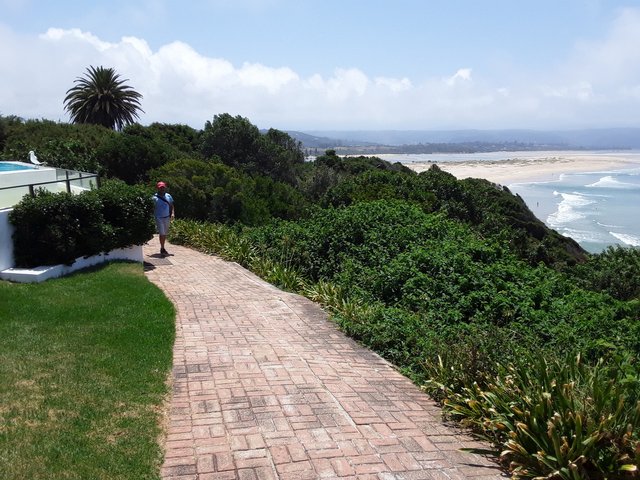 So any of you digital nomads will love this part of the Garden Route, and particularly this Lookout Beach. It's easy to find, situated in the heart of the Garden Route, in Plettenberg Bay. Here every day is a holiday. The climate is the most temperate in the world, second only to Hawaii, and there is plenty of wide open space and fresh air for you guys, if you can get yourselves here. Do whatever it takes to get here. Once you're here, survival is easy. Particularly if you are wise and not conditioned by the corrupt capitalist economic system and their advertising propaganda crooks that lie to you about how you need this or that product as an addicted consumer, all the while selling you junk or sugar disguised as a health foodstuff. Get over the con of the money grabbers and come find the real treasures here at Lookout Beach, among others. They are free and so are you.
---
View this post on TravelFeed for the best experience.