A Review of MonsterMarket: An Online Shop for Purchasing Steemmonsters Cards and Packs at a Discount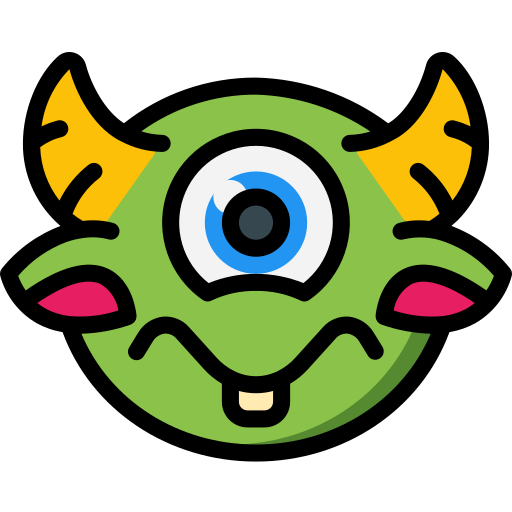 MonsterMarket
Background
About 2 weeks back I got a strange wave of thought. I was just randomly doing my daily quest at @steemmonsters. I vaguely remember that it was perhaps at the beginning of the season and I was playing at the mid Silver league somewhere. I dropped from mid-gold level to mid-silver, and was not looking forward to the long uphill battle towards Gold-2 or perhaps Gold-1 level towards the end of the season. I have been playing for about 2 months or so at that point, purchased some cards, got even a few legendary summoners, my card deck was worth about $700. As a late starter (started late Nov 2019) I felt okay to be playing mostly gold league. Towards the later part of the season, I sometime even pull some long 10-15 win streaks even. I am beginning to learn the game and started to have fun.
But still not really looking forward to the grind, especially early in the season, when I know I will loose a lot. It takes time to advance if you loose a lot and I don't have too much time. Now I am no stranger to digital and physical card games. Played Pokemon most of my adult life, and still do. So I thought lets give @splinterlands a proper try and lets see if I like it.
I know Reazul for a while now. One of the many incredibly talented and kind person I met during my steem days. I liked him almost immediately, because of his coding talent and a straight shooter, 'no sugar coating' attitude. I knew that he is a long term (perhaps day 1) steemmonster player. We talked off and on about the background, current state and future of the game and he mentioned about his new website MonsterMarket. Again, this is something I knew from last November when I started playing. I think it was a discord service before and later become a web-based service. I always thought what's the point? I can always buy from the main site.
Reazul advised me on two things: Not only the cards are at 3% discount, but they qualify for airdrops. Just like a classic wholesale model. They are a 3rd party who buys bulk from the SM main market at a wholesale price, and sales to a buyer at a discount while sharing a significant chunk of their revenue with the buyer. That is the model of my credit union I thought, and I like it a lot. This started a cascading effect for me; for better or for worse. Two weeks back, my $700 card collection is now $3200! LOL. Yeah I just bought it all! I have been playing too, and now I am at Champions-3 League, with little over 2 days still left in the season.
Review Using a Real-Life Purchase Scenario at MonsterMarket
This morning, as I logged in, I saw that I have a Water Quest due. Water currently is my second weakest splinter, and I haven't played Water in a while, and never ever in the Champion League. So I thought, well I will probably get slaughtered anyways, but why make it easy for the opponents?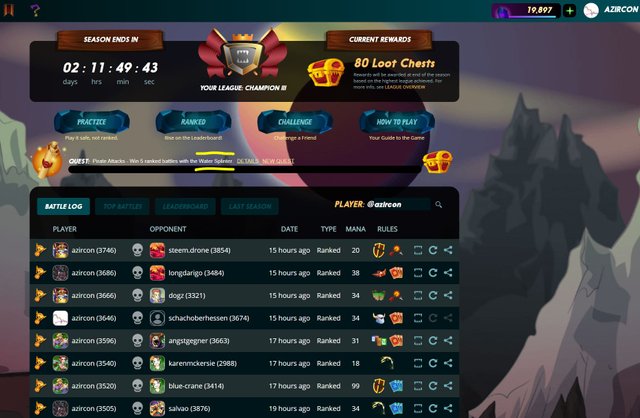 I had a nice streak going into the Champion-3, probably won't be able to hold on to it, but I thought I better look at the state of my Water deck. So I did...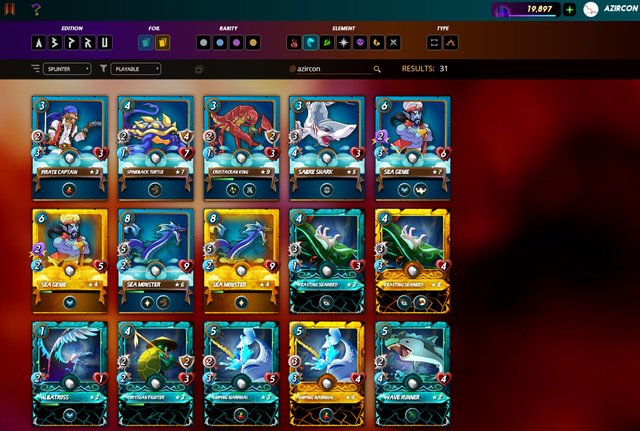 As I told you, its fairly dismal. So I have to level up a few basic monsters for the upcoming battle. I thought why not used the MonsterMarket to get the good and perhaps do a review in the process.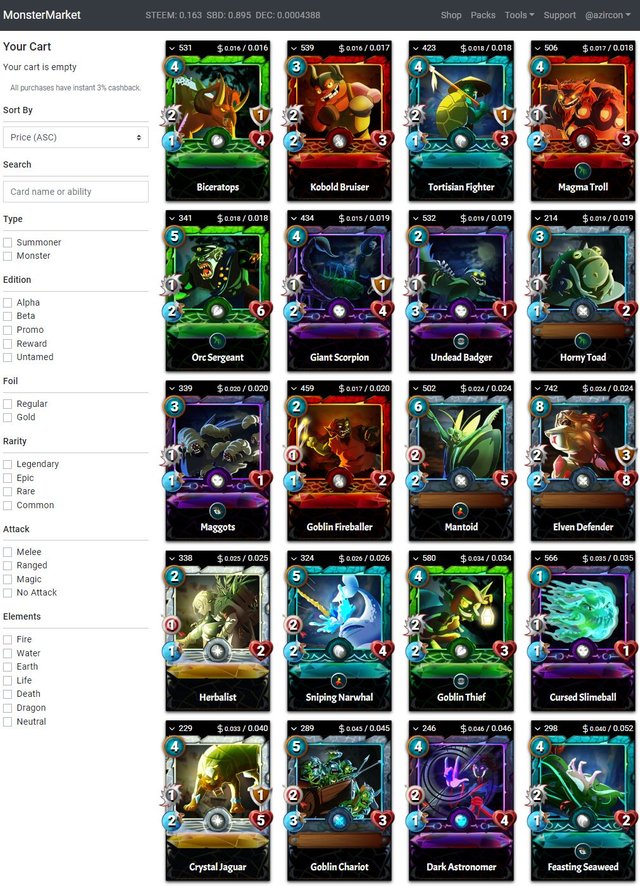 Above is the landing page of MonsterMarket. By default it shows the Untamed cards on offer. It is integrated with Keychain and has a simple and intuitive interface with basic 4 button on the top right, and the card filters on the left pane for selection. I first wanted to check an estimate of the cost I am perhaps going to spend. So I clicked on "Tools" on the upper right of the page and then "Cost Estimator" is the first button on the pull-down. That gives me the simple table below, which is select enabled.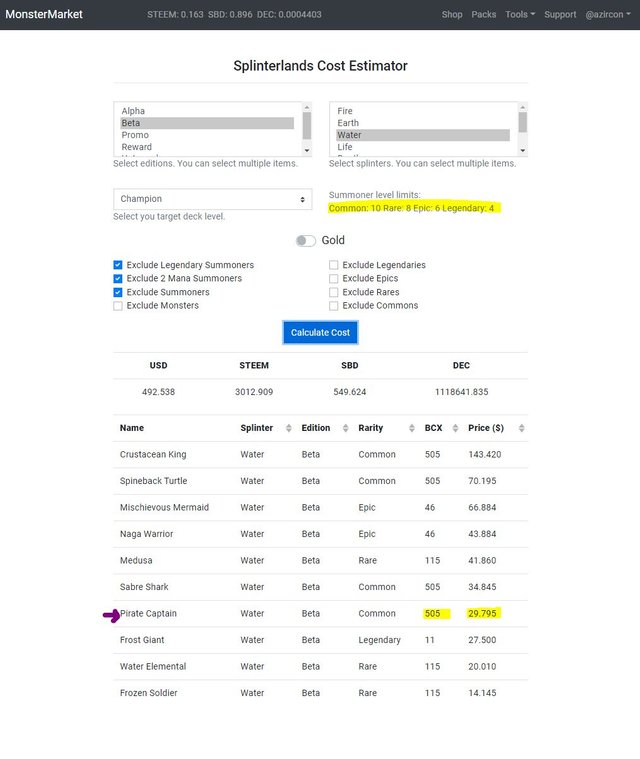 I chose 'Beta' and 'Water', from the left and right list selection, and I unchecked the Summoners, as I have them maxed already. Then I selected 'Champion' from the pulldown; which list Max levels for all monsters effectively. Telling me, if I want Max level monsters, I am looking at a $492 price tag! Ouch!
Alright, nobody said Steemmonsters game is cheap! LOL! But good news, that I don't have to spend $500. I have some of more expensive ones leveled up already, like Crustacean King and Spineback Turtle. So perhaps I am looking for about 4 of them, and hey, they are selectable. I really like this simple feature!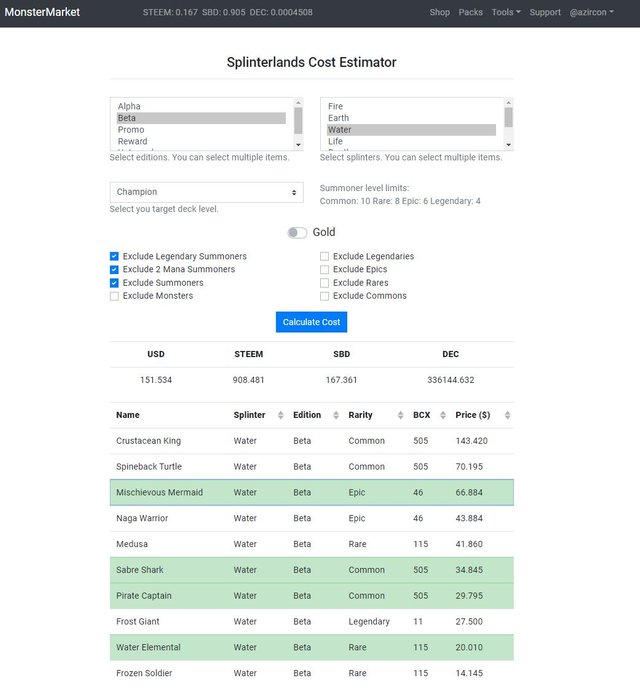 As you can see, if I just consider getting those 4 monsters, it will cost me about $150 or 908 steem (at that time! lol). So I thought alright even 3 out of 4 of them are somewhat leveled up, so maybe not too bad. So I thought I buy the Pirate Captain first and see what's available on the market.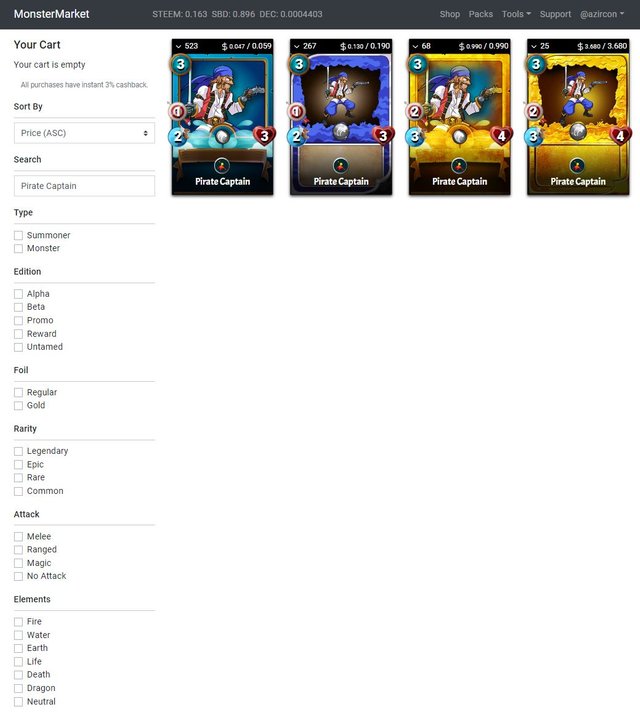 In the search box to the left pane, I type Pirate Captain, and it just displays the 4 possible types of available Pirate Captain. I want to buy the regular beta pack Pirate Captain. So I click on it. That displays all the available Pirate Captains on the market as shown below.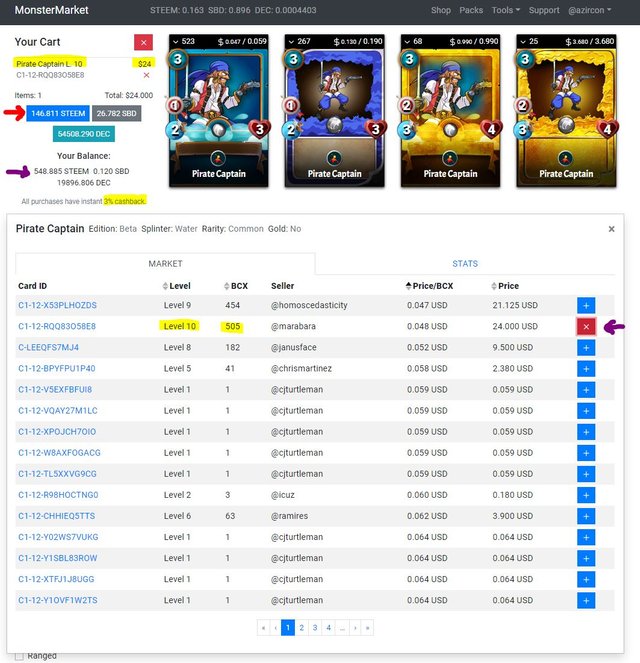 I thought I just buy the Max one for a decent price and I will sell my L3 Pirate Captain later. I click on the blue plus symbol (purple arrow) to the right and that puts it in the cart to the top left, highlighted in yellow. It will cost me 146.811 Steem (red arrow). Shows the balance left in my account below as well. I am getting poor by the minute ! Thanks @reazuliqbal!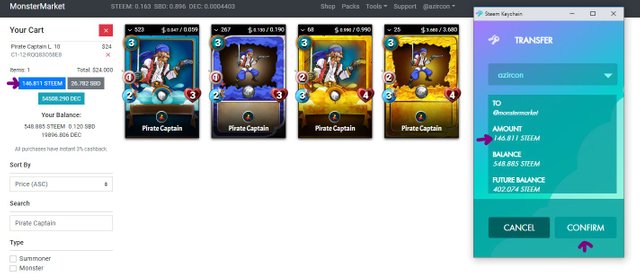 So all that is left is to click on the steem price button on my cart. That triggers my Keychain app. I hit'confirm' on the app and we are done. Next I check my wallet.

That's my steem wallet transaction above. That shows both my purchase from the monstermarket and the CASH BACK from the monstermarket. Excellent deal!
Next, it is time to check my steemmonsters account to see if the card actually shows up or not.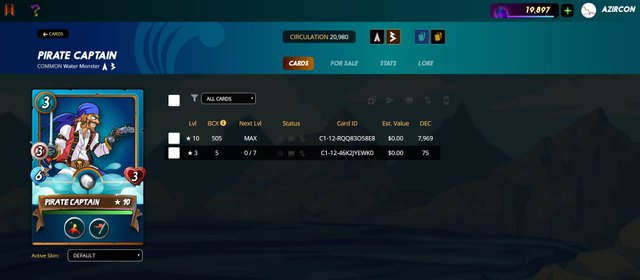 It does! The whole thing works perfectly and quite effortless.
To summarize the main utilities of MonsterMarket
Purchasing card (as I just explained in details above)
Starter Set (for new players); second button on the upper right of the page
Purchasing Pack (Untamed Booster Packs); third button on the upper right of the page
Tools (I really like these); fourth button on the upper right

Cost Estimator (already showed you guys how to use that)
Analyse Opening (handy to check on pack and orb opening results)
Analyse Rewards (handy tool view weekly earning from battle and rewards)
SE Explorer (tool to view Steem Engine Token transaction)
My Single Untamed Pack Bulk Purchase
I have never liked pack purchases much. I like to buy specific card that I need for battle. I am not playing the game to make money or looking for an ROI. I am playing the game for fun. I also have a time crunch, so I want to involve the least amount of time in actual game play for most satisfactory battle results. I am no stranger to the card playing game and I understand the game mechanics well. Just no expert in this particular game :)
So in my short history I have purchased only one Untamed 100 pack during the @steemmonsters Power Up promotion. I was told normally pack purchases are generally at the loss, but due to the drop in the price of DEC and the Power Up promotions there is a good case for a pack purchase. So I thought I give it a try using the MonsterMarket shop. I paid in DEC purchased from the Steem-Engine Market. 200K DEC for a 100 pack is what I went for. Important Note: MonsterMarket pack purchases qualify for the airdrop. It is just like buying from the main shop but at a 2% discount. So I thought I will put together a table to explain the cost of my purchases and use the Analyse Opening tool to understand if the purchase was profitable or not (just for fun).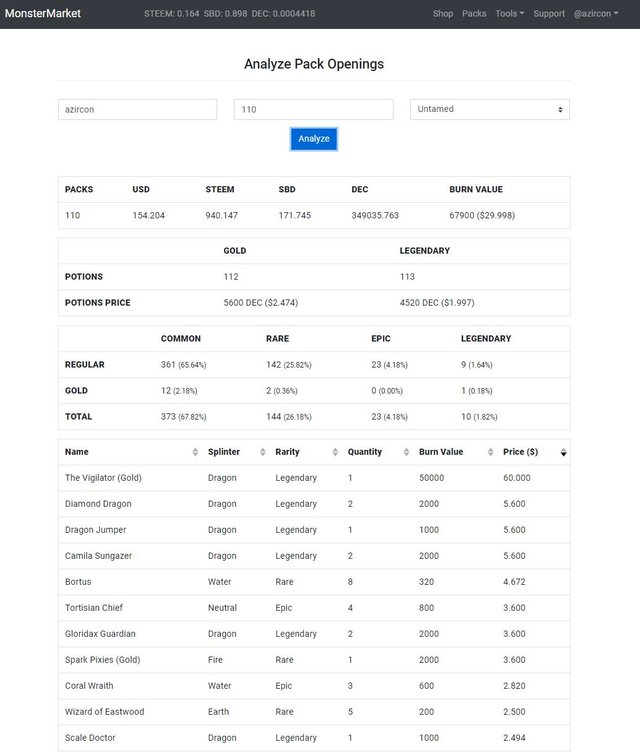 | | Cost in Steem | Cost in DEC | MM Money Back DEC | MM Money Back in Steem | SM Power Up Steem | Net cost Steem + Potion |
| --- | --- | --- | --- | --- | --- | --- |
| Pack 110 | 538 | 200,000 | 4000 | 10.76 | 87.83 | 439.41 + 27.22 = 466.63 |
| Value of Cards | 940.147 | 349,036 | - | - | - | - |
| Potions | 27.22 | 10,120 | - | - | Net Profit = | 473.517 |
---
So looks like I was incredibly lucky on this pack opening during the @steemonsters promotion. I more than doubled my money!
Bottomline
MonsterMarket is a third party website for SM cards with a whole bunch of cool features. I am sure more features are on the way. Kudos to @reazuliqbal and @zaku for this valuable service. They have an active discord server as well https://discord.gg/UFrEhhu. Feel free to give them a ping ;)