The state of Steem in the eyes of BTC Maximalists in Berlin, Germany
Steem is an altcoin. Some even might call it a shitcoin. In fact, it could be considered a shitcoin: Our ATH happened more than two years ago and since then, the price plummeted to normal levels around $1, which is what it was sold for before the Crypto bonanza of December 2017/January 2018; a year later, the price began to falter and in a matter of months, we saw it go down from 80 cents to 12 cents. Now we are flirting with stabilizing it at 20 cents.
Some could consider it a Shitcoin, I don't at all, but if any, it is my shitcoin, it is our shitcoin.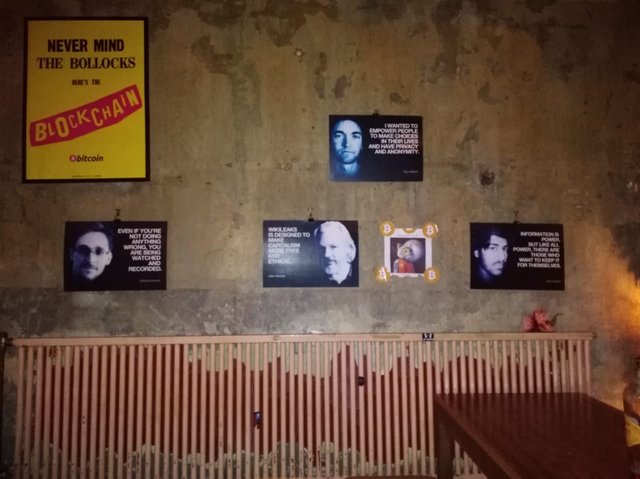 The first wall you look at when you go in the bar, from left to right:
Never mind the Bollocks, here's the Blockchain.
Even if you're not doing anything wrong, you are being watched and recorded. - Edward Snowden
Wikileaks is designed to make capitalism more free and ethical. - Jualian Assange
I wanted to empower people to make choices in their lives and have privacy and anonimity. - Ross Ulbricht
Information is power, but like all power, there are those who want to keep it for themselves. - Aaron Swartz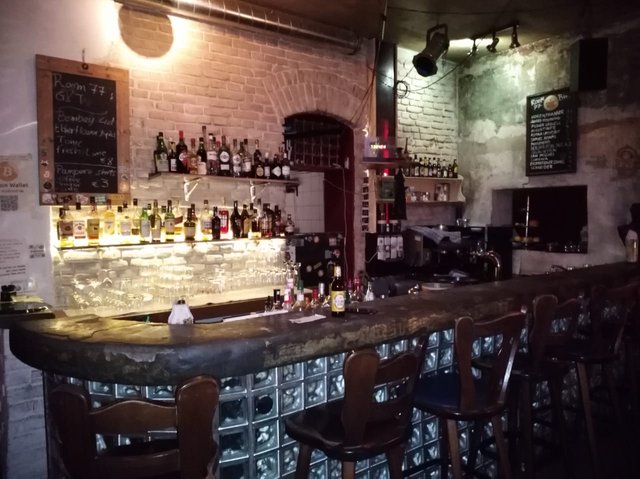 I arrived in Berlin 10 days ago and, the first thursday I was here, I attended one of the biggest BTC Meet ups in the city which happens once a month. It's located in a bar in one of the party neighbourhoods of Berlin: Kreuzberg.
I went to this meeting just looking to make new contacts, get a grasp of the crypto environment of the so called syllicon valley of Europe, perhaps make some friends and most importantly, to check out if people knew about Steem and what their opinion was about our Blockchain, DPoS, our economic model and overall, the Coin.
I got there early, I wanted to get a glimpse of everyone who arrived, in fact I was one hour early and the first there. I didn't mention anything to anyone or mentioned the purpose of my visit, I was mainly aiming to listen.
But once the first customer/member of the cult that is Bitcoin sat at the bar, he began a conversation with me. He was a mathemathician, full stack developer and early miner. He was as curious as you could imagine someone with those three characteristics.could be. Socially awkward, with a mind going 1k clicks per minute and you guessed it right, an altcoin lover, but not openly. He wanted to code a blockchain and create an altcoin to solve math problems while producing blocks, he went through the details with me and, despite me thinking it would be a useless chain with no market value for a coin on top of it, he didn't care, he has too much money to care about it.
He knew about Steem though, He hadn't heard about it for years, but since the Twitter bonanza que are experiencing right now thanks to Justin Sun, CZ from Binance, the small exchanges and the Stake war everyone is involved in to protect the Blockchain by voting for the Real Witnesses¨.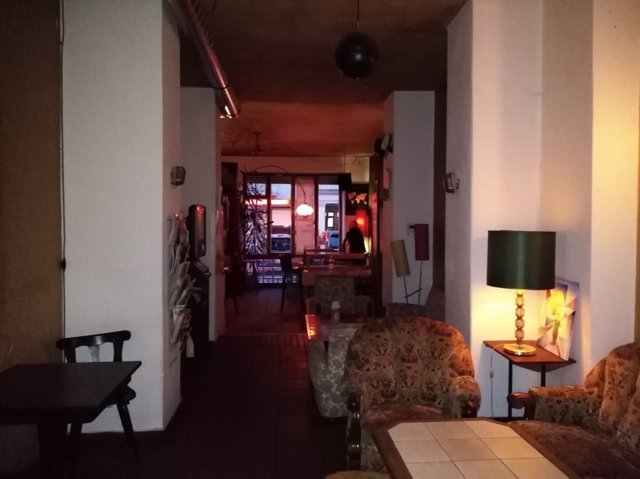 More people kept arriving and I was able to speak to several of them, from BTC maximalists to crypto curious people who attended to be convinced about Blockchain and why it will change the world - if it hasn't already.
Overall, I have one conclusion, and then one advice for the Steem Community:
BTC maximalists didn't know about Steem until a few weeks ago. If they did, they hadn't heard about it since the ATH or even before that, when the chain was launched by Dan Larimer and Nedshair. 99% of the people I met didn't care about Steem until it started to be featured in every Crypto website and how DPoS was being tested to the core.
Steem is trending everywhere, and that is thanks to us, thanks to you. For defending the chain on Twitter, for speaking up against the Hostile takeover we are experiencing here. BTC maximalists are looking over our coin and some of them are buying - I even convinced a few to do it in front of me after explaining them what is going on and how we are defending out Chain like the honey badger of Blockchains we are.
We are changing the way people look at Steem. DPoS may be flawed, but we are making sure it holds on and doesn't get fully proved pointless. We are proving the crypto space that Steem doesn't deserve to be on the place it is on CMC. BTC maximalists, despite being full on Bitcoin, are following closely how this chapter of Crypto - that will indeed set precedent for a lot of events in the future and will mark a before and after.
So, let's keep pushing back. Let's keep being the Honey Badger of Blockchains. Let's keep protecting the blockchain, DPoS, decentralization and most importantly, let's prove the crypto space that you can buy a coin, but you will never buy a community.