Forklifting - Sand sculpture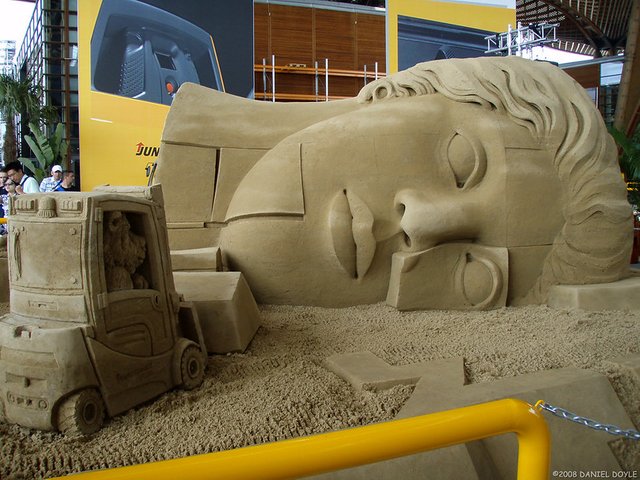 It is a complete coincidence that the very next sculpture I am to document is of forklifting. Considering all that is going on with Steem at the moment the images for Forklifts could be a very good symbol of what is to come.
The time has come and many are packing their bags for a move to the Hive chain away from the Ninja mined stake that has been hanging over this chain like a bad smell since it was started. I am sure that there are still many who don't know what is happening and why it has come to this.
TL;DR as the cool kids say
Just take it that many of the community is moving to another blockchain much like Steem but without the possibility of being centrally controlled by someone who has recently bought lots of Steem through very dubious means. This new chain will be like a fork in the road and each user may choose the direction they wish to take. Steem which will be controlled by one entity or Hive which will be community controlled. Either road is filled with uncertainty but for me I know I will be following the swarm.
This Friday you will be able to access a new account created for you on the new chain with your Steem keys and you can make your choice from there. You can also continue your journey on both if you want to.
I just wanted to open this post with a bit of a public service announcement in case people don't know what is going down. It has nothing to do with this sculpture but a lot to do with my future posts.
Up to now I have been creating my posts on Steem happy that I would give it the premiere of seeing my work. So far I have documented over 100 sand sculptures, over 30 ice/snow sculpture and countless other tidbits ,but this will change when Hive goes live. From then on I will post there first and then I may, or may not post on Steem. This will depend on if there is still an audience here for my work or if it has devolved into a mess of abuse and centralisation.
I'm all honesty I am very excited about the Fork and how it may Lift the community to higher heights. With so many other issues going on in the world with this Covid-19 virus is is good to have something to look forward to.
For now, it's on with the show.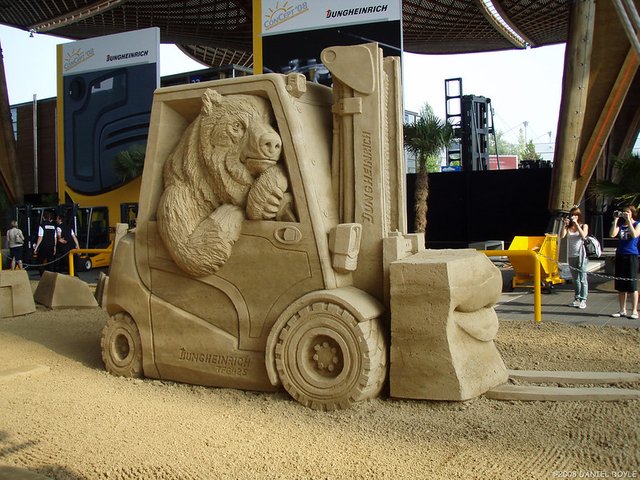 For fork sake
I made this very commercial exhibit along with Kirke Kangro, Enguerrand David and Martijn Rijerse at a trade fair in Hannover , Germany for the company Jungheinrich. They were displaying their new line of forklifts there, It was a uplifting experience.
Kirke had been approached to do the job and brought us on-board to help. They had certain things they wanted us to include but we also wanted to give the audience a more interesting fun way of seeing them.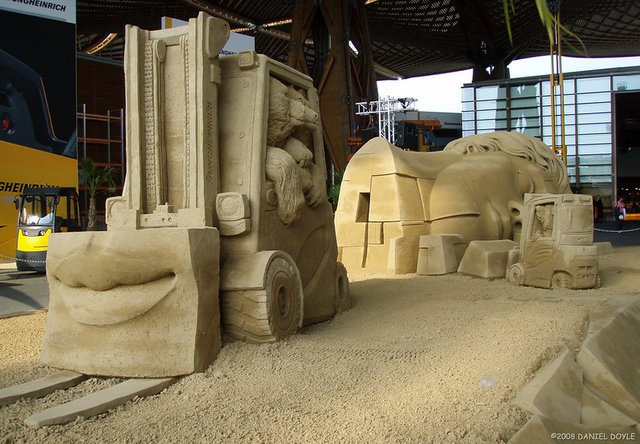 The use of bears in the design were to symbolise that even though the forklifts were strong they could also be very cute. Giving the scene some other elements took away from the hard-sell that we were advertising machinery.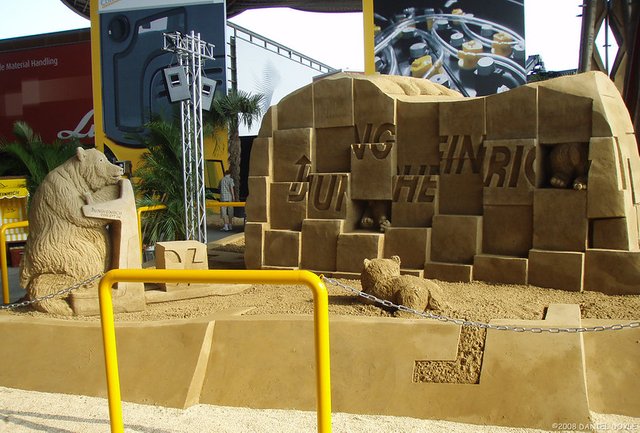 I concentrated on this area, making a bear driving one of the new line of pallet trucks. The truck was quite sci-fi and took a lot more effort to make in a one to one scale than I am comfortable with. The bear was a nice distraction when I was getting bored of making straight lines.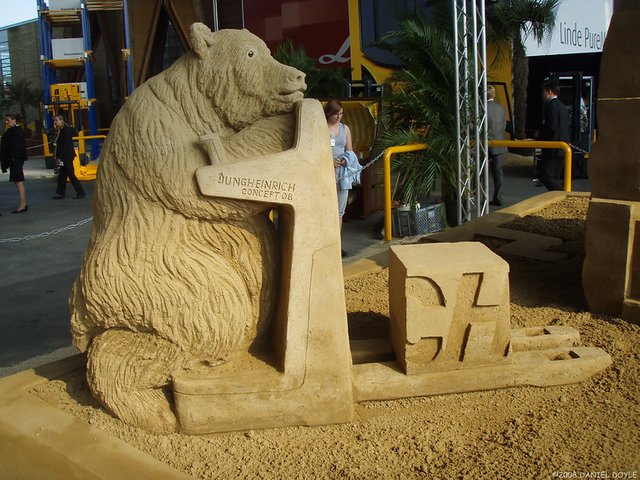 He turned out very big and chunky especially around his ass due to so much weight being on top. But, I do like the contrast between his rough fur and the straight lines of the machine.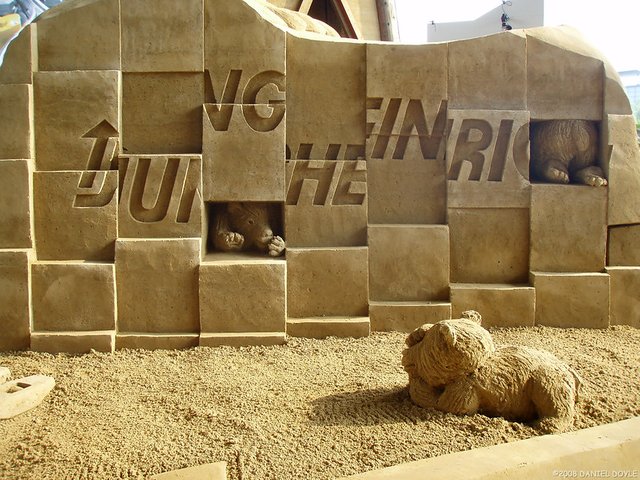 At the back of the large head which Kirke carved I made a wall of blocks that the bears were putting into place. The Logo from Jungheinrich is visible although a little disjointed. Having some baby bears playing around helped keep it fun to make and soften the commercial aspect of the whole thing.
As a project it wasn't the most artistically challenging but it was a lot of fun to visit the world of trade shows and see how much technology and innovation is going on in an industry we take for granted.
---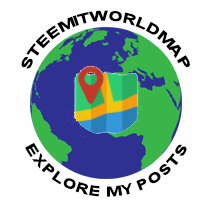 ---
Ps
Thanks for reading. I use Steem to document my work as an ephemeral Sculptor of sand, snow and ice, amongst other things. This will hopefully give it a new life on the Steem Blockchain. Below you will find some of my recent posts.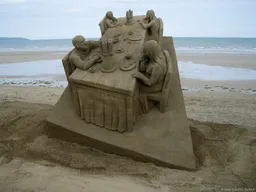 Gráinne Ní Mháille (The Pirate queen) - sand sculpture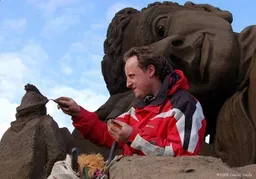 Gulliver - sand sculpture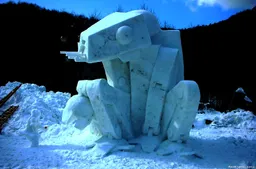 AT-AT a good boy - snow sculpture
I hope you'll join me again soon
@ammonite
If you would like to support me
Bitcoin: bc1qp4lfg0ttz66nesgff8fd5unglg9y0l2jy53j36
Ethereum: 0x6abaE039b9BDFB67495A0588cb90F9EAF5f7556c
Eos: ammonitearts