Quarantine Life Drawing and Fighting Monkey
During this era of isolation I have participated in many online workshops, one of which is the Quarantine Life Drawing which will be the subject of this piece. I have modeled once for this event which was a joy.
To be Fair, drawing the human figure on a screen is in no way shape or form as fulfilling as having the model in front of you. However, it is much more enlightening than using a photograph as far as shapes and lighting are concerned, because of how connected one can feel to a live feed. Having natural light shift, seeing the rib cage move with breath and the muscles gradually tense up to sustain the pose, all contribute to a precious state of awareness. A level of focus only achieved in groups of artists.
Our model Harla_Esque (on IG) provided us with 2 camera angles, one of which was backlit and she played it off by modeling directly in front of the window.
In this video, I mention the gestalt which is the phenomenon of the brain to see shapes in drawings. The lighting from a window behind, reinforced the contour thus enabling me to work with the gestalt.
Gestures really work your artistic instinct and show you that imperfect drawings are often more dynamic. By learning to quickly grasp the power and weight of a pose, the hope is to bring a more instinctual approach to longer drawings.
At 4:45, I am drawing a 30 minute reclining pose.
While I wish the end result was a little bit more defined, I had fun working with the texture of my wooden panel supporting the page. I love to enhance contrast, even when the composition could be better because there is an opportunity to use the background to tweak the shapes. In a life modeling session you can always start over for these mid length poses, yet there is so much to be learned in using the side of your charcoal to shade.
At 10:30 you can find my Fighting Monkey piece.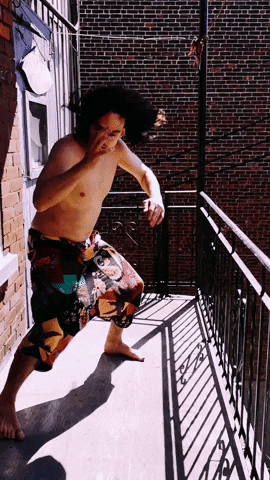 I often wish I could split myself into multiple people to learn about every major art form under the sun. How neat would it be to merge back as one like John Maddox, X-Factor's Multiple Man, and create uncanny bridges between disciplines.
With Elke Schroeder, my new instructor, I have learned a whole deal about movement. Fighting Monkey is most efficient in groups because partners will give you invaluable feedback to create an original flow of movement. I can only hope that one art form informs the other with enough practice and discipline.
I tend to use inspiration of the moment to indulge in whatever moment my heart desires. I hope that this can inspire you to connect in these troubled times and find a new normal filled with activities. It is interesting to see uses of the internet become crucial in maintaining and improving our skills, both mental and physical.
Lastly, this is from last week's Quarantine Life Drawing with renee.mak which as you can see, has been a lifeline! I tried to be painterly with the markers as much as I could.