Community Curator Application For February 2023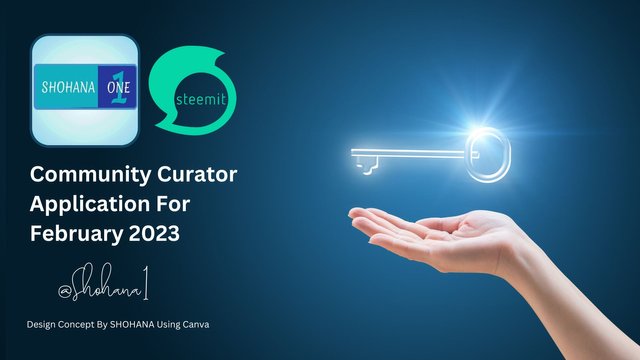 Source: canva
Greetings Steemit Team,
I am very hopeful about submitting my February Curator application post. With a lots of positive vibes and hope I'm applying once again this month. Thanks, steemit team for giving me this awesome opportunity continuously. I'm lucky to have this golden opportunity several times in 2022 so I would love to express my heartiest gratitude to steemit team. I will submit my application post through this post once again for February 2023.
A brief summary of my background on Steem:
---
I joined this awesome platform in November 2017. I have been familiar with this platform for the past 5 years and have been active on it for the past 3 years. I tried to complete almost all the projects offered by steemit team with my sincere participation. I will participate and support all the projects and initiatives that will be taken from the Steemit team.
Details of any positions of responsibility you have held on Steem:
As per my commitment, I am very happy to say that I am holding some important positions in this platform:
Admin of Writing and Reviews community (previous name steemship) : Currently, I am working as an admin on a community on Steemit. I am trying to manage everything from the community account to providing good support to the steemit users. I will arrange interesting contest to produce more quality content as I did in the past.

Curator Of writing Tag: I have been working on post curation with steemcurator04 for about 16 weeks continuously. Later I got selection in team 01 with steemcurator04 once again and currently I'm working as a part of Team 5 accessing steemcurator08 I have gained a lot of experience in post-curation by working with several awesome teams for around 7 months in the year 2022. I follow all the rules, and I check before curating the posts from real users or not.
Details of specialist or professional skills or expertise you have in "real life":
I am currently working as a freelancer and volunteer private school teacher. During my college life, I started learning various skills online. I have gained experience with cryptocurrency over the past two years. Moreover, I was a student of physics department. I Completed my M.Sc in physics at Bl College, Khulna, Bangladesh
What country you live in and what languages you can read fluently.`
I'm Bangladeshi by birth and currently living in Dhaka city. I'm fluent in my native language Bengali which is also known as Bangla. Beside this I can read and understand (fluently) English and use translator for foreign languages and translate them in English most of the time. My first language is Bangla and second language is English.
Your key stats - own SP, CSI, Reputation, Delegations.
| My Total SP | 19,707.261 SP |
| --- | --- |
| Reputation | 73.209 |
| Effective SP | 10,933.18 SP |
| Delegation | 8,774.08 SP |
| Club Status | #club100 |
| Voting CSI | 18.4 ( 0.00 % self, 136 upvotes, 70 accounts, last 7d ) |
---
See My Delegation Record In The Image Bellow:
---

screenshot of my account state | Details Here
Any subjects you particularly enjoy curating:
---
I'm interested to curate any kind of quality and deserving blogs on steemit. Specially I love to curate, art, writing, poetry lifestyle , contest and technology based blogs that I find interesting too.
I therefore request to steemit to give me a chance once again to be a part of curator team and help me grow up as a regular steemian since last two years. Forget my previous mistakes and grant my apologies. Accept me as a steemian who wants to explore with steem!

Thanks For Reading
---