ACHIEVEMENT 1; MY INTRODUCTION TO STEEMIT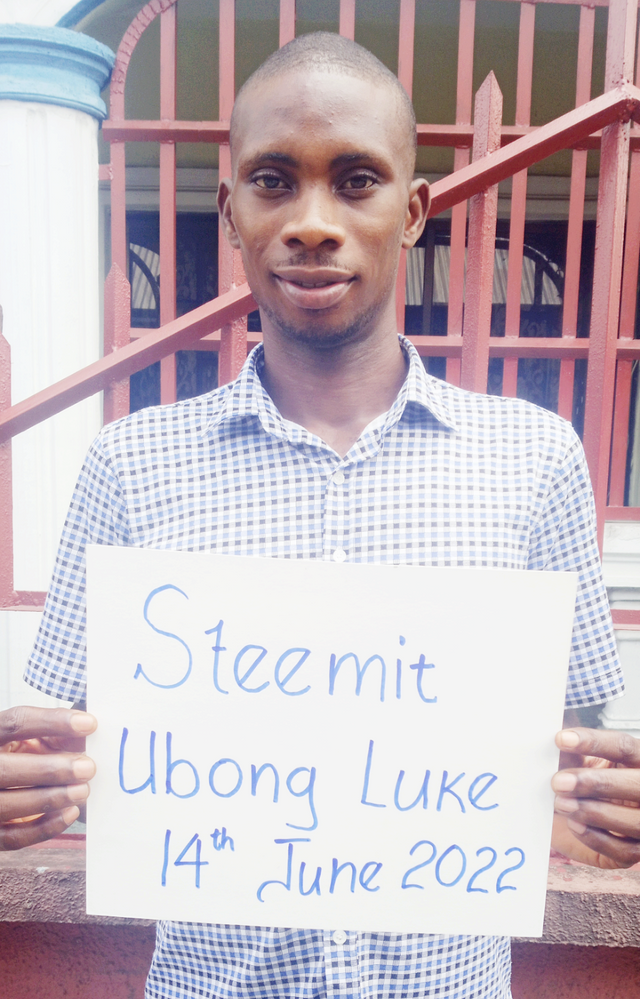 ABOUT ME:
My name is Ubong Luke. I'm from Akwa Ibom state. A state located in the South South region of Nigeria.
I marked 28 years of age on the 10th of October, 2021. I'm 6.4 feet tall. I love myself just like that because it's doesn't take long for people to recognize me even in a crowd. I feel so comfortable with it since it attract charisma and attention.
MY PHOTOGRAPHER LIFE
I am a great lover of photography. I developed great passion for photography back then in my high when I got an analogue amateur Camera 📷 from my Uncle as my birthday gift. Then, without any professional mentoring I was diving into street photography for fun and leisure. Growing up, the passion keeps growing. As I went on to further my studies in college as a professional teacher I saw the need to upgrade my passion for photography into a professional career as money was seen as one of the necessities to possess.
While in school I had a side training on photography, acquire my first digital camera (Nikon d40x) and started engaging my course mate in their photo shoots, birthday shoots and gradually, I was recognised as the Ubong the image maker. Today the passion is pushing me higher, introducing me to great people and places in life.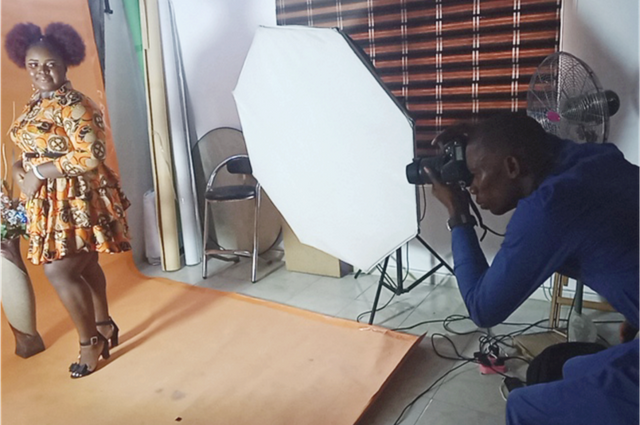 MY LIFE AS A TEACHER
It is said that effective teachers are born and made. Being the first born in the family got me to discover my teaching talent earlier enough in life as I was seeing myself engaging my siblings in tutoring session. My parents seeing this talents encourage me into teaching profession where I studied the art of Business Education (accounting) and graduated with Credits and also backed the licesnse of Teacher's Registration Council of Nigeria (TRCN).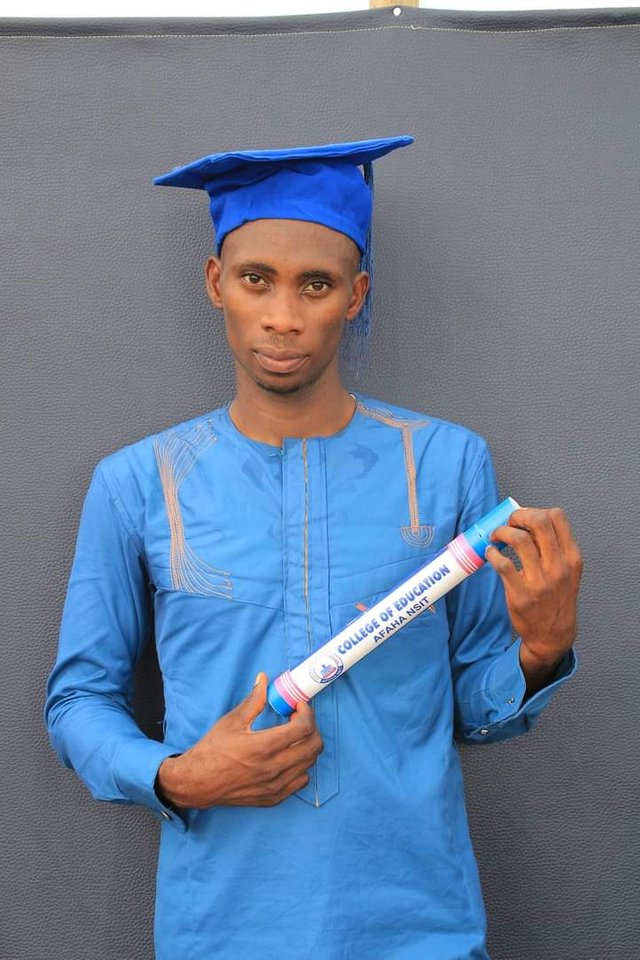 Other skills
In church, my love for classical music was always heavenly as a young Sunday school boy of Apostolic Faith Church. Growing up, I joined the church Rudiment of music class, advanced to sight reading and trumpet 🎺 class and with no time, my Passion for music was matched with my skills and I was welcomed into the church Junior orchestra where I started playing and singing in various concerts and Church services.
Man grows to learn and learns to grow. Learning digital skill in today's society is a thing that should not be neglated. Currently I'm working on acquisition of digital currency trading skills (forex and crypto currency). To say it all, having multiple skills gives me the sense of value and always get me engaged productively and positively.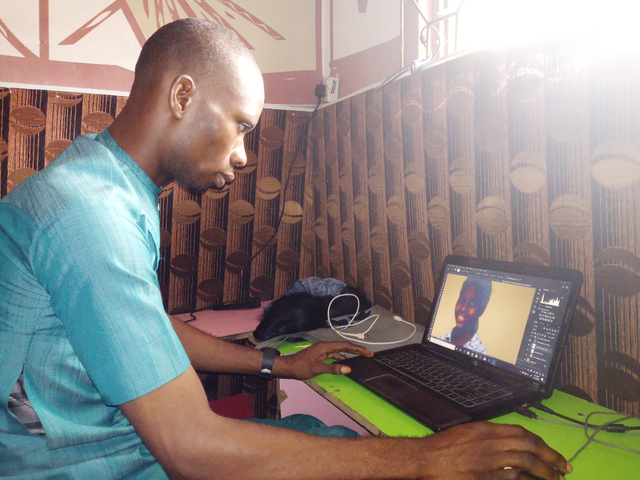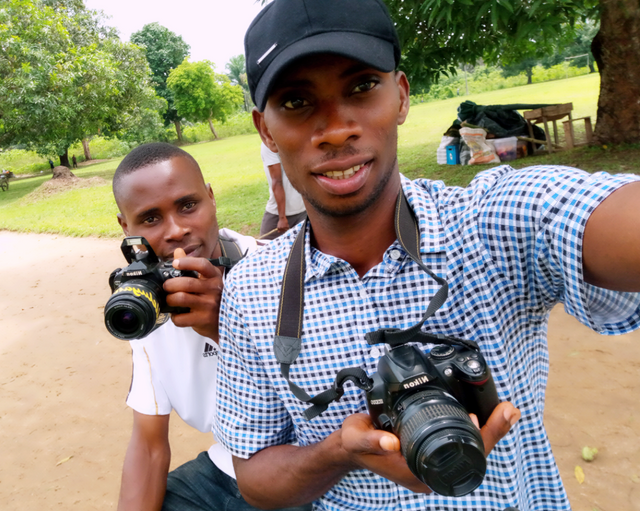 HOW I GOT TO KNOW STEEMIT:
I didn't just stumble on STEEMIT. I was well informed and introduced into the platform by a bossom friend of mine. A friend and a brother from another mother who happens to be a steemit agent/promoter. He's known as @tempestinyang. We had been friends and colleague from college, learning basket ball together. He gave me a sneak peek by asking to to go view and study the platform and what it's all about. After scan reading I was overwhelmed with excitement for adding something new to my life. The introduction was a blessing because it automatically spured my sense of productivity and creativity on content creation. Special thanks to him.
MY GOAL ON STEEMIT:
I'm here to meet people, learn and share my skills and knowledge to the wider world. I hope to meet great people and other professionals in various fields around the globe. I will also love to see nice post on photography, music and from various people around the globe.
Being a member on steemit, I have seen a lot of communities that I will like to share my creativities. This have really moved me to speed up and hasten up my writing and photography skills so I can be making nice post too. I dream of owning many steem power too.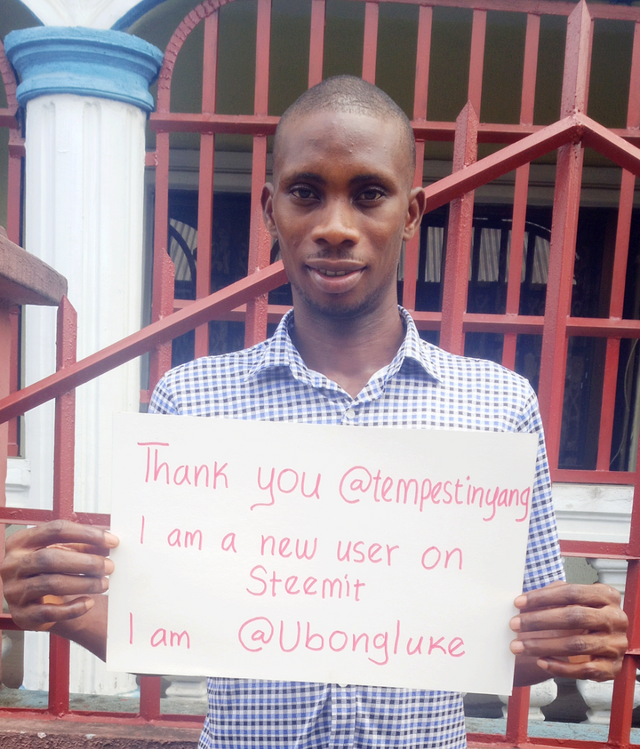 One time for @tempestinyang . He is the man who brought me to STEEMIT. I respect him for that. I hope to make new friends here. Never to forget Mrs. @ngoenyi who @tempestinyang told me that she's our country's representative (NIGERIA), my appreciation goes to her.
Thanks for reading my achievement1 post.
I remain Ubong Luke.