Achievement 6 Task by @sahab1992: Understanding Curation and Community
Hello Everyone
Good day to all
Below is my task for Achievement 6.
How do voting and curation work in steemit?
In steemit if a post has been upvoted both author and curator are rewarded. 50% of the amount goes to the author and the rest 50% is distributed among curators. If a post is downvoted there are no rewards. This voting thing is similar to liking or disliking a post on Facebook, Twitter, etc. The main difference here is that we (authors and curators) are rewarded for these activities. To vote(upvote/downvote) someone's post you have to just click the green/red button present below the post.
Screenshot of a post is shown below.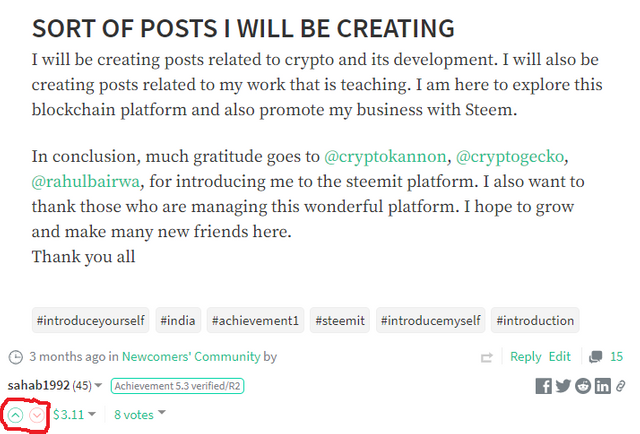 What happens if you vote for a post 5 minutes after posting?
If a curator votes within 5 minutes of posting, he/she will get less than 100% rewards.
Rewards to the curators are distributed as shown below.
| Time | Curator Rewards |
| --- | --- |
| 1 minute after posting | 20% |
| 2 minutes after posting | 40% |
| 3 minutes after posting | 60% |
| 4 minutes after posting | 80% |
| 5 minutes after posting | 100% |
Source of the above content is here
Who will you vote for Steem Witnesses ? and Why?
I will vote for for @justyy for creating steemyy.com. It is a very useful tool. Using this I learned to check Effective Steem Power, outgoing and incoming votes. I also learned to delegate SP using Steem SP Delegation Tool and many more useful information.
I will also vote for @steemchiller for creating steemworld.org . It is also very useful tool.
Which community will you join in Steemit, and why?