Achievement 5 Task 1 by @msharif : Steemworld.org Review
Hello Friends,
I have already completed my Achievement 4. Today I will complete my Achievement 5 task 1 through this post. I think this is basically a very important post because the topic I will discuss today is a popular website called Steemworld I think this is a very important website for all Steam users. This website promoted by @steemchiller I would like thanked him for this amazing website.
REVIEW OF STEEMWORLD
In the first stage you will find the important things that you can see the details of the whole website. From this website you will find Dashboard, Witness Overview, Block Explorer, Delegation History, Transfer Search, Account Creator, Account Auths, Account Recovery, Key Generator, Change Password, Copy Votes, Manual Vote, Abuse Finder, Proxy Info, Witness Schedule, Seed Nodes Check. All the of the points are very important here.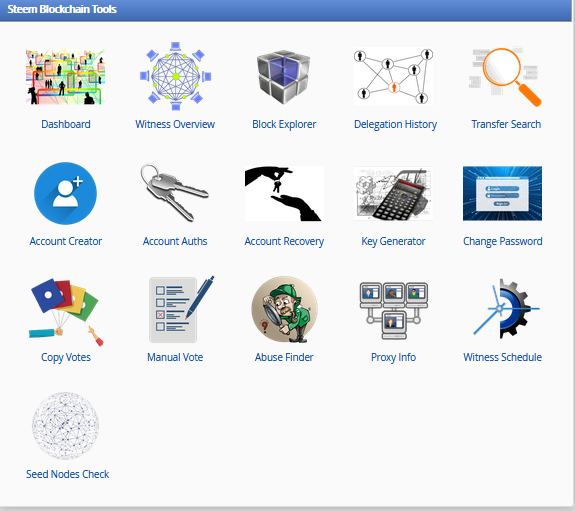 Dashboard
Anyone who goes to the Dashboard option can easily get all kinds of information here. How many more important information including his father, how many followers, vote cannon Bhutan will be there and here you can share and see the status balance account details and much more.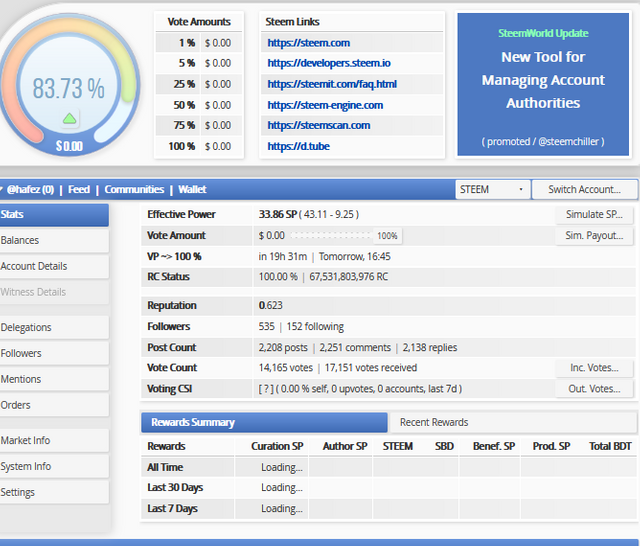 Witness
Witness will present many kinds of information in front of you. If you want you can see the ranking here, then you can vote for the Witness of your choice from here and you will find a lot of information about who is first in the ranking here.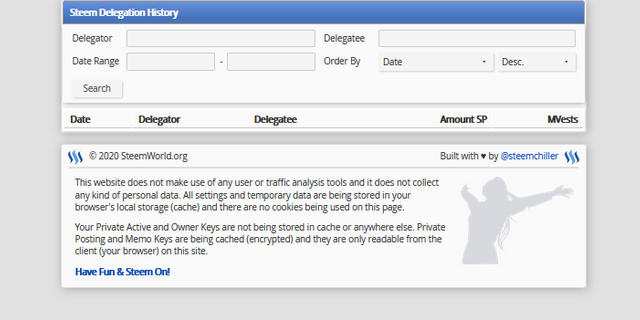 Delegation History
Here you will find all your Delegation History. If you have ever been in a relationship with someone, you can find out how much you have done or how long you have been doing it, and if someone has been delegating to someone else, the information is available.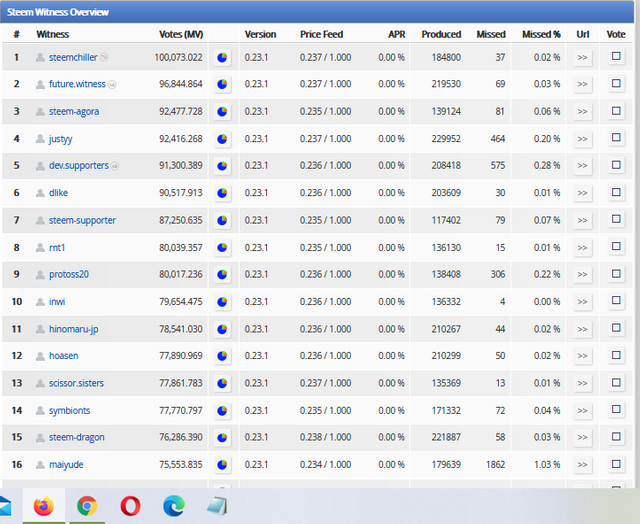 Account Creator
Anyone can create new account from here.If someone wants to open a new steem account, he can go to the Account Creator option and open a new account by following all the time.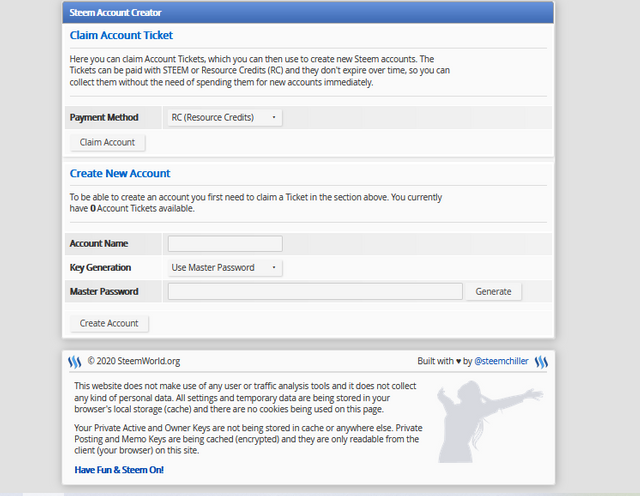 Transfer Search
All types of transfer information can be easily found in Transfer Search. Here you can see how many people have transferred, how many have been transferred to which ID, on what date or for what.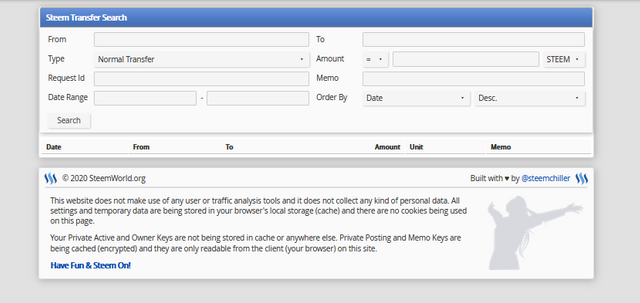 Market Information
There is a lot more information here, including the current price, the volume of the phone, the external volume and the internal billion. From here you will get all kinds of Market Information in 24 hours.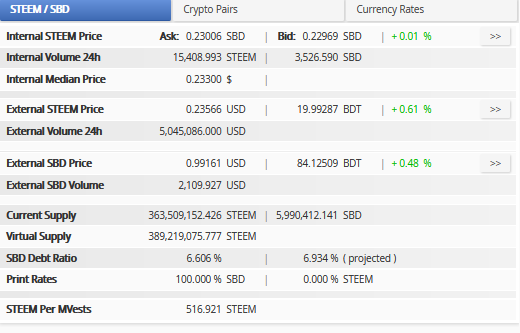 Account Recovery
Anyone can recover their account from here. Here you can initiate an Account Recovery Request for all accounts.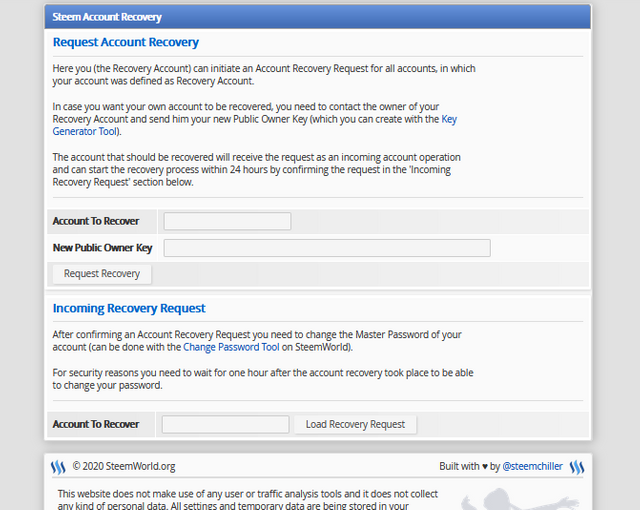 Key Generator
From here you can easily generate new keys to your Steemit account. To generate a new key you will need your Steem account username and master password.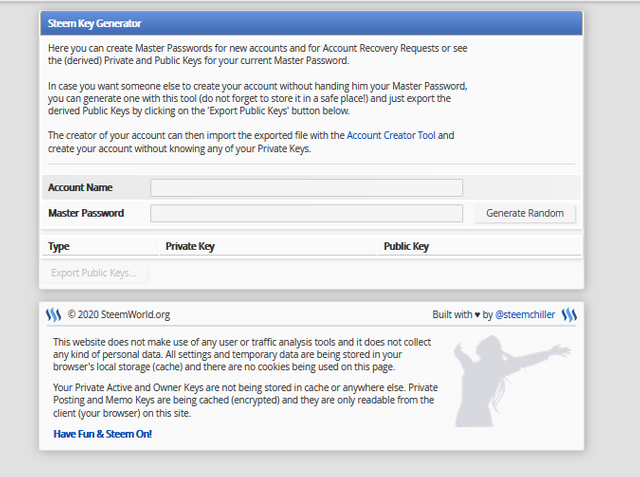 Change Steem Master Password
Many people find his master password a little difficult so if anyone wants to change his master password then he can easily do so from this website. For that he must login tohttps://steemworld.org/ first.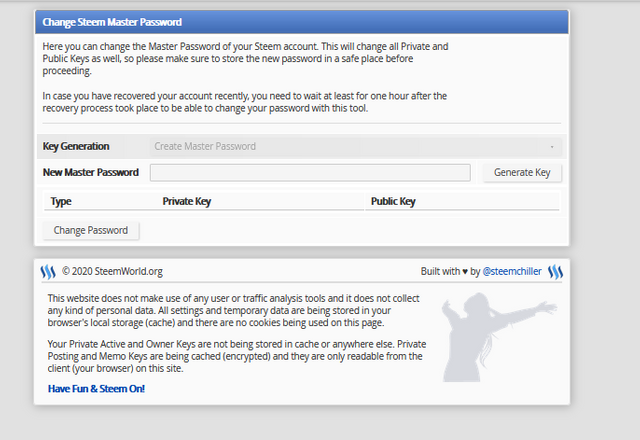 In addition to the above, there are many more important things on this website that I think are very important for every user. I hope you have some ideas about the https://steemworld.org/website.
I collected of Screenshot from https://steemworld.org/@msharif
I would like to thank @cryptokannon, @steemcurator03, @steemcurator01, all those who have helped make it a success.
Best Regards
@msharif