MY ACHIEVEMENT1 TASK: MY INTRODUCTION TO STEEMIT TO @CRYPTOCANON BY @MESOLA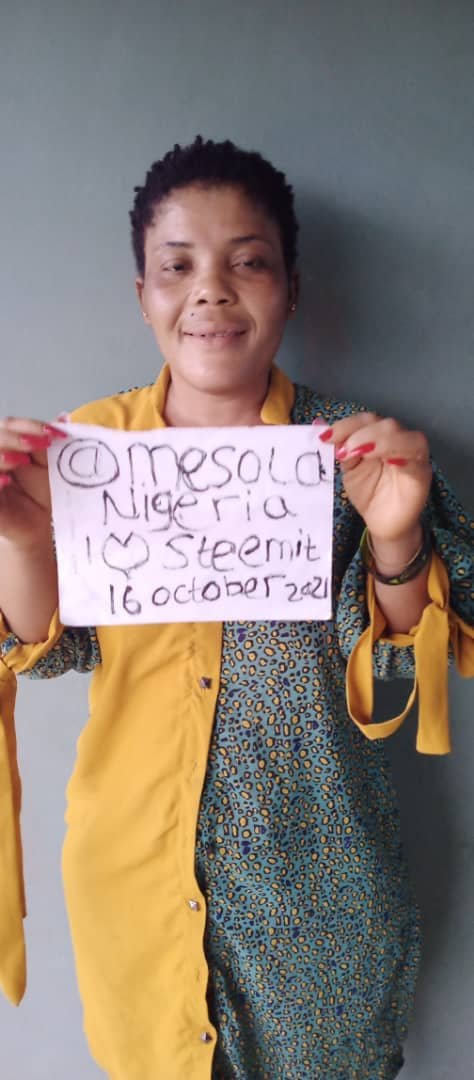 INTRODUCTION
Hello steemit, my name is mercy Richard Ayang, I'm from ikot Abasi local government area Akwa ibom state.
EDUCATION
I started my primary education at the age 2 years and I finished my primary at the age of 10 years at janeth international nursery and primary school ikot Abasi.
I started my secondary school at 10 years then finished at 16 years at Methodist secondary school ette same ikot Abasi local government area Akwa ibom state. And now I'm a graduate of the university of uyo. We are eight in my family but we lost one and we are now seven I am the last born in my family. I lost my mother in year 2008 and father in the year 2019. I'm an orphan and a widow.
I got married in 2006 and my husband died in August 2020, I am a mother of 4 children 3 boys and a girl. I'm a business woman l, I do my business here in uyo, Akwa ibom state.
HOBBY
Waooo! when I am free I like washing clothes, play with my phone, go into facebook and instagram and see what is happening there just to keep my self busy.
LIKES
I like honest people, I like to see a lady being independent, I like catching cruise, I like parting with love ones, Etc.
DISLIKE
I dislike lazy man , I dislike lies, I dislike gossip, Etc.
MY PASSION
I will like to be a great woman, an international business woman, traveling to any part of the world 🌎own my own money without depending on any man, see my children archive their dreams.
WHAT I WANT TO ACHIEVE IN STEEMIT
In steemit I want to learn new words, new things, earn good money 💰💰💰, and get educated more.
HOW I KNEW ABOUT STEEMIT
I knew Steemit from my son's @ekemini5, he Then introduced me to steemit and got registered by a good woman @ijelady. My son @ekemini5 gave me a deep inside of being a steemian. Thanks to all of them. Much love ♥️
CONCLUSION
Thanks to steemit for this great opportunity you have given me and the whole wide world.
My sincere thanks goes to
@cryptokannon
@steemit
@ekemini5
@whitestallion
@ijelady
@ngoenyi
@chimeroselam
---
Thank you