Achievement 1 My introduction to steemit by @maqbool12
Greeting!
I hope you all people are fine and enjoying your journey on this beautiful platform. I am new to this platform. And today I am going to make my first achievement that is about my introduction to steemit. I hope you all existing people will help me to build up my account in steemit.
Introduction.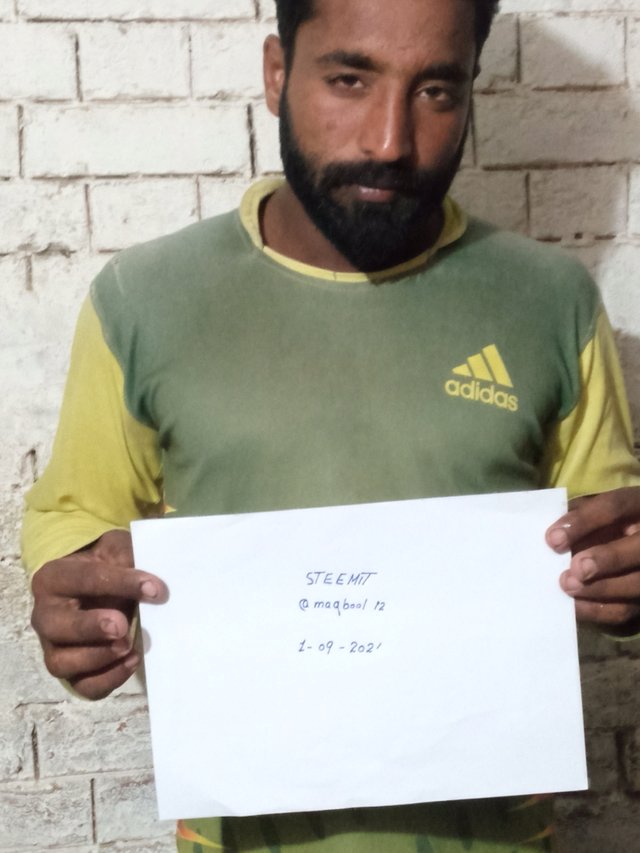 MY name is @maqbool12. I belong to wattoo family of great history. I live in depalpur. This city has a great history during the independence and also before it was a city of great importance.
Education
Currently I am a student of university of Msc. I am doing Msc from university of lahore. This is a subject of great interest for me. Before that I did my matric from Government high school chourasta mian khanand then went to Divisional public school for my I.Com degree. I got 1st Division in my I.Com degree and perform in a excellent way.
In future I want to join teaching passion in order to serve Pakistan and want to see my country more and more progressive. I hope i will make great contributions to the welfare of my beloved country. And I hope I also contributed to steemit platform for the welfare of the people.
My Hobbies
My hobbies are concerned I play bedmenton in free time and make my self fit physically strong. I also suggest all of you to play these kind s of games in free time to make yourself available for high command work and physically fit and strong.
In free time I also read books that are relevant to history and finance. I am very interesting in knowing the knowledge of history.
How I joined steemit
Few days ago I was studying about the cryptocurrency. And I come to know about this platform and also about Cryptocurrency and crypto academy where I can work about Cryptocurrency nd get knowledge about it. Further one of my friend @azam told me about this platform who is currently working very well in steemit nd crypto academy. So in this way I joined steemit platform. He also ensure me that I will make good earnings and also make my knowledge so much helpful. I am very thankful to him
Knowledge about Cryptocurrency
Currently I am studying on exchange platform like Binance. I have little bit knowledge about Cryptocurrency that has no physical interpretation and appearance. Some of the cryptocurrencies are bitcoin the most famous and also ethereum and many other currency. People's are working on this platform to make their earnings and to get experience. I totally believe that the modern world is the era of cryptocurrencies.
So I hope you will appreciate my efforts and struggle thanks a lot again all of you for giving me brief about this platform. Thanks a lot to all of you.
Regards
@maqbool12