Steempeak, Witnesses and Post Promotion all in one place.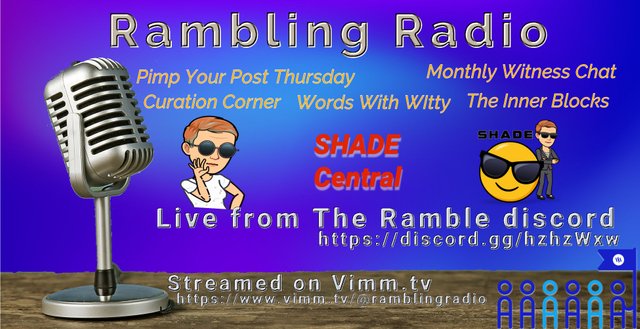 Lots to learn and get updated on this week in The Ramble discord server.
Curation Corner — Feb. 11th
On the Curation Corner tomorrow, February 11th, my co-host @artemisnorth and I will be welcoming @jarvie from the popular Steempeak frontend.
He's joined us before to talk about Steempeak but since then there has been a lot of changes and more in the works. Join us to find out what they have been up to and what's coming with the pending release of Communities and later SMTs.
Join us at 1pm EST / 6pm UTC in The Ramble discord to listen in. There will be opportunity for the audience to ask questions.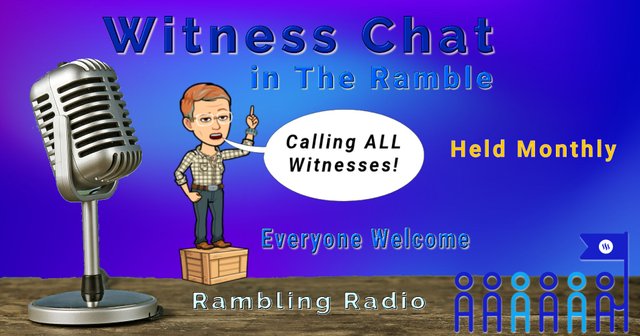 Monthly Witness Chat — February 12th
It's once again time for the monthly Witness Chat in The Ramble discord on Wednesday February 12th at 1pm EST / 6pm UTC.
All witnesses are invited to attend and take part. This is an opportunity for Steemians to meet and hear the witnesses. While the top 20 do the voting on the other Witnesses are involved in working to make Steem better.
This past Sunday @aggroed held his Witness Forum for the top 20 Witnesses. Some of the Steemit Inc team joined them as they will be doing on Wednesday.
During the discussions there was a couple of topics that came up that we can carry on the discussion with on Wednesday. @justinw mentioned that one of the projects that Steemit Inc is working on is improved 'new user experience'.
We've all been new users at some point on Steem. So, we're going to take some time on Wednesday to have a discussion about what makes a better new user experience. This is your opportunity to give some input on what you feel will help new users learn and grow into good Steemians.
What is going to make things easier? What are the hurdles?
Toward the end of the forum a brief discussion took place about the Witnesses. Not their job, the name and how it really doesn't say much to people not familiar with the platform about who they are and their role. Let's bounce around some ideas of a better job title for them.
Now, this isn't all we can talk about. Just a couple of ideas of where the chat could take us. Of course, we want to hear from as many Witnesses who can attend about what they have been up to on and for the platform.
Every Steemian has 30 Witness votes to make. You can't vote if you don't have an idea of who they people are and why you should vote for them. Come on and meet those who attend.
Pimp Your Post Thursday — February 13th
As usual on Thursday the longest running post promotion show on Steem is on twice. This is an opportunity to get to know other Steemians, present your posts and take part in what is usually a varied and interesting discussion.
If you're looking for some posts to curate, PYPT is a good place to visit during the shows.
They run at 11am EST / 4pm UTC and 7pm / 13am UTC.
Mark your calendars and come and join in.

Want to know when shows are on in The Ramble? Sign up here