Contest 📢📢 - Which one do you like the most, the sea or the mountains?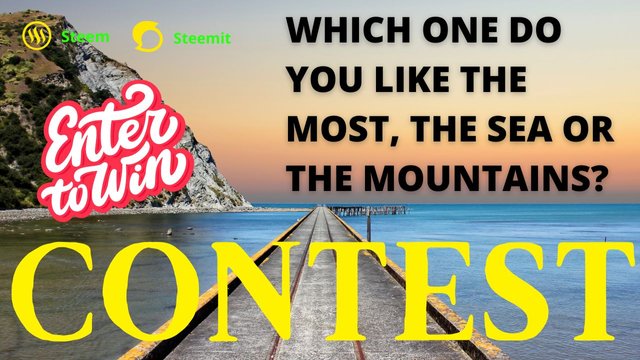 Made from
What is this contest about?
There are many of us who love to travel. Of course, not all of us like to travel everywhere. There are many of us who love mountains, love to go to the mountains, and there are many who love the sea, want to soak themselves in the sea water and like to watch the sunset in the sea water. Today basically I have organized this contest for those who prefer one of the two the most between the ocean or mountains.
Which one do you prefer between the sea and the mountains and why?

Where have you been to the sea and the mountains the most? If not, when and where to go?

Share your best memories with us.
Hope everyone will follow the above rules spontaneously and participate in the contest. Best wishes to all.
---
---
GENERAL RULES📌

Please read the following rules carefully:
You must be a member of the Steem For Bangladesh Community. And the post should be made in the Steem for Bangladesh community.

The title of the post should be:
I like to go for a walk in the sea/mountains the most
Resteem and upvote this post and invite 3 friends to participate.

Your post should be longer than 350 words.

Make sure you are participating in club5050, club75 or club100.

Anyone can participate in any language.

The first 4 tags in your post should be #sfb-travel, #steemexclusive, yourcountry, and your club status in the first four tags of your post.

The link to your entry post should be commented on below this post.
---
End Time: 11:59 pm of June 12 (GMT+6)
---
Contest Prize - Booming + 25 TRX
| | |
| --- | --- |
| RANK 1 | Booming Support |
| RANK 2 | Booming Support |
| RANK 3 | Booming Support |
| RANK 4 | 15 TRX |
| RANK 5 | 10 TRX |
---
---
Stay Safe, Stay Happy