We have a community! And more updates!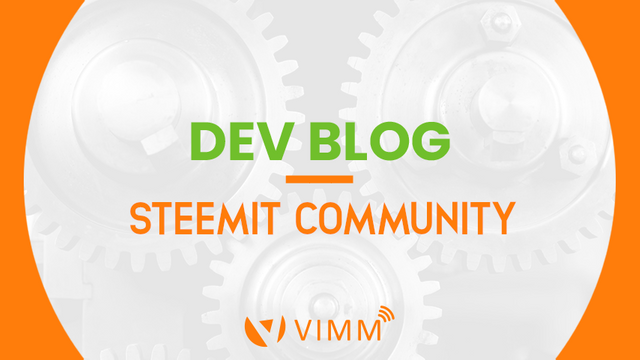 Hey guys, it's @ddrfr33k. It's been a while, I know. The holidays are upon us, @chiren and I have been ridiculously busy, it happens. That said, we've implemented something that we wanted to share with you guys.
I'm sure a lot of you have heard about Steemit Inc. adding a community feature, which allows anyone to burn 3 steem and make their own community. We just did that. We have a Vimm community!

...Aaaand, it's a little bare right now. That's going to change, mind. We just implemented automatic posts when streamers go live. So if you're streaming on Vimm and you have your Steem wallet linked, it'll show up in here. This is a great spot to toss an upvote or three and help a smaller streamer out, and this will be a great way to put Vimm on the map even more than it already is.
So! here's what we want you to do:
Go join the community. Click here, sign in to the Steemit beta site using your posting key, and hit "Join Community."
Share the steem posts that you think are important.
Start streaming on Vimm and make your own posts show up here, too!
But you know what? We're not done here! I've got something else to get you guys excited about. We have more than a few very talented streamers who really help Vimm be as awesome as it can be. You folk know who you are. We want to make it easier for viewers to reward their favorite content creators, and that means having a means of procuring gems that isn't reliant on streaming. That and we have costs to worry about. So we're working on hammering out the details for premium memberships. They will have some very nice perks, including features that will be brand spanking new. Plus, each premium membership will also include Vimm Gems to donate to your favorite streamer. So yeah, you have that to look forward to. No ETA yet, but something to get your hopes up.
Both @chiren and I are dedicated to making Vimm the best site it can be, because we want to see it succeed. I know we haven't been the most communicative lately, but we're still working behind the scenes to improve the site every day. Thanks for reading, and have a happy holidays!
---
Get in touch!
Support @vimm on Fundition!


Have you checked out Vimm University?
-- How to Handle Streamer Burnout --
-- All About The Steem Blockchain!--
-- Making a Good Post --
-- Branding Identity --
-- The Copyright Boogeyman --
-- An Introduction to Branding --