|| The Diary Game Season 3|| November 24, 2022 "Small But Terrible"
Hello Steemers happy Thursday everyone and tomorrow I might not write anything because it's hubbys day off. I want to have quality time with him, he only has two days to spend with us. Tonight he'll arrive hope he'll bring something for us but if there's nothing it's okay i just want him to be safe.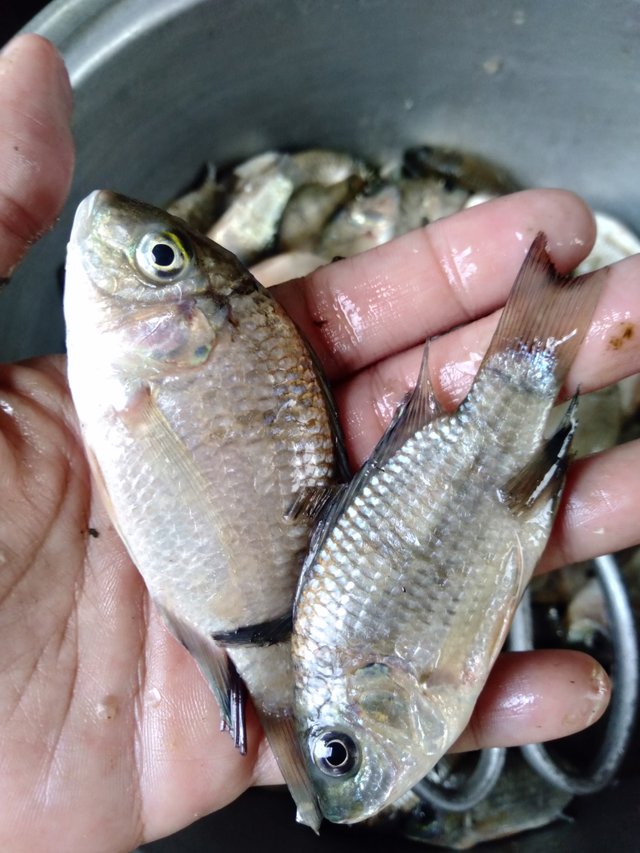 Earlier this morning about 10:30 my brother in law arrived I was surprised by what he brought.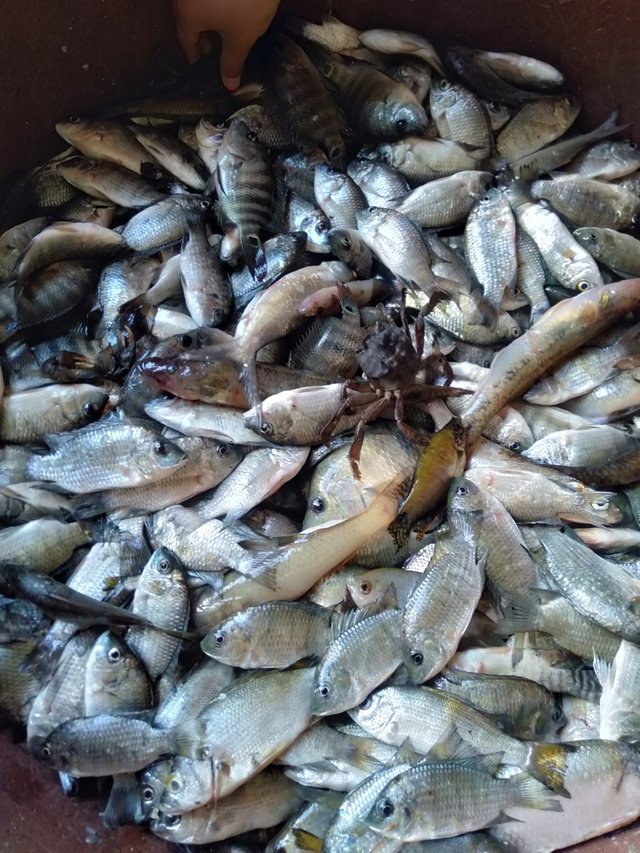 He told me to segregate the kinds of fishes which is ayungin or lokaok because this kind of fish cost around $6 to $7 per kilo. My husband is a fisherman before he went to work on Manila I told on my previous blog that I used to sell fish before I became an online seller. When hubby has a lot of spare I'll take it to our barrio and sell it. Then I'll have money to buy our necessities, but when it's to many hubby will bring it to the fish port. Fishing helps us feed our family, we even saved money and had our own water connection. But nature change its not always there'll be a big fish to catch, so hubby took the opportunity and maybe it will change our life.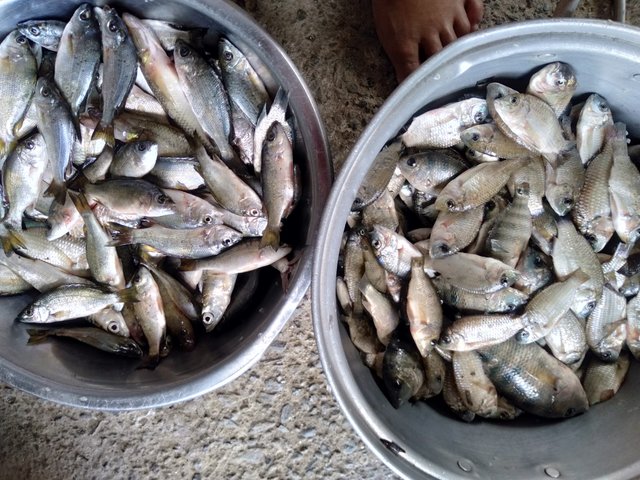 I already seperate the biya and tilapia. But this kind of tilapia is different from the original it's tasteless so we have our own way to make it useful. In our place we called this Gloria or Arroyo Im also finished removing the fins it's really many and my kids are still on school. But it will be a waste if I'll just throw it, and its been too long that we had this many. The tiniest I cut them and gave it to our ducks.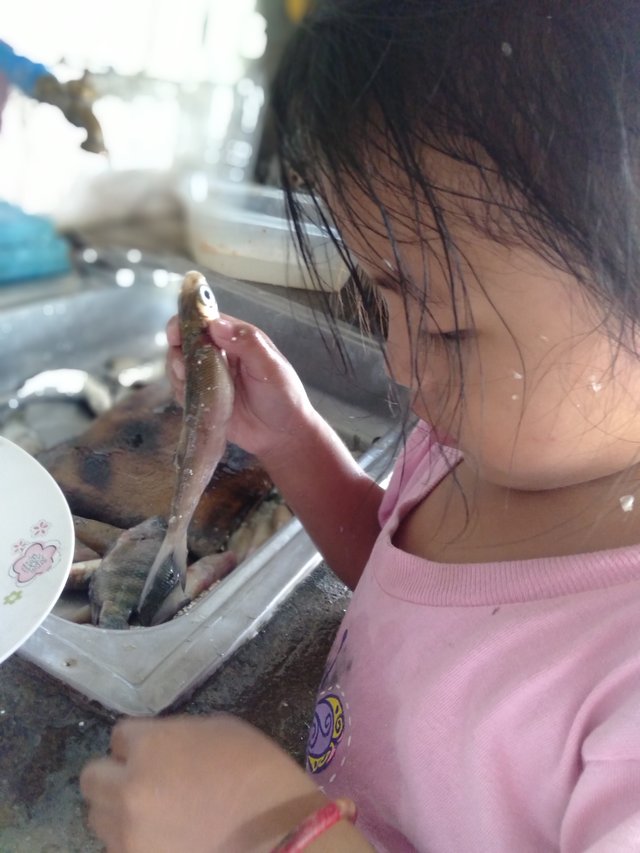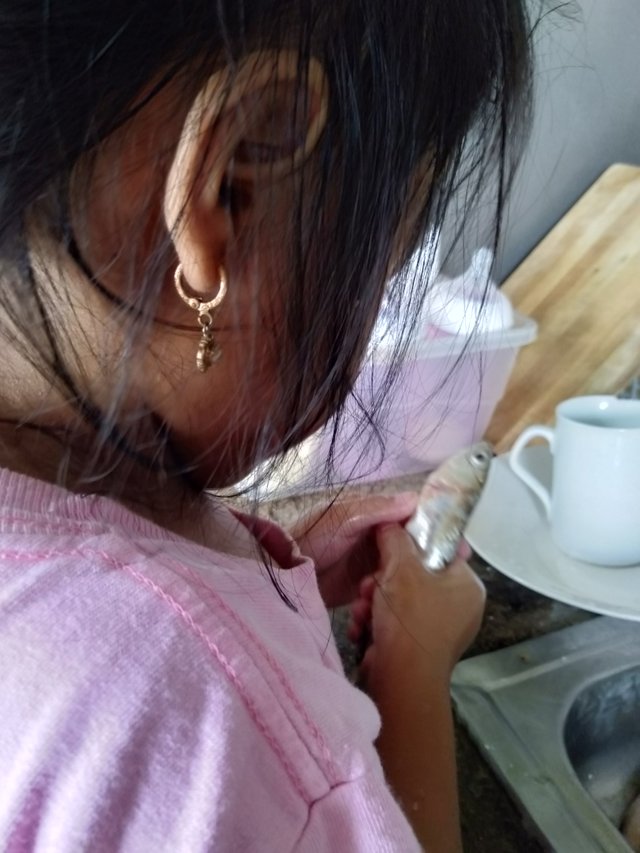 I'm removing the scales and my three year old baby girl (Jeffria her named from his daddy) came up and played with the fish. My kids are used to hold fishes they are not scared because they are used to see it often. She's holding a baby milkfish, I pity the fish because it looks so tired after my daughter drop it. She is shivering hahaha I don't know if I'll laugh or got mad at her.
Now Let's Cook
We call this recipe hilabos it's similar to Pakiw and by seeing the ingredients you will know how cooked it. But this is a bit different
Ingredients
Crushed ginger
Salt
Seasonnings
Vinegar
Cooking oil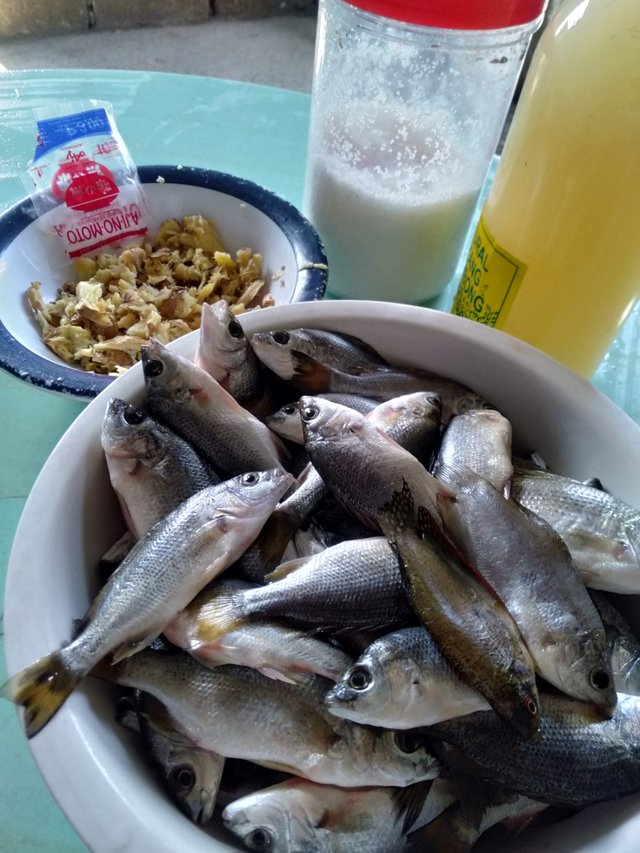 Procedure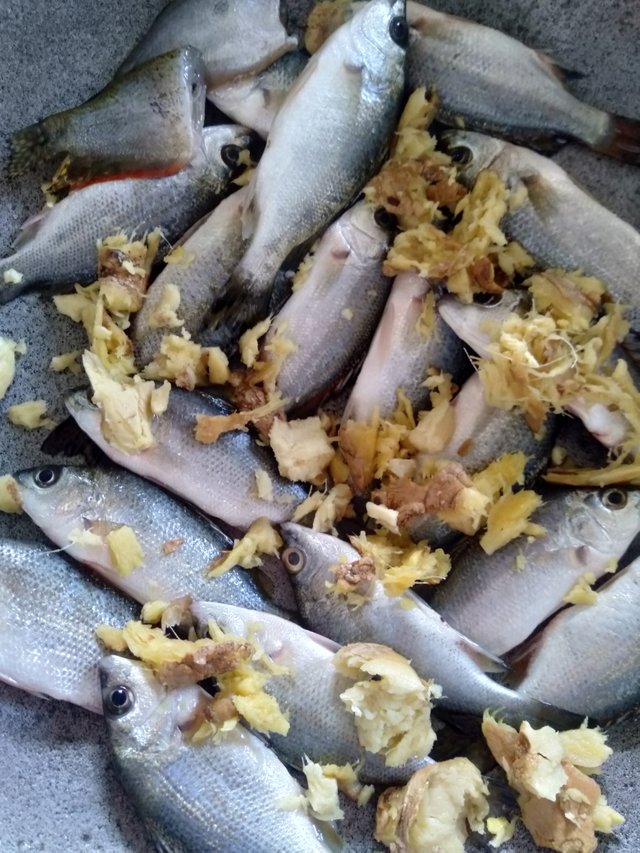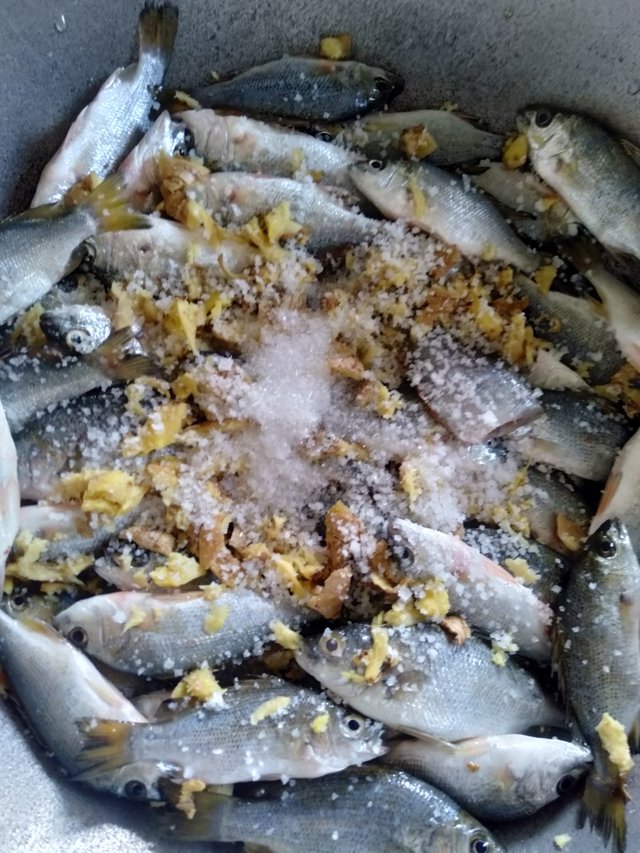 On the pan place the lokaok or ayungin then put the ginger, fish again and ginger. Add three tablespoon of salt, seasoning and one cup of vinegar. Cover and wait for it to boil my technique is after it boiled I lower down the heat. It will be slow cooked then if you hear that it's already drying put cooking oil and your done.
Finished Product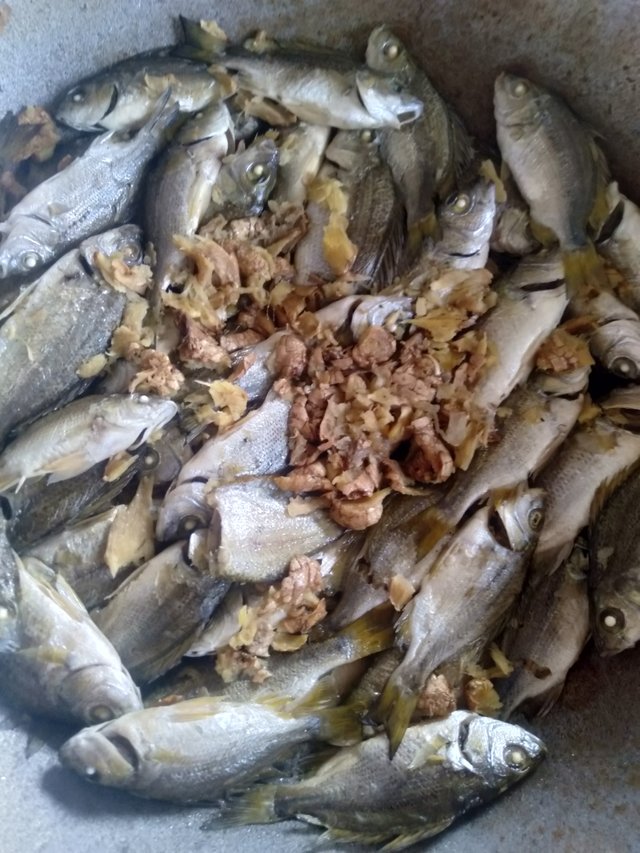 Daing na isda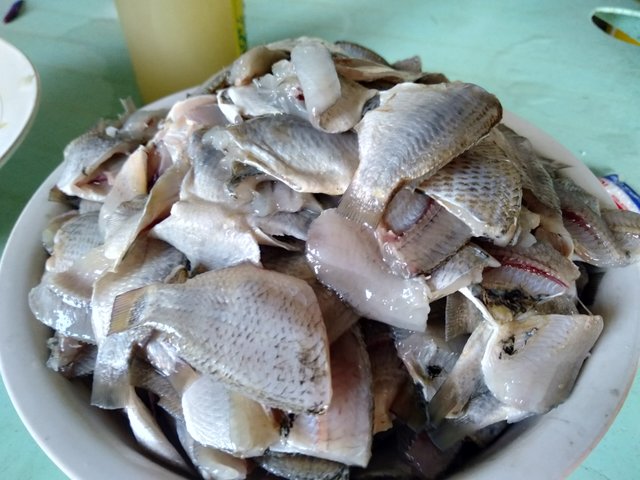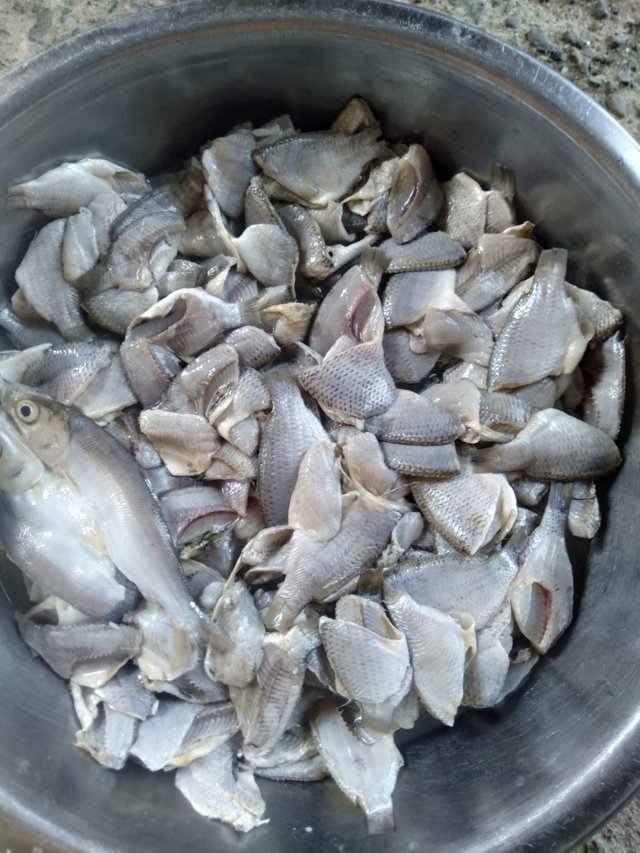 This is easy you just need to marinate the fish in vinegar, salt, and seasoning. Others put some garlic and pepper but since it's a tiny fish we prefer it this way.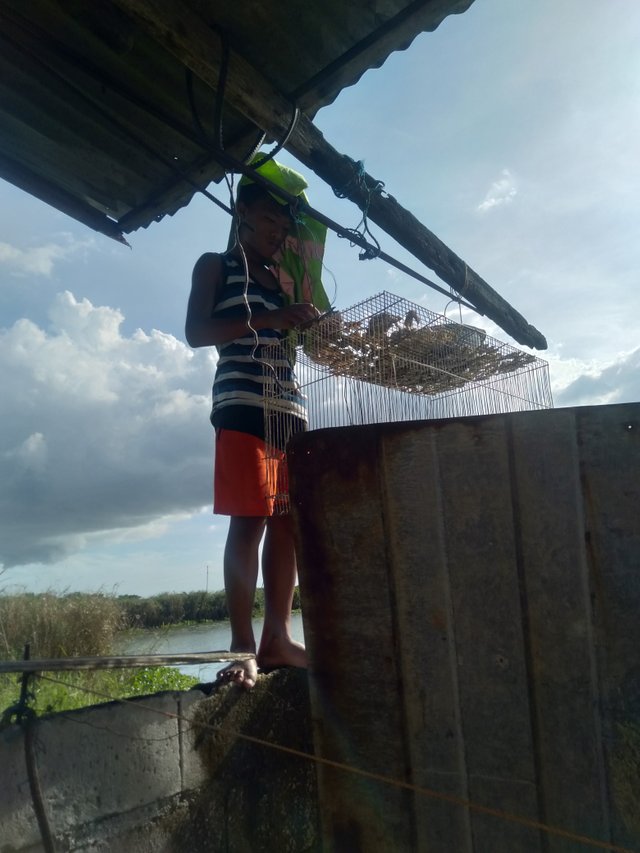 We ate lunch around 2 pm you really need a lot of patience because this fish are small but terrible. After we ate my son need to hang it there to dry.
Thanks you for reading,
Love, @usagigallardo15