Steemit Engagement Challenge Season 8 Week 4 | Famous Street Foods in My Place
Assalamualaikum all of my friends. How are you all? I hope you are all well. I'm fine too. I am Mohammad Kamran Hossain. Today I'm going to participate in the Engagement Challenge S8W4 in the "Steemit Philippines" community and the topic of today's Engagement Challenge is "Famous Street Foods in My Place". I am very happy to present my post on such a wonderful topic and I thank all the community members who have come together to organize today's Engagement Challenge on this wonderful topic. Now I will tell you about the best Street Foods in my area.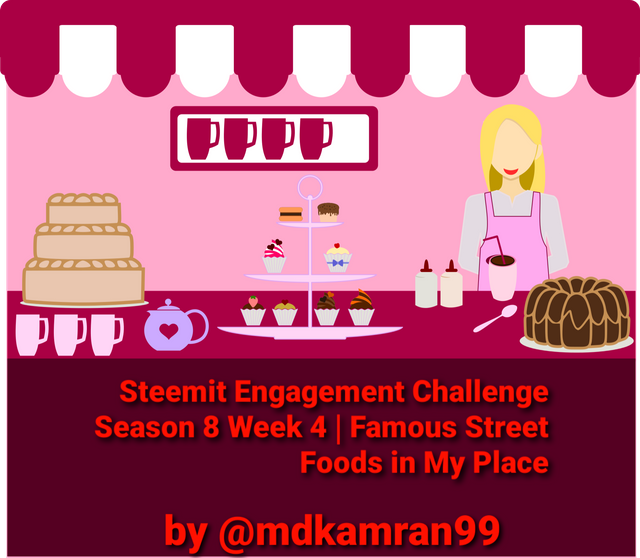 Source
Famous Street Foods No,1 : Fuska
My home is Shiromani village in Khulna district of Bangladesh and one of the popular Street Foods in our village is called Fuska. Fuska is one of the Street Foods that our Shiromani Bazar is almost always crowded in the morning, afternoon, evening or night. I like this food very much and this Street Foods is very famous in our market which is always crowded at Fuska shop.
The famous Street Foods of our village is Fuska
Fuska making materials ;
Flour.
The water.
Edible oil.
Dowle.
Tamarind Sour.
Also for serving phuska, phuska is served with coriander leaves, cucumber, egg, raw solder onion etc. which is very tasty and sour taste to eat.
Fuska market value ;
Basically fuska is not sold by 1, it is sold by counting one plate of fuska. Below is the market price of Fuska ;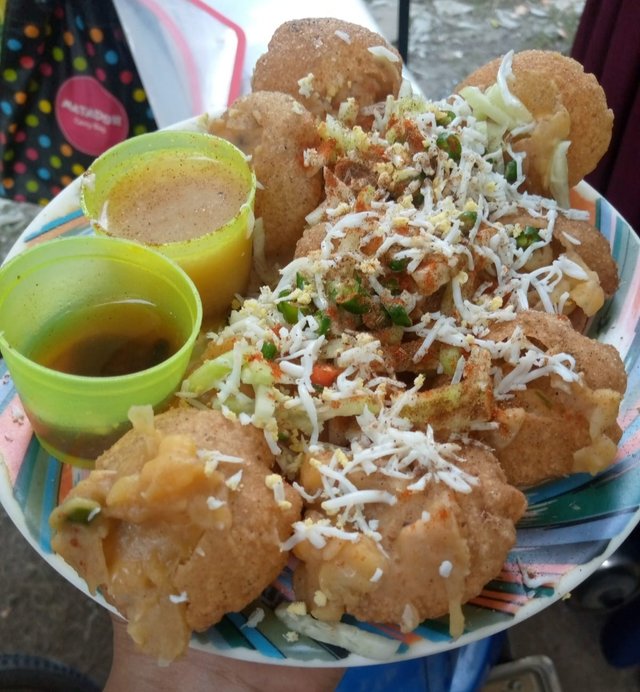 | A | B | C | D |
| --- | --- | --- | --- |
| Food Name | Price in BD | Price in Steem | TRX |
| 1plate or 8 Fuska | 20 Taka | 1 steem | 2.89 trx |
| 1 plate or 14 Fuska | 30 Taka | 1.5 steem | 4.34 trx |
Why Fuska is so famous in our village market?
Basically this Street Foods is quite famous in our village for its delicious and yummy taste with Fuskar Tok Jhal. Especially girls love this food. The combination of bitter gourd, dal, egg, raw chillies, coriander leaves, cucumber and onion enhances the taste of fuska which is quite popular among people. Moreover, as the market price of this food is quite low compared to the taste, we eat this fuska often.

Famous Street Foods No,2 : Potato Chops
There is another famous Street Foods in our area and that is Potato Chop which is sold in our village market. This potato chop is another famous dish in our area for being very tasty and cheap in price.
The famous dish of our village is potato chop
Ingredients for making potato chop ;
Potatoes.
Raw chilies.
Salt.
Flour.
Mustard oil
Edible oil. etc
Basically, potato filling is made by boiling potatoes first and mixing boiled potatoes with salt, mustard oil. On the other hand, flour is mixed with water and the potato filling is pressed into the flour and flattened, mixed with flour and fried in hot oil.
Market price of potato chop ;
Basically the potato chop is quite small in size and its market value is quite low. Moreover, potato chops are very tasty. Mentioning the price of this Street Foods in our Shiromani Bazar :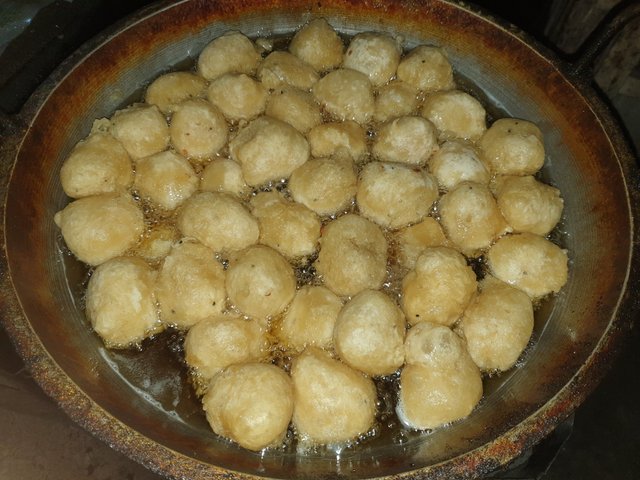 | A | B | C | D |
| --- | --- | --- | --- |
| Food Name | Price in BD | Price in Steem | TRX |
| 1 peach Potatos Chop | 3 Taka | 0.15 steem | 0.434 trx |
Why potato chops are so famous?
Aalur Chop is a delicious street food and the market price of Aalur Chop is quite low. Moreover, hearing about potato chop reminds me of the holy month of Ramadan in Arabic. Because in Bangladesh we fast all day in the month of Ramadan, one of the items of iftar in the evening is this potato tea, which is why the popularity of this food is so high.

Names of some more famous Street Foods in our village
Our Shiromani village has many other amazing Street Foods which are very cheap and these foods are in high demand. They are;
Agility.
Eggplant chops.
Chickpeas.
Piazzi.
Burgers.
Boots.
Puri.
Nimki.
Goja. etc.

Invite friends : @goodybest, @lavanyalakshman, @lirvic, @drhira, @solaymann, @fantvwiki

Thank you very much
| A | B |
| --- | --- |
| Photographer | Me |
| Device | Samsung Galaxey S9+ |
CC-