Steemit Philippines Community Contest Special Entry | My Throwback Photo at Jestrella Resort Initao Misamis Oriental
A Blessed Day to all Steemit Philippines Members!!!
Yesterday, our Steemit Philippines officially announced the newest contest that everyone is encouraged to participate in, the Photography Contest with the theme Travel Escapade. Now, in showing my support to this Photography Contest, here is my throwback photo of the Jestrella Resort Initao Misamis Oriental when we visited this place last 2020 when the pandemic started to rise.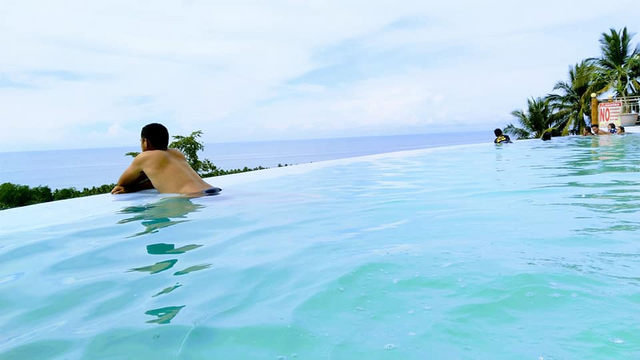 This photo was taken during my nephew's birthday celebration where they held in this place and we traveled almost 1 hour from our home. The resort is one of the well-known resorts of the municipality of Initao as it has an infinity pool which makes it very popular. This is not my first time to be here but it has fully developed since the time I've visited this resort for the first time.
What I also like to see here is the scenery as we are able to view the ocean as if it is connected to the pool. We can even feel the fresh air came from the ocean. Fron the colored blue clouds to the ocean who is also blue and the pool is also blue that makes it very beautiful and amazing. The pool was also good as it has flowing water which we can be sure that the water is clean and safe. It has also safe rules to follow to be able to keep safe every time when ever in the pool.
If given a chance to recommend a resort to visit, I will surely recommend this resort for my own experience it is very nice and affordable. I could say that we will never get disappointed when we visit this resort. You can consider this as one of your travel escapade choices.
There are lots of tourist spots we can consider here in the province of Misamis Oriental and we can definitely consider the Jestrella Resort.
This would be all for today and I hope everyone will like my Travel Escapade entry to the Steemit Philippines Community Photography Contest.
I will also encourage everyone to participate and share your amazing and stunning Travel Escapade Photos.
All Thanks and Praise be to God. 😇🙏☝

Gif Footer Credits to @baa.steemit
---

Footer credits to @kennyroy