STEEMIT PHILIPPINES PROMOTION CAMPAIGN VIDEO @carine1988
To God be the Glory
---
Greetings to every Filipino Steemians ,Im @carine1988 from the Visayas and these is my entry to Steemit Philippines Promotion Campaign Video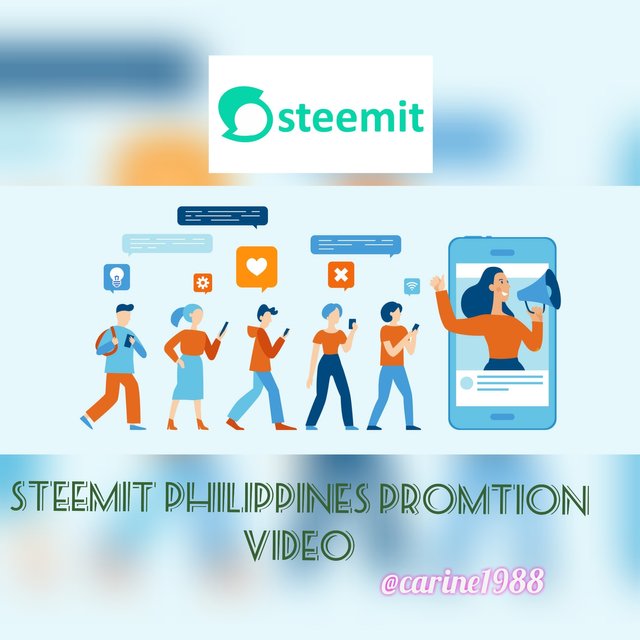 For the love of the Steemit platform and to show support on the Steemit Philippines campaign,I've finally gather enough time to make an entry for the Contest.I decided to take a different approach in the making of my video.Honestly Im a shy person,talking in front of the camera is really not my thing,kudos to my fellow steemian who did it,anyways I decided to do voice over on a screen recorded video as I am inspired by some of my followed youtuber who does reviews on earning apps and sites without their faces on the screen but was able to deliver the tutorials well.
So without farther ado here's my video
(..parang YouTuber lang😁😊)
In making and editing the Video,I used XreCorder app for the Screen Recording and CAPCUT app for the video Editing,both apps are user friendly,its easy to navigate especially to beginners.
---
VIDEO CONTENT
My Intro talks about introducing Steemit as a legit earning website were we can earn free money without investment using our phone or other gadgets,its a You Tubers way of hyping its viewer to watch the video,but its not a clickbait though.
*Secondly I introduce Steemit as a chain base blogging and social media website that rewards its users a crypto currency,Steem and TRX by publishing quality content,its free to post,comment and vote on different contents made by other content creators around the globe.
Third,I talk and show a step by step way as possible how to register and make a Steemit account by searching the site on a browser,clicking free registration,tips on selecting a username,entering valid email add and active phone number for the verification codes.I also emphasizes the importance of Saving STEEMIT PASSWORD and its our responsibility on how to keep our password since its our ticket to the platform.

Upon successful registration we can now Logged In using our username and password

In the video I also show a run through of the platforms interface,What it looks like if you successfully logged in as a Steemian.

In the video I was able to introduce my account name,the communities that I've joined a brief introduction on how to Join communities and where to write a post.I also encourage newbies to create an Introduction Post as a tradition here on Steemit in order to let the community get to know the new user.

I've also share a screenshot of my most keep proof of payment,my very first earning in the platform that I was able to accumulate after a series of creating a post,saving every sbd or steem that I could possibly get.Its been a long and beautiful 3+ years of being here on steemit and it has help me able to have an extra income.

And lastly,in the Video I introduce and Promote the STEEMITPHILIPPINES COMMUNITY,a community that made these video possible,a community for every Filipino by a Filipino that loved Steemit.I also encourage every Newbies to make an introduction post to be fully verified member and be given a badge and how active admins and moderators of the community who goes extra for the betterment of the community.
SIDE NOTES
Editing and making a video is a new experience,its quite draining and fun at the same time,there's so much to talk and tackle on how the platform works but when your in it, doing the videos,I did forgot some of the important notes on navigating the site but then learning is a process and there are other helpful and useful tutorials about steemit and I hope in my own way I help convey my campaign well.
..I also wanted to see how kuya @natz04,kuya @marlon82 and kuya @reyarobo to make a campaign for the community contest
..thank you for dropping by 😊