CONTEST NO : 7 MEDICINAL PLANTS AND ITS USES || PARTICIPATE AND WIN REWARDS 🎁🎊🥳😊💯NOTE:(We will detect the content of all the participants and will then consider them for rewards)
Hello everyone hope you all are doing good and are staying safe amongst this pandemic.
We are so happy by seeing the growth of art community which is soon going to become a family of 700 members..
WE REQUEST THE NEWCOMERS OF STEEMIT TO DO THEIR ACHIEVEMENT TASKS IN NEWCOMERSCOMMUNITY!!!!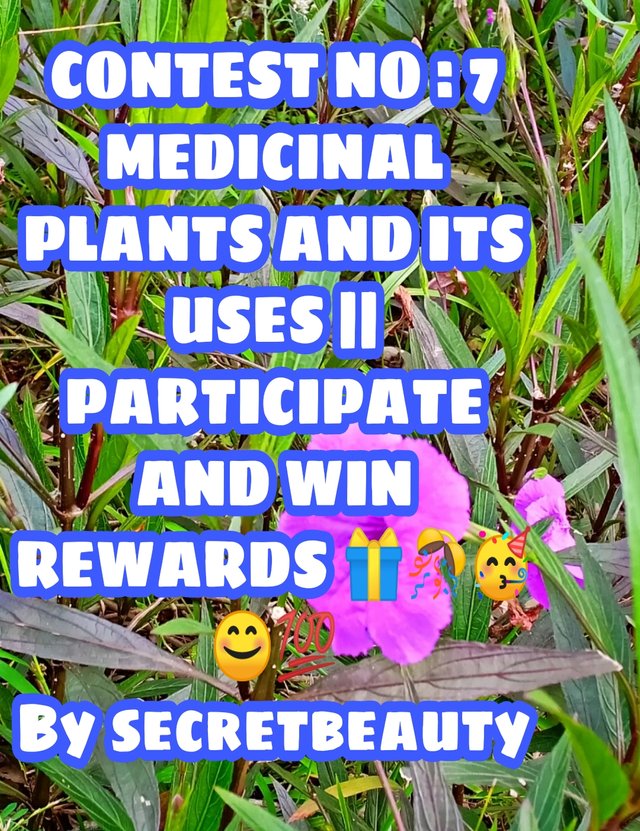 Thank you to all our subscribers we are blessed to have you and also all the curators and everyone who supported us...
We are here with our 7th contest of medicinal plants and its uses....
In this contest you have to write about medicinal plants its uses and benefits and use at least three image of your own....
RULES AND REGULATIONS OF THE CONTEST!!!!
•Do add 3 original pictures of your own
•The post should be of 250 words minimum and 500 words max.
•Plagiarism will not be supported and will be banned from the community.
•Don't forget to use the main tags of #secretbeauty , #secretplant and your country's name for example #srilanka...
Do add the link of source of anything is taken from any other websites...
ABOUT THE REWARDS 🎁🎁🥳🥳
The rewards have now been increased..
FIRST PRIZE WINNER (20 STEEMS)
SECOND PRIZE WINNER ( 12 STEEMS)
THIRD PRIZE WINNER (8 STEEMS)
2 STEEM FOR EVERY VALID PARTICIPATION
THE CONTEST WILL END ON 4th of JUNE!
DO NOT COPY OTHERS CONTEST OR PLAGIARISE OR SPAM OR ELSE YOU WILL NOT BE TOLERATED HERE ....❌❌❌❌
We will detect the content of all the participants and will then consider them for rewards!!!
So please use your original content!!!
HURRY UP !! PARTICIPATE AND GRAB YOUR REWARDS NOW!!!! 🎊🎁🎊🥳🤩🤩
You can also post your Daily Diary on this Community 😄😄
Feel free to share your views and ideas in the comment section resteem and comment on this post !!!
Do Subscribe our community #secretbeauty and follow our official account @secretbeauty for more updates of ongoing contests and information......
Have a great day ahead everyone !!!!