Let's comment and win | Steem India Weekly Community Contest(#siwcc) Winner Announcement |club75 |10%to SI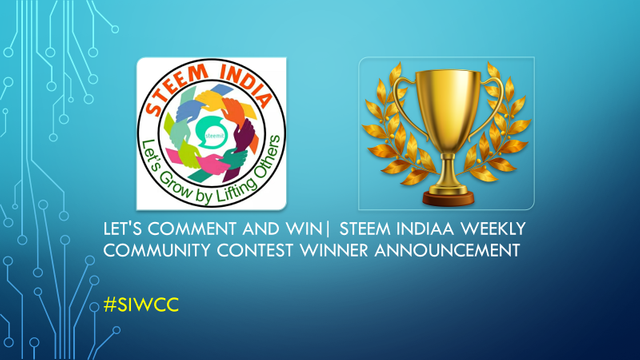 Dear friends,
How are you all? I hope you all are fit and fine. Today I am here to announce;
the winners of the @steemindiaa weekly comment contest.
Before that, I would like to appreciate;
all the participants who took part in this contest.
I would like to congratulate all the winners too. I announced this contest to get back my old friends in this community.
I wanted their support to build this community more strongly; it is my privilege that I am able to gather some of my friends here.
I am also looking for many other friends of mine.
I know that we are not able to give you all a good amount of votes because we have limited power, and for that reason, we are also looking for more delegates.
But we will keep in our mind those people in the future who are giving us their support by contributing their posts every day and performing activities for the community.
They will indeed get the first preference for their contributions.
Another thing I would like to request to all my friends, please bring some delegators for the community. It will help you all to get worthy support.
The report of the contest was produced by the eminent Indian developer @starlord28. And we have only chosen those comments;
where we found the #siwcc, as I mentioned in the contest announcement.
As per the report, I won the first position. But I am not going to keep the steem for myself;
because to see the hard work of the people here, I am going to distribute my steem among them.
Another thing I would like to inform you all is that;
we are going to continue the same contest in our community. I believe next time, I will get many more names on the list.
---
---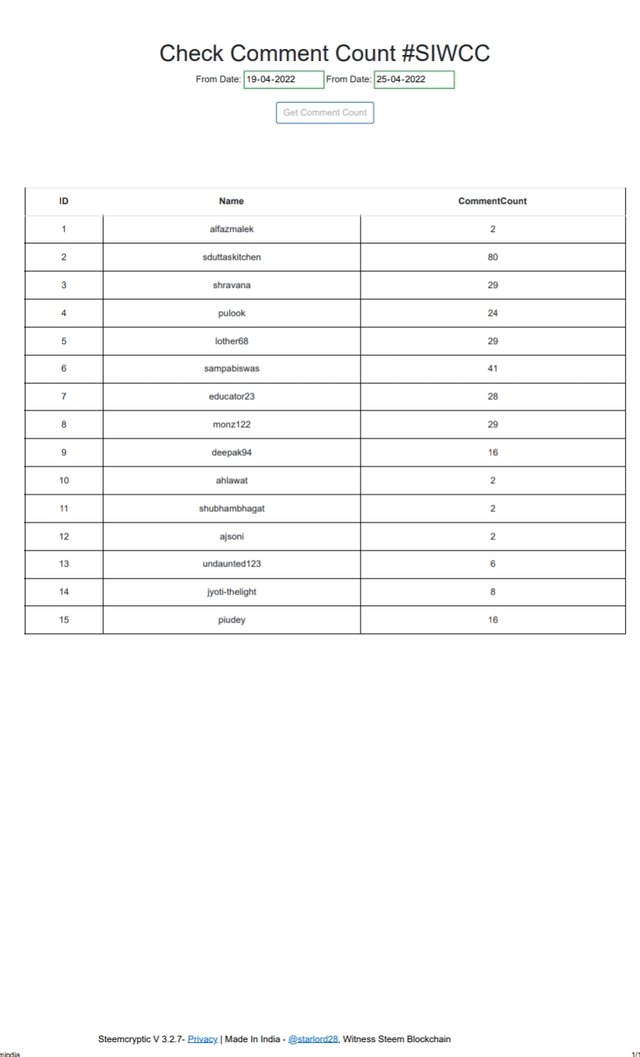 @starlord28 is busy with his development, but then also promised to help our community with his support.
Another thing I would like to inform you is to use the #siwcc end of your comment. Because many made valid comments, but they didn't use the tag;
so we can't count their comments.
The prize will be distributed shortly. Please keep continuing your journey with the community. Share your posts and keep continuing your comments.
Also, convey your suggestions and feedback in the comment section.
First position:- @sduttaskitchen(15 steem)
Second position:- @sampabiswas(7 steem)
There is a tie between the third prize winner; we got three people in the third position:- @monz122, @lother68, and @shravana.(3steem each).
But as I was informed that I am not going to keep the steem for myself, I participated to get back my friends;
and show you all how we all can give our best for the community.
Nevertheless, I will distribute my part among two other third winners, and apart from them
I have chosen
@educator23(3steem)
@pulook(2steem)
@deepak94(2steem)
@piudey(2steem)
I hope you like the distribution of steem. I am looking forward to your further engagement with the community.
Always give your best to thrive. As you all can see that our admin and moderators also working hard for the community's growth.
RE-STEEM THE POST TO GIVE OTHERS A CHANCE TO JOIN THE CONTEST.
cc:- @monz122
@startlord28
@jyoti-thelight
@cryptogecko
@deepak94