Trip to Lakhaniya Dari water fall || The diary game|| by @deepak94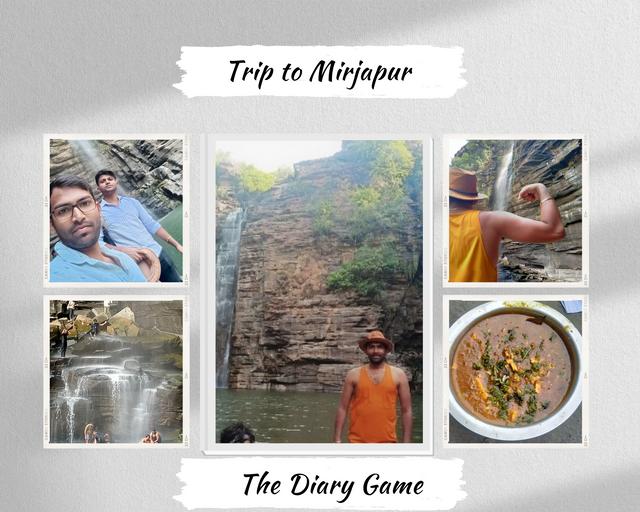 canvas

Namaste all my dear friends,
Today I am going to write my diarygame in front of you guys. Friends, you all like it and you must learn something new from my diary.
I am Deepak Soni resident of Prayagraj, Uttar Pradesh, India. You all must have heard about Prayagraj. I have written about Prayagraj in my back diary on mytown10pics I share its link at the end of my diary.
Prayagraj is a city where the temperature is very high, sometimes the temperature reaches 46 degrees Celsius in summer. In such a situation, people like to go to Waterfall, Water Park and Near Sangam Area in summer. Most of time peoples enjoy to go with our family in Holly Sangam.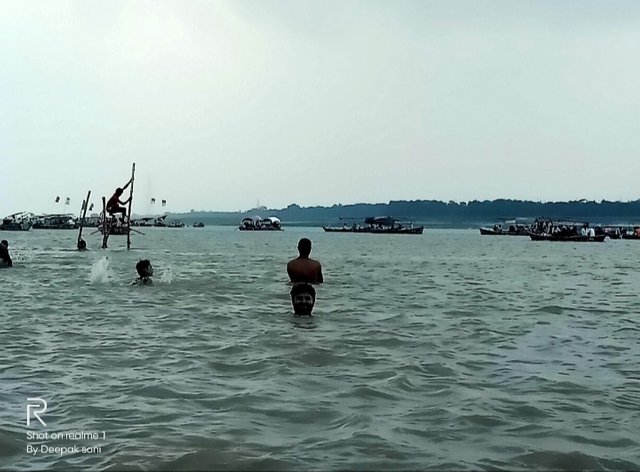 Source:@deepak94's Realme 1

But it is said that no one gives much importance to the one who lives nearby, but it is not like that in our country, people consider rivers as their mother. The Ganges River is one of the holy rivers. In our entire India, the river Ganga is considered like a mother, people worship Ganga Maiya.
But today in this diary my friends and I are going to the waterfall located in Mirzapur, not the river Ganges. Few days ago me and my friends decide to go Lakhaniya Dari. At first we thought that it would be fine to go by train but we saw that in going by train we would not be able to reach the exact location and would have to take taxis from place to place which would be quite hectic. Then I talked to a travel agency and we booked a seven seater car. We all had a plan to go there and cook lunch and enjoy the waterfall.
Our car arrived at our house at 7:00. We had gathered all the ingredients for lunch and kept it in the trunk of the car. After sitting in the car, we all raised the slogan of Baba Bholenath and left.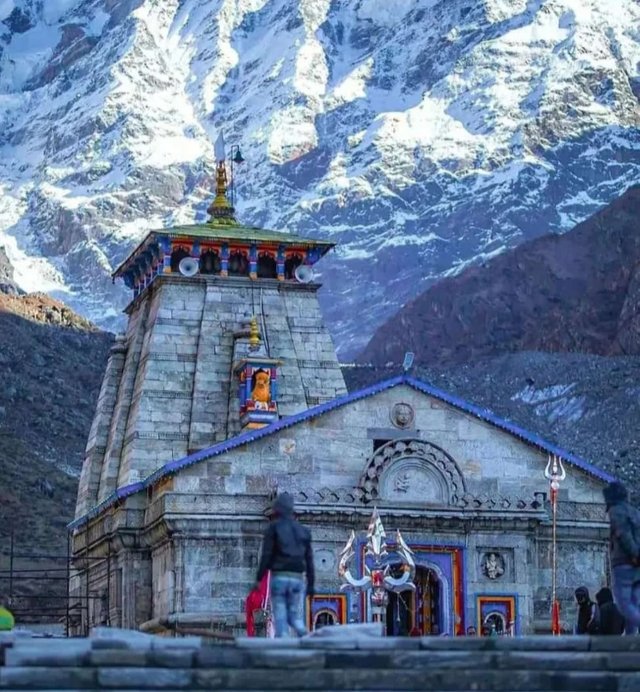 Jai Shambhu

There is a mentality in our Hindu religion that whenever you leave the vehicle for some auspicious work or for roaming, then it is considered auspicious to take the name of God. That is why we raised the slogan of
Jai BABA KASHI VISHWANATH.
After reaching around 11:30, we found that apart from us, many people were already present and enjoying the waterfall.
Didn't delay us a bit and after taking all our luggage and bags, we headed towards the waterfall. The view of Lakhaniya Dari was very beautiful as if it seems as if you have come to heaven.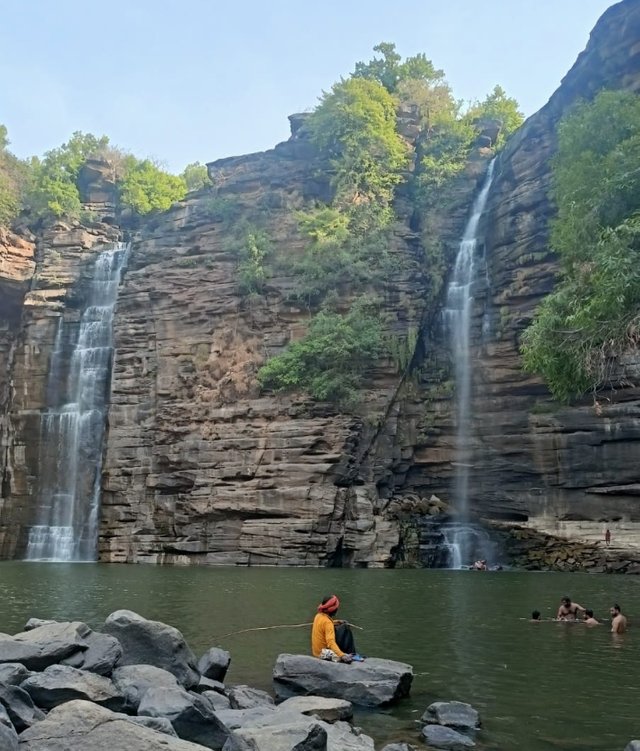 Source:@deepak94's Oppo A52020

We saw it coming and went out towards the waterfall, the view was very beautiful. When the water was falling on the ground, a very terrible sound was coming. If someone stays there at night, then surely he will be scared.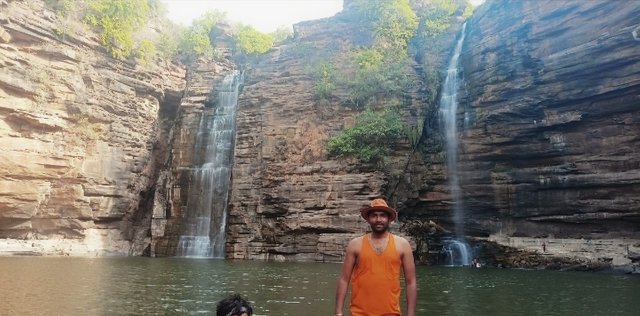 Source:@deepak94's Oppo A5 2020

After taking bath we made arrangements for cooking. And everyone together made muttor paneer, baati and biryani.
By doing any work together, the work ends very quickly and no extra load left on anyone, it is called teamwork and the benefit of teamwork.
That's why it is said that if friends are with you, then your destination becomes very easy to reach.

Receipe Pics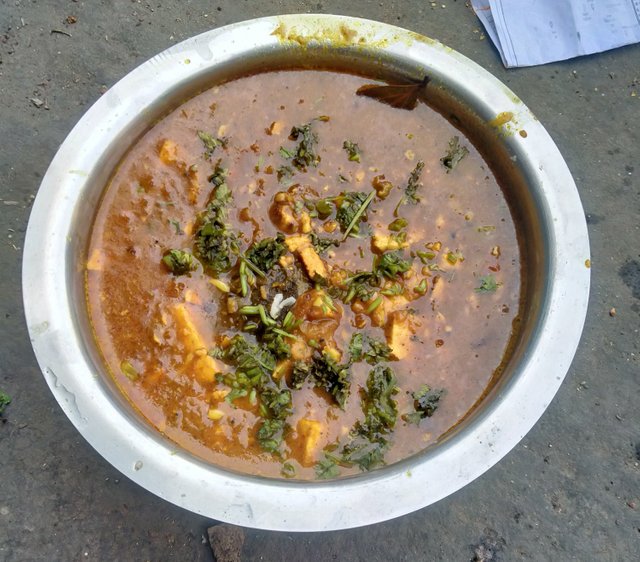 Muttor Paneer by@deepak94's Oppo A52020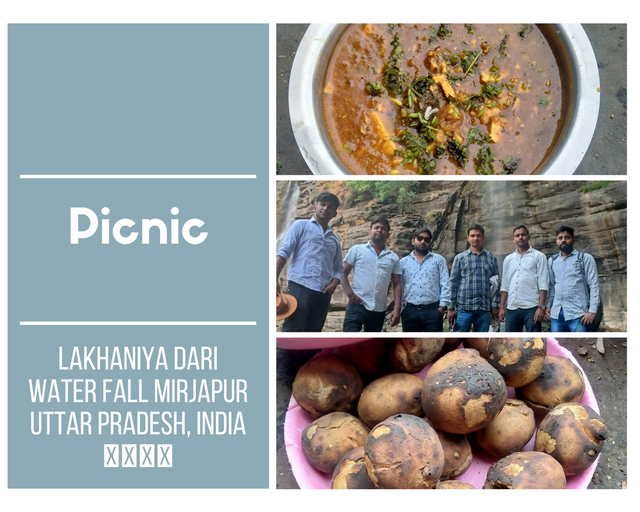 Made by canvas

After worshiping the stomach, we went back to the waterfall to take a bath. Because wherever you go, enjoy that place to the fullest, don't know if there is tomorrow.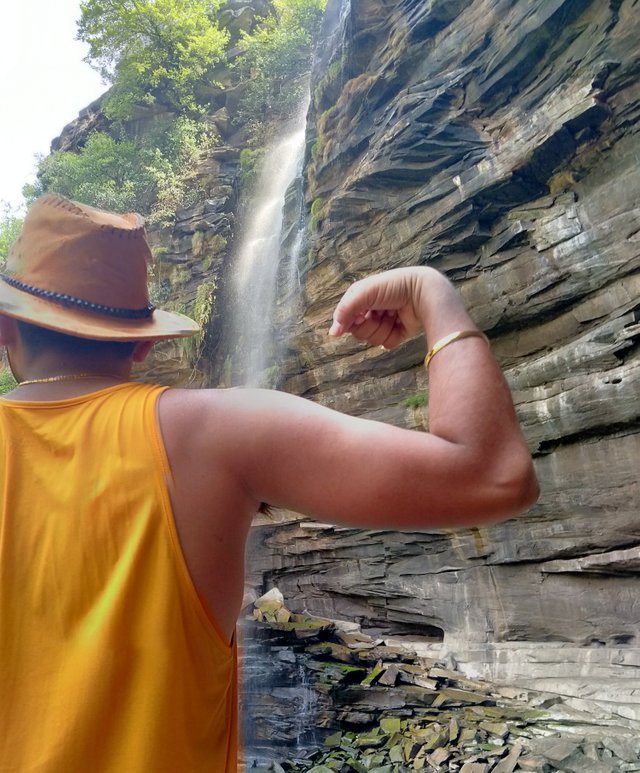 My favourite shot:@deepak94's Oppo A5 2020
| Category | Photography |
| --- | --- |
| Device - | Oppo A5 2020 and Realme |
| F-stop - | 2.0 |
| Pixel - | 3000×4000 |
| Focal length | 4.04 mm |
| Exposore time. | 1/50 sec |
| ISO Speed | ISO-50 |
| Lens. | super macro default |
| Location | Mirjapur,Uttar Pradesh, India. |
| Photographer | @deepak94 |
After all that we just return back to home. That's all about my diary hope you enjoy to read my tour trip diary. So don't forget to vote and comment.
10% beneficiary set to steemindiaa 🇮🇳