LeoShop: Ushering In A New Era For Steem?
The other day, Steemleo announced the release of its long awaited LeoShop. This is an interesting addition to the Steem platform and one that is worthy of delving into deeper.
Steemleo is one of the more aggressive tribes we have. The pace of development and innovation is very impressive. Since it started, a lot changed since the original Steemit.com clone went live. Adding a shop was the next logical addition.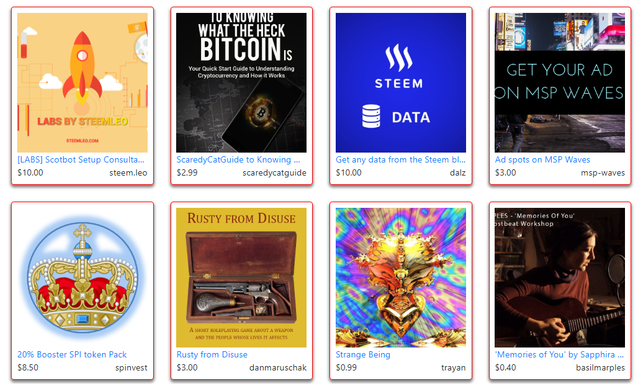 The key to the LeoShop is that it is open to all. Think of it as an online bazaar. We see a site that is easy to list items for sale with the platform taking only a small percentage. Whereas other platforms take anywhere from 5%-50%, LeoStore has a 1% fee.
Of course, one of the most valuable aspects is that it accepts STEEM, SBD, and LEO as payment. Hence, products and services can be purchased using, not only these three tokens, but effectively any that are listed on Steem-Engine (any tokens can be converted to LEO).
Thus, even if you do not have any LEO, one might want to use some excess PAL or PORN tokens for payment. A couple simple steps on Steem-Engine (or LeoDex) and one is there.
We now will have an outlet which to use tokens on Steem while also reducing the onerous centralized fees that are associated with other platforms.
Entering The Age Of Micropayments
Micropayments have been speculated to be a use case for cryptocurrency. The present system uses denominations that can only go down to a cent (in areas with the USD). A challenge with this is that it is often not economically viable to send someone a 1 cent payment. Transaction fees tend to exceed this. Of course, platforms like PayPal make big money off the micropayments since they was willing to accept 2 cents on each transaction.
@khaleelkazi put together an excellent piece discussing this.
https://steemleo.com/steemleo/@khaleelkazi/micropayments-and-micropaywalls-or-the-future-of-earning-rewards-on-the-steem-blockchain
The basic essence is for a content creator to increase his or her rewards by offering out "exclusive" or "premium" pieces. This is an added bonus above and beyond regular posting.
This is a standard model that was followed in the information area. We all saw those content creators who offer a free newsletter or even seminar to get one in the door. Then the idea is to keep marketing to that person with books, videos, or more expensive seminars.
Whatever one thinls about the practice, it is proven to be successful and many followers are happy for the new information.
On Steem, one posts content which generates rewards. This can establish a following that likes the content. Thus, the creator can add to this by putting together a special piece that is not posted for the general audience.
Of course, with micropayments, this need not be expensive. One could put up a "report" that he or she only charges a nominal amount for. For a moment, let us say the price is ten cents. This would mean selling them would net $1.00. At the present price of STEEM, that is roughly a 7 STEEM payout.
Is anyone going to get rich of a 10 cent item? Not likely unless millions are purchased. However, instead of 10, what if 50 are bought. Now that 7 STEEM becomes 35. Do this a few times a week and the numbers start to add up.
Naturally, this could tangent into more expensive offerings as one puts together "larger" content. Perhaps an ebook could follow. Or some type of webinar. The list is practically endless.
What is really exciting about this entire project is not what it does for those presently on Steem. Rather, marketed correctly, the appeal is to those not on Steem.
Steem is a platform with, even at today's prices, millions of dollars sitting on it. People have tokens in their wallets which have little use. In other words, people are looking for something to do with them. Having a place to spend them is of enormous importance. This means that a content creator can use the LeoShop to access a financial base that is presently under-served.
Disputes And Escrow
One of the big things with blockchain is the fact that transactions cannot be reversed. It is nice to see the LeoShop address this with an escrow account. Thus, when one goes to make a payment, it is held in escrow until the product is delivered. For digital products this is quick and easy. Provide a digital transaction is not difficult. However, for physical products, it can be a bit more complicated.

This is where the escrow account will have great value. The funds are held until the entire transaction is completed. This is a great way to protect the buys who, otherwise, would have no recourse.
There is also a dispute button that one can click on if there is a problem. Being on blockchain means that all information is permanent. This is great for reviews but also can negatively affect those bad actors. I would not be surprised to see a reputation system installed for those who are selling products on there.
As was explained in the post announcing the shop going live, this is just the first iteration. There is plenty of more to come in the future. Having an asset like this on Steem can be really helpful. We see a great deal of activity on sites like Fiverr where people offer all kinds of services for a few bucks.
Online commerce is growing rapidly and being able to merge that with cryptocurrency takes things to another level. As platforms expand and offer out more tokens, this will only enhance the money people have to spend. Offering products and services they require will push cryptocurrency to a different level. In this instance, it is suddenly filling voids by providing what people need.
This could be another step that is helping to usher in a new era for Steem.
To read the LeoShop announcement:
https://steemleo.com/hive-167922/@steem.leo/introducing-leoshop-or-buy-and-sell-digital-products-with-leo-steem-and-sbd
---
If you found this article informative, please give an upvote and resteem.
Posted via Steemleo