Did Justin Sun Jump The Gun A Bit?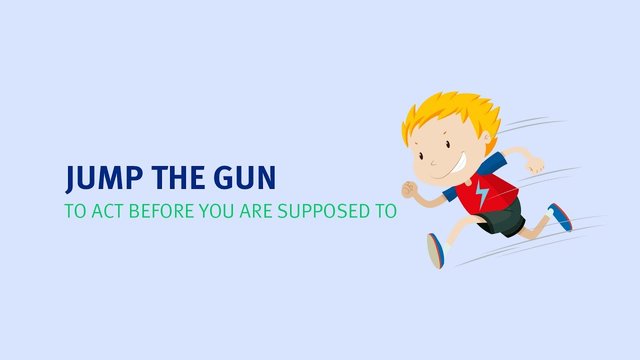 YouTube
The news yesterday sent shockwaves through the entire Steem ecosystem. We saw emotions range from excitement to complete fear. The consensus was uncertainty since the article on Medium along with the Tweet was a bit confusing.
As an aside, I will state that it reminded me of the day that Steemit Inc announced they were laying off 70% of their workforce. That day, there were a lot of posts about the end of Steem. What was the result? Members of the community stepped up and were willing to take over in case Steemit Inc went under.
A big part of the problem was the lack of clarity and communication, especially without anything on @steemitblog. Nevertheless, things might not appear as they seem.
On Discord last night, I came across this.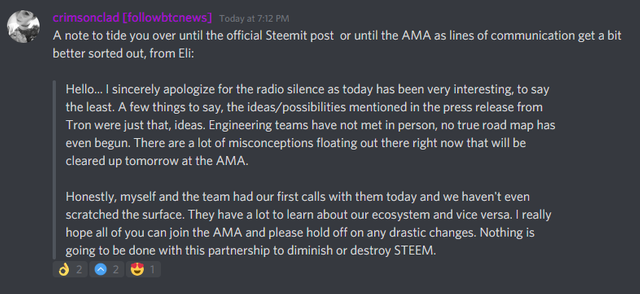 This was a message, supposedly, from Eli Powell, Managing Director of Steemit Inc. You can see the account that it was posted by, one that is a respected Steemian. In the message, it does appear they, the employees, were caught a bit off guard too. The question is what was surprising?
The fact that Steemit Inc was sold could be the shocker. It is not uncommon for those things to take place without employees knowing.
That said, there part about the ideas mentioned in the press release by Tron being just that, ideas, is certainly very intriguing. Perhaps the Steemit Inc team had no idea this was going to be out there. I am certain Sun wanted to get something out and steal some of the thunder away from the release of Voice.
Now let us be clear, Steemit Inc is Sun's show. He is within his right to do whatever he wants. There is nothing stopping him from implementing all that was stated in his announcement. At the same time, he need not justify that to the employees at Steemit Inc, or anyone else for that matter.
Nothing is going to be done by this partnership to diminish or destroy Steem.
This is encouraging, if true. While I am certain Eli believes this, nobody can know what Sun is going to do.
That said, in the interview that appeared earlier this week, the statements by Sun do align with this view. He did state how he likes to invest and let the other people run it. Also, he mentioned, at that time, they were in "conversations". The deal to acquire Steemit Inc is obviously completed but the details and plans going forward might be up in the air. In fact, it sounds like they are at the very early stages of laying them.
Of course, there is a more practical matter: Money. Sun is all about Tron, there is no denying that. However, he just acquired tens of millions of STEEM. He is sitting upon somewhere between 50M-70M tokens. Everyone talks about the $400M or so stake he has in Tron. Nevertheless, STEEM back at $5, gives him another few hundred million dollars.
Could Sun realize that Steem is a good way to hedge himself while also leveraging his ability to profit even more?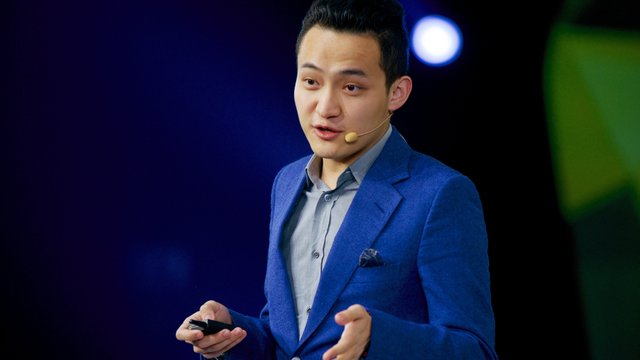 Source
Obviously, I am speculating here based upon the words from Eli. We all hope her assertion of the situation is correct. Nevertheless, there is no way to know how much she is really aware of. Perhaps there is a lot more to this story than in known by her.
The encouraging part to all this is the reaction of the community. In spite of the emotions, there were a lot of ideas tossed around. We also saw some action. The code on Github was already forked so that it remains available should anyone want to use it. There is also a Witness Call after the AMA.
We also saw the dedication that Steem is known for. This is decentralization and it is, perhaps, being tested. It is a prime example of how a community, on a decentralized platform, has a lot more options than in the centralized world. The banding together means that a dictatorship is tough to achieve.
How will all of this work out? We will know a lot more after the AMA today. That said, my hope is that it is realized that the most advantageous approach, for all involved, is a bridge between the two ecosystems. Interoperability is something that the world of blochchain and cryptocurrency sorely needs.
For now, at least according to Eli Powell, the future of Steem is not going to be negatively affected by this "partnership".
We will see how this all unfolds.
Here is the link to the AMA at 12 EST:
Announcement of the Witness Forum:
https://steempeak.com/mspwaves/@aggroed/steem-witness-forum-tomorrow-immediately-following-the-tron-meeting-on-mspwaves
---
If you found this article informative, please give an upvote and resteem.
Posted via Steemleo