Welcome POINT and SPORTS to the Leodex!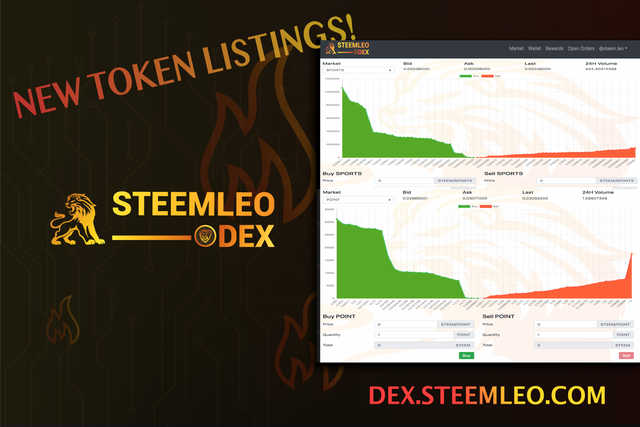 Hey everyone! Happy new year. It's 2020 and a new decade. Big things are ahead, as always and the past year has been awesome. Thank you to everyone who became a part of the Steemleo community in 2019 and cheers to an ever-growing community going into 2020 🥂
The number of tokens listed on the Steemleo DEX has been rapidly expanding. Tomorrow, the past month's Leodex burn report will go out in which the tokens listed through the DEX will share in a burn pool generated by the Leodex gateway fees (when users exchange STEEM==>STEEMP or vice versa). The gateway fees this month are more than 10x greater than last month as usage of Leodex has also grown exponentially.
Over the past few days, we had 2 new token listings. The POINT token got listed on the DEX and then shortly after the SPORTS token was listed as well. The community leaders behind these tokens burned 2,000 LEO each for the listings. Bringing the total to 4,000 LEO burned in the past month for token listings.
POINT is the token behind https://talkingpoint.co/ ==> a tribe community that is focused on discussing politics.
SPORTS is the token behind https://www.sportstalksocial.com/ ==> a tribe community that is focused on the sports niche.
Find these tokens and trade them on the Leodex!
---
How to List Your Token on the Dex
If you're the owner/leader of a token, consider listing it on the Steemleo Dex! Tokens that are listed share the fees of the @leodex gateway which are used to buy/burn an equal portion of each token and are also featured on the Dex frontpage.
The listing fee is 2,000 LEO burned (sent to @null). If you've got any questions or want to be listed, just message anyone on the Steemleo discord and we'll get it listed right away.

all of our LEO author/curation rewards on this post are permanently burned from the token supply
#steemleo - A Next-Generation Community for Investors

---
Posted via Steemleo | A Decentralized Community for Investors