Currently bitcoin is bouncing of key support following yesterday's selloff. If the bulls can maintain this level over the next day or so it will be a big positive.
Hold the Line!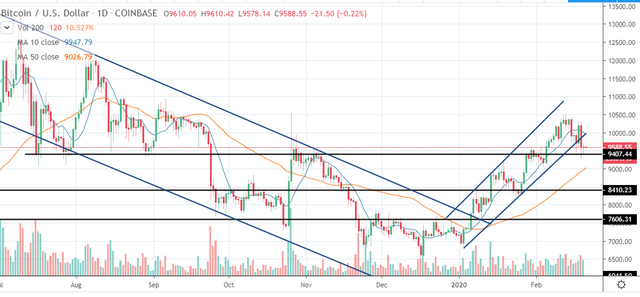 As you can see in the chart price reached near 10,500, which was out next upside target following the break of 9,400.
The breakout portion of the move was given back on the selloff but price found its footing at the 9,400 level.
Channel Break
The bad part is price broke down from the ascending channel that began back at the start of the new year.
The good part is price has held support (for now). If price was to continue holding 9,400 there would be nothing wrong with some consolidation before making a run at 10,500 again.
Busting out of the ascending channel isn't bearish, it just means we are no longer in that tight little uptrend. It was bound to exit that channel at some point, so I'm glad it did it while maintaining support.
Targets
At this point you should know what I am going to say. 9,400 is the downside we need to protect and the next upside target is 10,500.

Posted via Steemleo