Hive Blockchain Guide: How to Login and Use Hive, See Your Balances and More - The LEO Show #26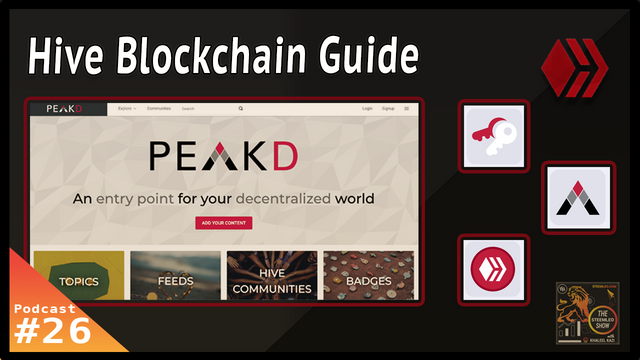 Congrats to the whole community! The Hive blockchain is alive and running! It is truly incredible to see so many talented and passionate community members and developers come together to make this chain a reality.
Make no mistake — this is a manifestation of the Steem community. Justin Sun came along, acquires Steemit, Inc. and acted as if he owned the entire Steem blockchain.
---
Listen & Subscribe to the Steemleo Podcast!
---
Justin colluded with exchanges, he attacked our governance, he installed hostile witness nodes. He used his entire repertoire to try and take control of this community. We responded by rallying together and voting up our duly elected witnesses and created a stalemate on the Steem blockchain.
After weeks of trying to make the best of the situation and work with Justin, we found that he was abusive, corrupt and highly unmotivated to cooperate with the Steem community and our elected witnesses.
The community's solution? Fork over to our own blockchain and give Justin Sun, his sock puppets and Steemit, Inc. the boot. They can enjoy an empty blockchain over on Steem as all of our amazing apps and developers, businesses and content creators move to Hive.
Hive is the people's blockchain. Hive is a manifestation of the Steem community's heart and soul. Our passion for community, cooperation and content creation and curation.
This episode of the LEO Show will dive into the basics of using the Hive blockchain now that it is up and running. I'll run through how to use the https://peakd.com interface to post, curate and more.
I also briefly talk about the changes coming to Steemleo. We are currently developing and testing changes and as of right now (as I post this), you are able to make posts from https://steemleo.com and they will show up on the Hive Blockchain instead of Steem. Those posts are eligible for both HIVE and LEO token rewards. More updates will be released shortly.
In This Episode:
How to Login to Hive (PeakSigner)
How to View Your Balances
How to Make a Post
How to Earn HIVE
How to Post to the "SteemLeo" Community (Now Called LeoFinance — Post On that to Follow this Video) and Earn LEO
Upcoming Changes + HiveProjects.io — Hive Keychain, 3Speak and Other dApps are all migrating to Hive
Links Mentioned:
---
Our Community
https://steemleo.com is an online community for crypto & financial content creators, powered by Hive and the LEO token economy.