HOW STEEMIT HAS BENEFITED ME//11 STEEM PRIZE POOL// WRITTEN BY @sirdeone10k.
My warm greetings to you all lovely friends on steemit. I strongly believe your night was cool and you are having a wonderful day. I really had a lovely night rest I'm also bouncing strong here.
I am writing in other to brief you on how I have been benefited on steemit or how steemit has benefited me since I become a member.
Before going into the benefits, I wont to first of all, recognize a wonderful person who's the host of this great contest. Thank you @samuel20 you are really great.
Now, the main deal.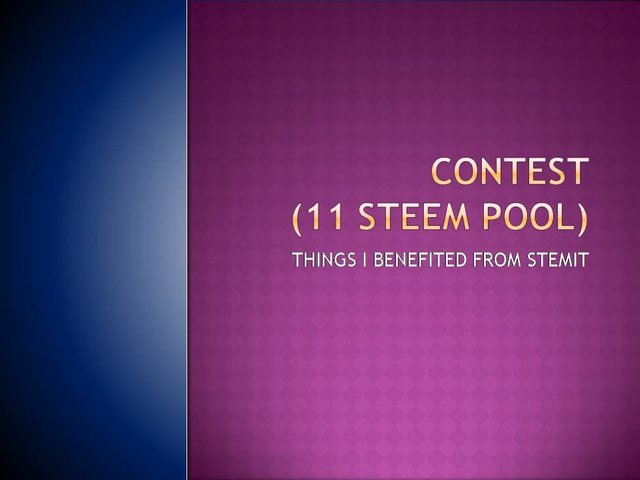 image source
The benefit of Steemit are numerous to me but I'm going to write on some of them. They are as follows;
COGNITIVE AND COMMUNICATION SKILLS BENEFIT:
Since I became a member of steemit, I have learned to think alternatively and creatively to solve a problem. As a result, I have high cognitive ability. Often in steemit requires contest just as this one, task - lid etc.
SOCIAL EXPERIENCE BENEFIT:
I have come to know that steemit is not all about getting STEEM or SBD, but the friends I have made and continue making here will be the friends I have for life.
They are also going to act as a social net, lifting me up when I am down and encouraging me to do my best in my profession, business aswell in my studies.
PERSONAL DEVELOPMENT BENEFIT:
In steemit, I have gotten personal development such as, critical thinking skills, time management, perseverance, communication and presentation skills.
PURSUING A PASSION AND DESIRED FIELD BENEFIT:
Steemit has helped me get a deeper and more theoretical understanding of my passion and has also open my eyes to possible career paths and mentors by reading other friends/members write-up or post.
INCOME BENEFIT:
I have benefited also in monetary aspect through my post in steemit. As the steemit slogan also goes "POST AND EARN'' I have come to realize that steemit is a platform of;
DO
WHAT
YOU
KNOW
HOW
TO
DO
BEST
AND
GET
REWARDED
I have earn money in regards to my post in steemit which may not be possible in other platform. But in steemit your post becomes your income.
HEALTHY LIFESTYLE BENEFIT:
Honestly, the post that has to do with healthier lifestyle people have posted in steemit which I have read has expressed me vividly on how to live a healthy life.
I have to stop here.
Thank you for reading my post.
Do have a wonderful day.
Special regards to:
@samuel20
@steemalive
@smooth
@ngonyi
@ned
@whitestallion
@focusnow
@talktofaith
@bright-obais