A personal story of how my Uncle Refused to help me. // By @simonnwigwe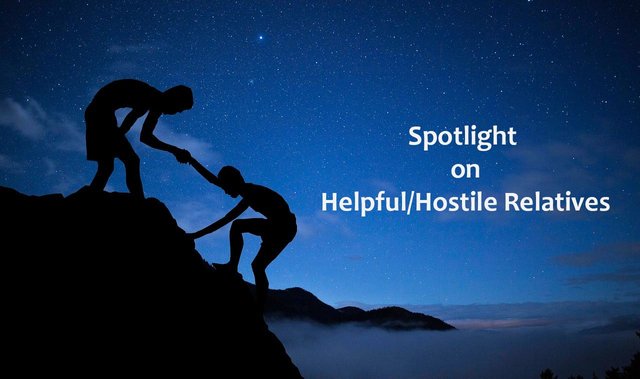 Introduction
Hi guys,
I must confuse these is a very interesting contest organised by steemalive community, I want to appreciate @focusnow for his countless effort in keeping these community always active.
Today I will be discussing about my very own uncle. At the age of five I lost my parents in a motor crash, and because am still very little my uncle carried me to take care of me in his house. Well at they beginning my uncle treated me as though am his pride and he never jokes with me. He provides for what ever I need and take me to places.
They tragedy all started when I was 10 years of age. My uncle got married to these terrible woman who came in to they house with her own child. She started poisoning my uncles mind towards me. Things my uncle never did to me he started doing them. He scored me at every opportunity. It got to a stage where my uncle told me to stay at home and stop going to school. He said and I quote "I don't have that kind of money to waste".
I dropped out of school at the age 14, that was immediately after my jss3 examination. Life became very unbearable for me. I was ill treated by they only relation I have. But inspite of all these am still very obedient to both my uncle and his wife.
When my mates are going to school I will be given ice cream to go and sell for them during the break period, some of my teacher where busy asking questions and even said they want to go and talk to my uncle but I pleaded with them because if anybody should go and talk on my behalf in that house that day I am finished. I will receive the beating of my life and still won't be given food to eat for the next two days, so in fear of these punishment I will plead with them.
Years later, something terrible happen in my house, my uncle brought with him some money he was supposed to deposit in the bank, because of time and his commitment on that day he was unable to make it so he brought the money home. The next day he woke us all up as early as 5:00am saying who took part of the money he kept inside they box. My aunty (his wife) immediately said who else will carry it if not me. She immediately pointed at me. I said to my self that day I am dead already.
My uncle never listen to what I have to say on that day he beat me so seriously as though I am an animal and after that incident he asked me to park my things and leave they house. I cried and beg him but his mind was already made up. So I left and that is how as a young man I began hustling and as God will have it I came in contact with people who were ready to help me.
I met people who clothed me, feed me and also gave me a work to be doing to sustain my self. I told myself that I must go to school so I worked for about 2 years and had a personal tutor who help me in Planing my life, I made some savings and then registered for waec examination which I wrote and I came out with flying colours.
Conclusion
Well, it all ended in praise, because if I were not sent out of that house, I could have not discovered anything new in my life. I couldn't have met the people I met, I also couldn't have seen the places I have seen. They saying every disappointment is a blessing is really a fact.
Thanks for these singular opportunity you have given to me to err out my life story.
Best regards
@steemcurator01
@steemcurator02
@steemcurator03
Thanks for reading...