"5 days writing challenge-meet a genius( Benjamin Solomon Carson)" day 1
who is a genius?
A genius is one who displays remarkable and exceptional intellectual abilities and creativity to the extent associated with the achievement of new discoveries. Let's take a look at one of them by name Doctor Benjamin Solomon Carson an American philanthropist and neurosurgeon.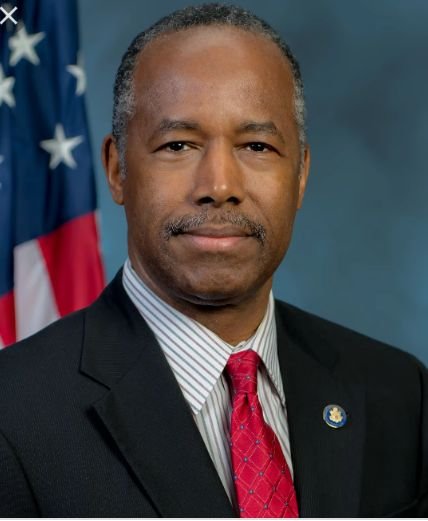 .
Image source
Background/profile
Benjamin Solomon Carson,a world acclaimed pediatric neurosurgeon popularly known as Dr Ben Carson is an American politician and retired neurosurgeon was born on 18th September 1951 in Detroit Married to Lecena Candy Rustin with three children; Murray Carson, Benjamin Carson Jr and Rhoeyce Carson. Dr Ben Carson is the second son of Sonya Carson and Robert Solomon Carson, the first son being Curtis Carson.
Dr Ben Carson had a humble and poor upbringing, he saw his father last at the age of eight when his mother discovered her husband had another family elsewhere and filed for divorce. After the divorce,his father moved in with his other family leaving him,his mother and older brother behind. In other to support the family,his mother did menial jobs for the rich and the family will always go to local farmers and offer to pick vegetables in exchange for a portion of the yield after which the mother will can the produce for their meal. Dr Ben Carson was a dullard in school often taunted by his classmates for his poor academic performance. He also had a violent temper and was quick to attack even his own mother at the slightest provocation.
Education
Dr Ben Carson attended southern Western high school in inner-city Detroit,on graduating from high school he enrolled at Yale University where he decided to study psychology but it proved to difficult not just academically but financially too but the support and encouragement from his mother, brother and friends he graduated with a B.A in 1973. Afterwards, he enrolled in the school of medicine at the University of Michigan after he decided to become a neurosurgeon rather than being a psychologist. He earned his medical degree in 1977 and moved to Maryland with his family where he became a resident at the John Hopkins University teaching hospital.
Career achievement
Doctor Ben Carson became the first medical doctor to successfully separate Siamese twins joined at the back of the head at the John Hopkins University teaching hospital in Baltimore United States of America. He also pioneered a branch of medicine known as hermispherectomy where you take away half of a patient brain and the patient will function like any normal human being again. At age 33, he became the youngest American physician to become the director of pediatric neurosurgery. He is an inspirational written with many books to his credit such as; Gifted hand publised on 1990, Think big published on 1992, The big picture published on 1999 and Take the risk which was published on 2007.
Awards received by Dr Ben Carson
Dr Ben Carson was selected by the Library Congress on 2002 as one of it's "living legend" . The following year,he was featured in CNN and Time magazine as one of the nation's 20 foremost physicians and scientist. In 2006, he received the spingarn medal which is the highest honor bestowed by the NAACP. He was also awarded the Ford's theatre Lincoln medal and Presidential medal of freedom in February 2008 by president George Washington Bush. Finally he was portrayed in the television production of Gifted hands in 2009.
why I choosed to talk about Dr Ben Carson/ conclusion
Dr Ben Carson is a "go getter" and he inspires me a lot. Despite all his limitations and challenges in life he achieved his goals. His story motivates and encourages me to work hard despite bad circumstances, I love his vibe and hope this story will encourage you too, Thank you for reading!.