Learn the new features on www.steemcryptic.me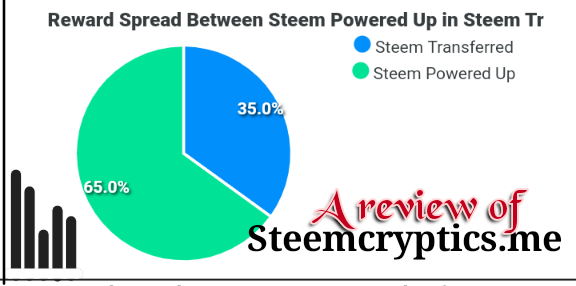 Using Steemcryptic.me
Introduction
www.steemcryptic.me is a rich collection of useful tool created by @starlord28 who is a witness on steemit. It's primary purpose is to help check various forms of abuse on the platform, provide monthly income status and club status. The steemcryptic app was upgraded to include more features allowing a Steemian the opportunity to do the following.
Check Edit History
Retrieve Delegation History
Get Income Report
#club5050 Status
and more
Version
The current version of the steemcryptic.me application is V 3.2.7 and this is the version used in this review of www.steemcryptic.me.


Loading steemcryptic
To load this application,
Load a web browser
Select the Address bar
Type in www.steemcryptic.me/club5050
Press the return/enter key to load the app

Check Edit History

The check edit history of steemcryptic application allows a user access to all the adjustment or changes done on a specific post. It provides what was originally posted and a history of all the changes made on the post. It is more like a forensic tool from my perspective.
Though the tool had the crypto Academy as it's target, knowledge of it's functionality can be used in diverse circumstances.
From the menu button located at the top right corner of the screen,
select Check Edit History
Get the steemit URL of a particular post that had been edited.
Past the URL in to the search bar.
Select Reveal history
At this point, Scribe will dig up all the details of the specified post using the SDS APIs and display it on UI in a readable format.
With Check Edit History, deleted posts are not retrievable from the blockchain even when the data is still on the blockchain, you may just need a better app for that.
This is the URL for this post
https://steemit.com/hive-167622/@manuelhooks/learn-the-new-features-on-www-steemcryptic-me

Output
• The green highlight indicates editing by addition
• Red font with strike through is editing by subtraction

The date and time of each Edit session will be provided

Retrieve Delegation History

This shows incoming Delegations to the specified account within the time indicated.
Drop the menu options from the top right corner of the screen,
Select Get Average Delegations
Enter the account name
Provide a start and end date.
Select the Get Delegated details button
Input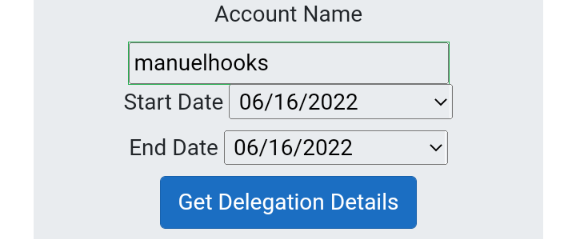 Output



Monthly Steem Income

The Get Income Report option offers you the opportunity to query the steemit for any indicated account based on a specified period. No key is needed for the income analysis.
From the menu button at the top right corner of the screen,
Select Get income report
Enter the account name
Provide a start from and to date.
Select the Generate income report button
Input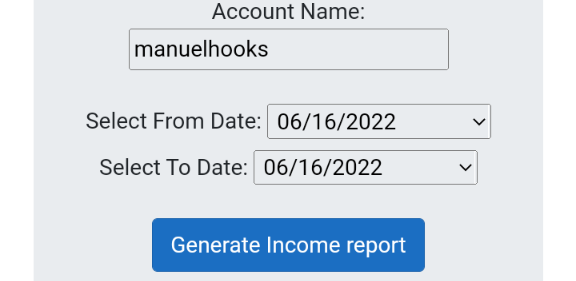 Output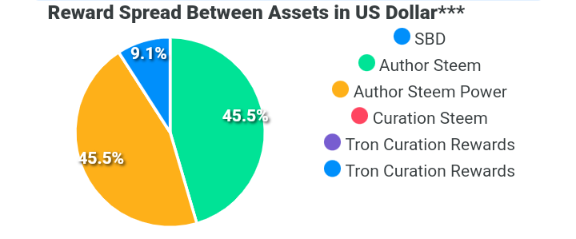 Here you can check the club status of any account as it compares the total income with the amount powered up based on the indicated duration.
From the menu button at the top right corner of your screen,
Select #club5050
Enter the account name
Provide a from and to date.
Select the fetch SBD:Steem power up ratio
Input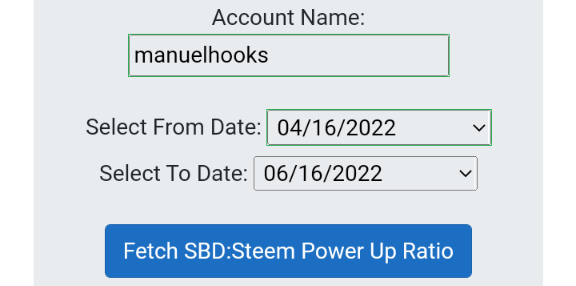 Output