Steem Road Show Day 12: Promoting Steemit in Aba City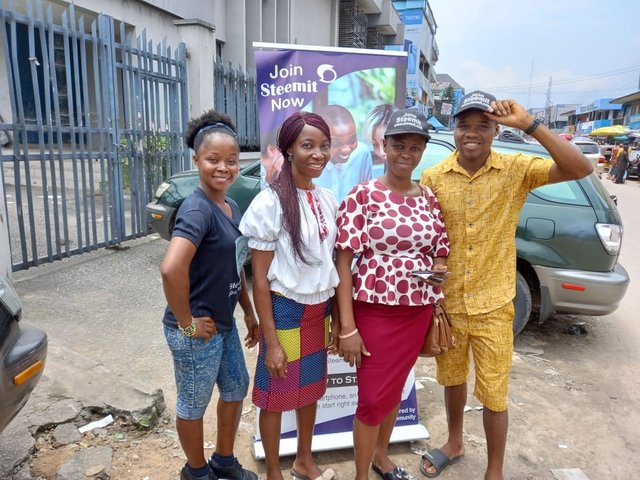 Set at 10% Beneficiary to Steemalive
I woked up this morning fully appreciative of Jahs protection and care upon me and every sincere soul alive. I also did my morning daily bible text called examining the scriptures daily.
I never knew I was going to join our road show today because I had engaged myself with a part time job but fortunately for me, today was a work free day where I worked.
I did some house chores ranging from sweeping, tidying up the house, cooking and washing dishes etc. As soon as I was done with those things, I took my bath, ate and prepared and set off for the journey.
Coming from my place has not always been easy but I I've placed it upon myself that am not going to give up on what I had started doing on steemit till i see myself succeeding.
So off I went to the bus stop and boarded a bus going to park. @marajah told me earlier on when I put a call through to her that we would be stationing our banner at St.Micheals (people sell phones and its accessories there) we would be running the show around that place. Funny enough, I had never been to st. Michaels to do anything or buy a phone at all this was my first time. Steemit road shows has expanded my Learning and locating of places in this Aba. I wasn't used to Aba and its environs rather circumstances made it so.
Like I mentioned earlier on, I dropped at park and made several calls to @marajah so she could keep on directing me till I get to the location, sometimes during our conversations, I couldn't even make out what she was saying until she asked me to call @samuel20. So, I just had to call the latter to locate the place. And finally, I did locate them.
THE SHOW PROPER
Yes my friends I met Steemian @samuel20 as usual standing beside our banner doing the needful and we exchanged greetings I asked after the others and I was told they had gone inside the phone village Because I could still recollect in Lagos where I stayed then, we do call a particular place where computers and its accessories where sold (computer village).
So with my fliers handy I also went in there to create awareness and to try harder this time to get a newbie. I challenged myself today and Gods grace I did get one registered.
First of all I met with a lady that was selling recharge card in a phone accessory shop. She sounded so interested that she asked me so many questions like: am I going to pay money to register? After writing articles how will I be paid and the money get transfered into my account? And I don't have an email address but I have an android phone will an email be opened for me? Fellow steemians pls do you meet up with these kind of questions? I did try as much as possible to answer her questions and to encourage her to come over to where our banner is so that our coordinator being @samuel20 can register her. Unfortunately, she said she was on duty and can't leave her shop then. I gave her the flier and we exchanged numbers so I could follow her up to giver her reminders.
I met other prospective steemians I said so because one never can tell when they would contact @focusnow and register behind us (lol). Some collected our fliers because they were so busy and some were on the move and promised to make a call. I did collect a young ladies number she was into lotto had an android phone but I was calling @marajah to come over and register the lady for me because she couldn't leave her station but @marajah couldn't make it to the place.
****my activity pix
Lastly, I met this young guy whose brain was at ease and at home. Immediately I made all the explanations which included that it wasn't free but that if he doesn't have the cash, immediately he starts earning the money would be deducted from there. He didn't doubt at all so I introduced him to @samuel20 to register him and our pictures were captured together his users name is @zulux123 I also collected his line for a follow up.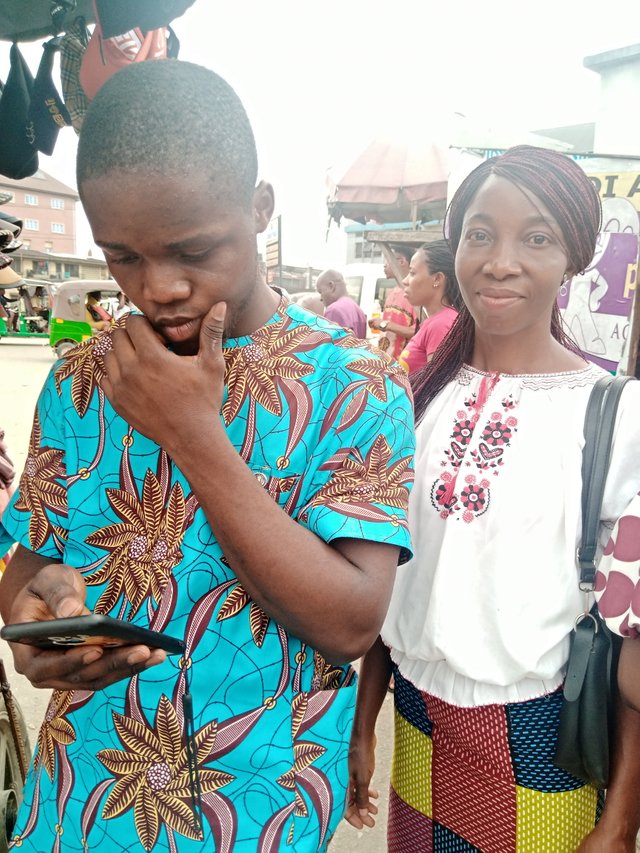 Myself and @zulux123
At about 12:30pm we concluded the road show and unknown to me there was really a mass turn up of boys or will I call them men that showed up for the road show While we were just three ladies on the show.
Below are there users name:
@samuel20
@ruggedking
@jokkystar
@osolife
@peterabagi
@ready247
@humblesoul
@chigold
@marajah
@gladys4 being my humble self.
Yes, we all took group and individual pictures in front of our banner.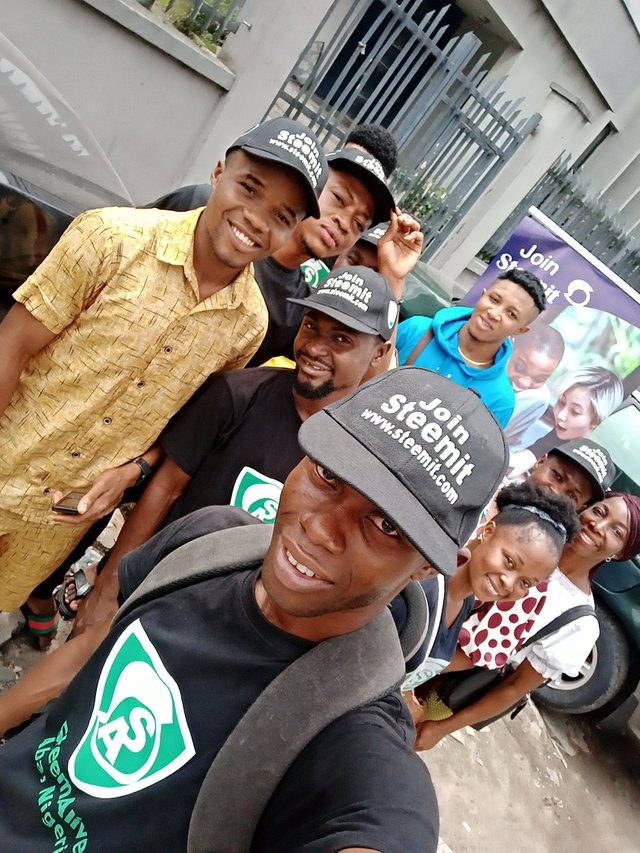 CONCLUSION
We went for refreshment at an African kitchen, When we where done with the above pictures. Like the team that we had always been, the meals were covered by all the old promoters and special thanks goes to them for a delicious African dish. @focusnow, @samuel20 @steemalive and promoters thank you so much.
Below is the pictures we took in the kitchen:
****food pictures.
When we left the kitchen, we dispatched. Some including I myself went to the office while some went home. @samuel20 sponsored us to office about four steemians. When we got there we all rested a bit @samuel20 encouraged my fellow steemians there to write down the newbies they registered and their phone numbers @samuel20 also wrote down the one he registered on my behalf as well. @marajah decided to help out with the office clean up while already so tired, I left for home.
Thanks guys for reading through my post. Make your comments and votes to enable me learn more and be active on steemit.