Learn With Steem: Exploring some basic features of Kucoin Exchange mobile app.
Introduction
I was looking to buy a particular coin which I believe have some growth potentials. Among the crypto exchange platforms that I came across where the coin is listed, is Kucoin exchange. I have heard about this exchange platform before, but I decided to take a look this time by signing up and taking a look around. What I saw was not bad at all, so I decided to show us how to do the basic things we do on exchange platforms.
So in this tutorial, I will explain how to do the following on Kucoin Exchange app:
How to fetch a wallet address for deposits (USDT)
But before I go into the above lessons proper, here a few things I discovered by going through the app:

Some cool things about Kucoin Exchange
While I was exploring the Kucoin mobile app I just downloaded, I discovered some interesting stuffs I want to share with you dear readers.
1. Security of Assets: I dsicovered that Kucoin care about the security of your funds. Hence, they have implemented several security features that are designed to eliminate asset loss in of any manner. For example, they have two wallets the Main wallet for sending and receiving crypto assets. Then they also have the trading wallet for buying or selling cryptos on the platform. Under the trading asset, there is another password feature you must use.
Each time you wish to complete the selling or buying of any coin, you are expected to supply your trading password. Otherwise, the transaction will not be approved. They also have email and SMS confirmation codes. Plus you can implement 2FA too. These are cool features for security, that are very important.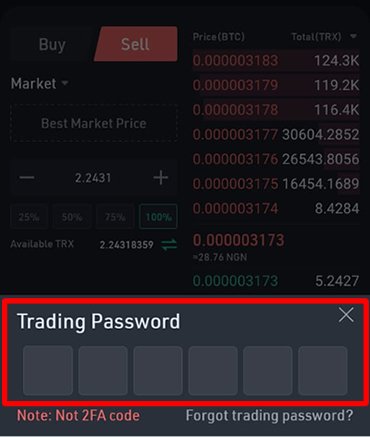 2. Many Crypto earning tasks: There are many opportunities to earn cryptos on this app. They have a referral program where you are rewarded with small tokens from bringing your friends. New users are rewarded for making their first deposit (100 USDT deposit). You can earn a daily passive income by holding the native coin KCS (At least 6 KCS). Ofcourse, there are learn and earn projects and many other earning programs. That is really impressive.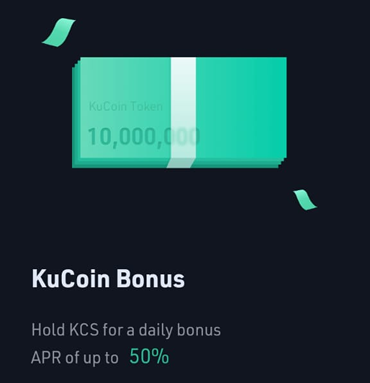 3. Many Coins not found in other Exchanges: This si another cool thing I discovered in this exchange platform. There are many cryptos that I have never heard of before, that are listed on this exchange. They represent opportunities to invest small funds in low value coins that have a lot of potential. I saw many of them like that.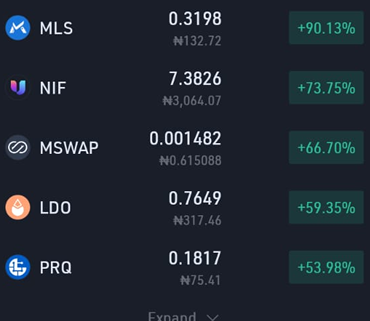 There are many other interesting things about this exchange, including that they also listed our very own Steem coin on the exchange. I will do a more detailed review later. But for now, lets me demonstrate the lessons mentioned above.

How to fetch a wallet address for deposits (USDT)
This is one of the most basic things you can do on an exchange app. So I will demonstrate how to get your USDT(TRC-20) wallet address so that someone can deposit some USDT into your wallet.
Step 1: Open the Kucoin mobile app. It will take you to the home page. On the bottom right hand corner of the screen, click on Assets.
Step 2: Click on Main. Then, search for the name of the coin you wish to deposit. In this case, I searched USDT. Check Image below.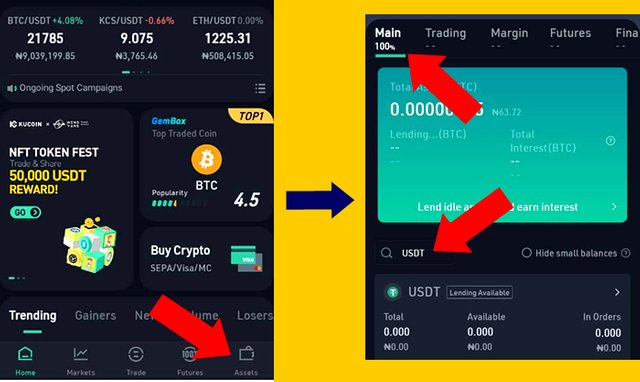 Step 3: Click on the USDT which you just searched. Then on the new page, click on Deposit. Check the Image below for reference.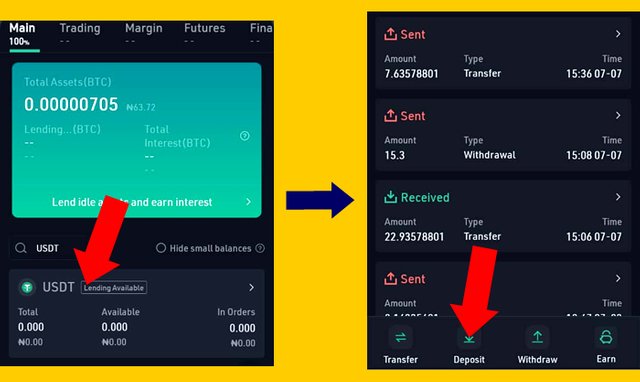 Step 4: Next, you need to select the network that you will use for receiving the coin. We are going to use TRC-20 for this deposit. So I will select TRX(TRC-20) from the options. After that, I will then copy the address by clicking the copy symbol just beside the address and send to the person that will deposit the USDT into my address. Check the image below: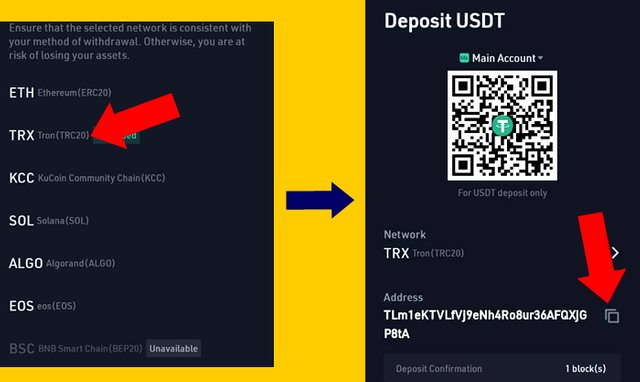 Congratulations. If you followed the steps above, you would have copied your USDT wallet address and someone can easily send you USDT on the Tron network using this wallet address

Conclusion
Kucoin is really nice , with competitive features on the mobile app. I think I will soon do another tutorial. Maybe I will demonstrate how to buy and sell coins on the exchange so that anyone interested to learn about it, can easily do so.
If you have any questions about this tutorial, feel free to drop them in the comment section of this post. I will attend to them as fast as i can. Thank you so much.
Note: All images are my screenshots, unless otherwise indicated.