Technology in transportation - the ancient and modern forms of it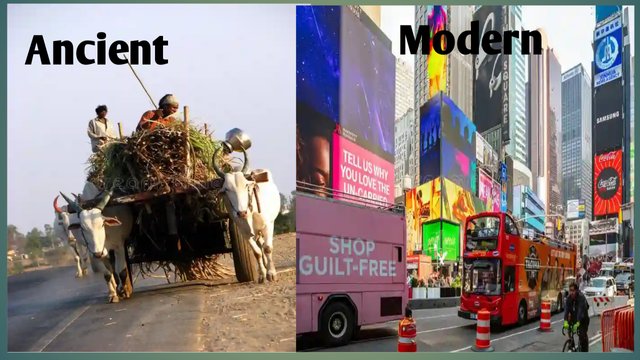 Greetings guys! 👋👋
It's been a while now. To get back, I want to participate in the prowriter week 2 challenge along with my friends, @precious123, @prechy and @sammylove. I want to appreciate Steemalive for this 100% engagement challenge.
Starting with Technology in Transportation, ancient mode of transportation in some areas are still adopted in modern mode of transportation but includes some upgrades.

Meaning of Transportation
In a simple sense, transportation is the place to place movement of people and goods. When people move from an initial position to a new position, it is known as transportation.
Some modes of transportation includes
In ancient times when there was no Technology, people transported through land and water but mostly land. They did this using simple machines.

What are ancient forms of transportation on land?
People moved from one place to another on land in Ancient times using the following means
Trecking: Walking with leg from one place to another.
Beast of burden: Using animals such a mule, Carmel, donkey, horses, for carrying goods from place to place.

What are ancient forms of transportation on Water?
They construct platforms with woods (especially bamboo), tieying or bonding it with robes to sail the water from one region to another.

They build boats and canoes from woods and use long sticks as paddlers. This is enough to carry few passengers and goods.

Ships are constructed with woods and woven heavy robes to Which the fabrics are attached to help the ship sail across with winds rather than engines.

Mostly, the force of the ship is manpower. On the lover deck, people paddle the ship and is controlled by the captain.


Technology has really improved and evolved in many areas of transportation. Air as a means of transportation with others have also been added from the previous 2 (land and water) in ancient times and many things being improvised and upgraded on the land and water transportation.
What are modern forms of transportation?
The modern forms of transportation are:
Air: The use of aeroplane, jets, spaceship, rockets, etc to transport people and goods from one place to another through air
Land: All big cities use vehicles and other motors for transportation from one part to another or from city to city.
Water: In this modern era, ships are now made with steel instead of wood. They move with engines for force and motorized cranes for loading and unloading goods instead on ports. Boats and canoes use engines as well.
Pipeline: Crude oil and it's products are transported through pipelines from one town to another.

Which modern transport methods are available in your city?
All the modern forms of transportation are available in my City Uyo. We have Ibom Air, Akwa Sea port, and so many moto parks especially the Akwa Ibom Transport Company (AKTC). They all have good services and you can likewise book a trip online.

How does modern transportation affect the environment?
Modern transportation affect the environment both in a positive and negative ways. In the positiveside, transportation creates ways for both imigration and emigration into new environments. On the negativeside, transportation has done so many bad to us.
As more routes are created, animal habitats are destroyed.
Smokes from vehicles pollute the environment leaving it the air unsafe to breath.
Transportation leaves engineers and scientists with the anxiety to create or invent new forms and vehicles which are mostly compatible with them for easy and fast movement from place to place.
In a congested city, traffic will be very difficult making transportation slow.
Noise from vehicles also cause noise polluton.

How can modern transportation be improved to become environmental-friendly?
This can be done in two ways.
Government and their agencies: They should contruct larger roads for vehicles. They should provide trees along the road sides to purify the air of unwanted toxins from cars.
They should repair traffic lights and provide their officers for during times of repairs or other emergencies. Enforcement of governmental polies and punishment of offenders should be encouraged.

Motorists: Motorists should endeavor to use the main roads and avoid shortcuts which can lead to accidents. Motorits should adhear to all traffic rules and regulations.
Motorists should quickly repair their vehicles so as to avoid accident, noise and air pollution.
Following these precautions, modern transportation is sure to be improved greatly.

Conclusion
Transportation have gone a long way since the introduction of technology. Other forms which are now here for our betterment are also going whiled which we should be very cautious of to avoid pollution and injuries. Now we pay high amounts to move on animals as a means of transportation. Thanks to technology, we can still move about to our different destinations on land, water, air, and rail ways.
To my dear friends, let's roll