All4one My bucket list - 5 things I want to achieve before kicking the bucket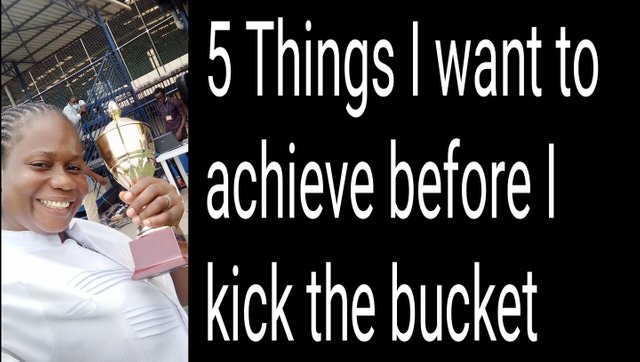 Good evening everyone welcome to my page,
I have somethings I would have loved to achieve before I kick the bucket 🪣 but it won't be by my power rather by Jehovah's grace, so let's see some of those things.
5 things I want to achieve before I die and why each of them are important.
1) Building a hotel.
Yes I want to build a hotel of my own before I die because it is a form investment that never fades out, even when the hotel is not functioning properly I can use the building for another business purposes or even sell the property and invest the money in another ongoing project.
At what age do I want to build a hotel.
I wanted to have this investment done at the age of 40 because I wish to retire at 45 and enjoy my wealth.
Why ist challenging right now?
It is sooo challenging because the scenes of the world keeps changing, businesses keep turning upside down and money keeps running away.
More to that I had a plan of being self employed at the age of 30 but right now am 37 and I want to achieve this at 40 hmmmmm is going to be a hug miracle because right now am still a salary earner so the challenge is obvious.
2) I want to build a 4bedroom bungalow for my parent
Yes I want to build a bungalow for my parent because they deserve the best from me, they suffered a lot to train me and I need to make them happy and am certain that they will be very happy to have a good and comfortable apartment from me before they die.
More to that currently we don't have a comfortable apartment so that's more reason why I want to build a house for them before they kick the bucket 🪣 or I die.
3) I want to sink a borehole for my parents.
Yes like I said earlier my parents deserve the best, currently to get water in my village is a bit stressful so I want to sink a borehole for my parents.
Moreover if they have such investment they will be making money on daily basis from it and this will assist them in some little financial problem.
4) I wanted to have 3 children.
You can see I say wanted because right now I don't even know if I can have one because of circumstances.
I thought at the age of 30 or latest 35 am done with having children it will just be the stress of bringing them up but sadly I couldn't even get married at 30 so I couldn't meet up with that goal.
The challenge now is that some health issues are coming up as a result of old age hahahahah and this makes it difficult to have the 3 children I dreamed about.
But with Jehovah's help I will achieve the goal of having a child even if they are not upto 3.
5) I want to retire at 45.
Chia this dream is a hug one because I don't know how it's going to come true, because I need to lay all the needed foundation to achieve this dream.
At what age did I wanted to achieve all my goals
I wanted to all the above goals before the age of 43 so as to have some time to enjoy in my life but funny enough am 37 now so I have only 6years to go let's see how it goes.
Why is achieving the above goals so challenging right now
The first challenge now is that am still a salary earner with huge responsibility that takes away the salary even before it arrives.
I need to be self employed first and have a good business and savings to achieve all the above goals.
Conclusion
6years from now I will write about which of the goals I have been able to achieve and the ones I couldn't meet up with.
I pray Jehovah will help me to achieve some of my goals before I die.