My diary game(21-11-2021),#betterlife10% benefiary set to @steemalive community
Hello my fellow steemians,its been a while my regard to all of you and i hope everyone is doing well today. welcome to my blog.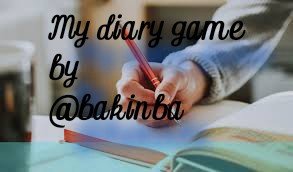 Image source
Morninig
When you sleep and wake up you need to thanks God for life because many has sleep and didn't make its again in the morning. So waking up today i give thank to God and did my daily text(morning worship),brush and bath to prepare myself ahead of our meeting for today which start by 9am and end by 11am.
I was able to meet up,by 8:45 am done with everything and get ready for our meeting through Zoom cloud meeting, so just like i said we start immediately its is 9am and believe me the public talk and the meeting in all was very interesting and encouraging,we learn a lot and its help us drawing more closer to God.
After the meeting,i went to my shop to do a little delivery of goods,my customer beg me to do well bell for her because Monday is sit at home in earthen side,so there will be no movement so its will affect her if its pass that Monday without delivering its,that why i volunteer to do its for her.
Afternoon
Its already 3pm after i finishing sending the goods off,so instead of going home i receive a call from my friend about our ongoing football match that our group is playing against Niger cong.
So i decided to go and entertain my eyes a little,the match was so interesting unlike other match we play with them,but we win them.

PFW 5-NiGER 3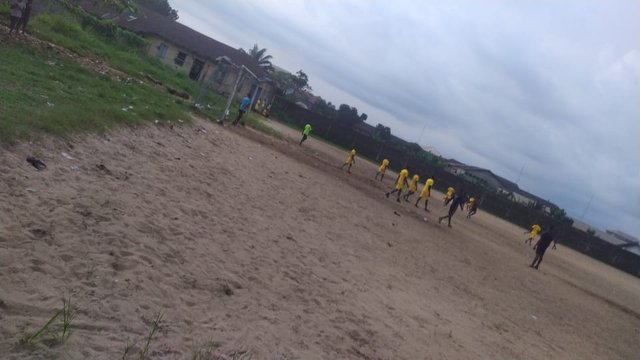 (Spotlight from the ongoing match)
We win them 5 againts 3,even though i didn't play because of the fire accident i had,but i believe with small time now i will be joining them to play football.
After the football match my friends invite me for a little refreshing for body to cool down small and after that we all went back to our different destination and that how we call its a day!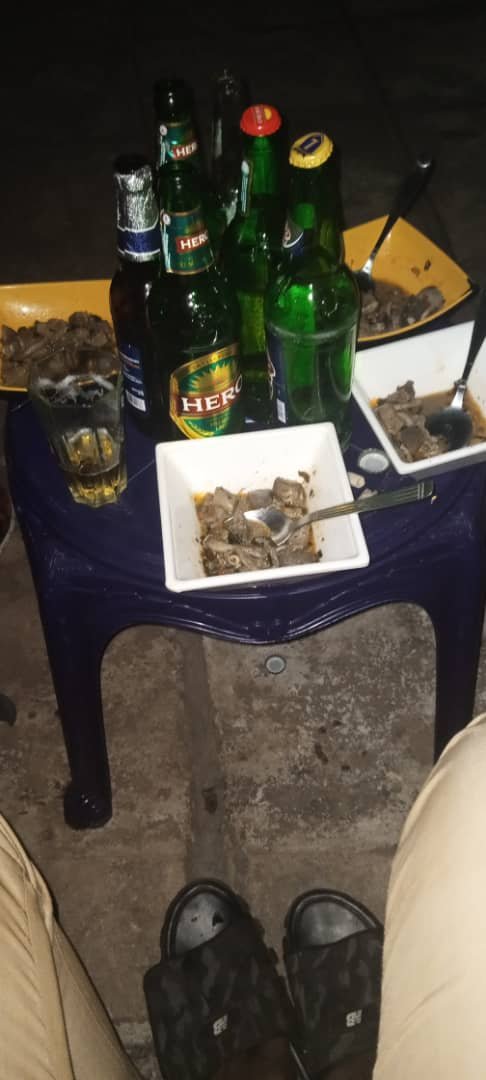 (Small drink and pepper soup)
ADDITIONAL LIFE LESION WE NEED TO DRAPE.
Sometime we ask why do men mostly die first in the family.... Let me break something down here, the world thinks men are made of steel and feels no pains, the world thinks men has no emotions so they feel no emotional pains. They think the men enjoy been neglected, they feel men hate been cared for..... It's OK let me get some things right, men are mortals they cry, weep, agonize and even wish sometimes the burden of life is lifted from them. But instead of complaining they choose to cry in secret, they choose to endure every treatment from the kids and women around them, they smile even when the burden on them should weigh them down, they think about how to solve the needs of others yet theirs are been neglected...... In our world it's seen as nothing when a woman hit a man but a mere touch of woman from the man he will be arraigned for beating.... They die in silence, they prefer keeping their pains to themselves only to share it with friends at the bar. Then let me ask who can survive with all these frustrations without been cared for,not loved, not noticed, not consoled or even praised for been strong.......... FIGHT FOR MEN WE DESERVE TO BE LOVED TOO.
Thank for reading!
Cc.
@focusnow
@ngoenyi
@whitestallion
@bright-obias
@samual20
@steemalive