List of Active Posters | September | Sri Lanka | 10% to SL-Charity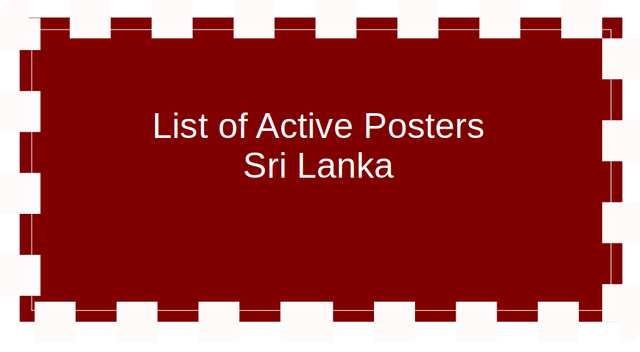 I went through #srilanka tag and the #SUT by @neerajkr03 to fill the list of active posters in Sri Lanka. The posters are actively posting within the last 7 days.
Variation of Active Posters During Past Months 2021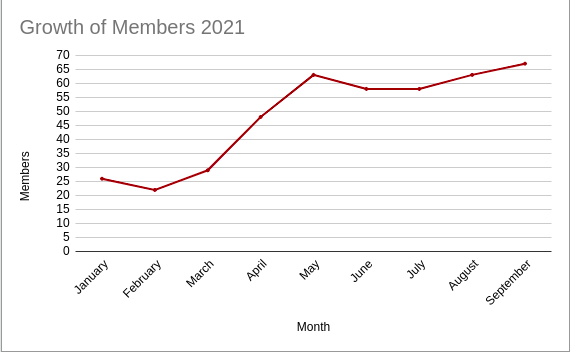 Following is the list of members according to alphabetical order.
| # | Name |
| --- | --- |
| 1 | a-lass-wonders |
| 2 | anupama |
| 3 | arshani |
| 4 | ashanmit |
| 5 | ashen99 |
| 6 | besticofinder |
| 7 | champikawije65 |
| 8 | chanchala |
| 9 | chathux |
| 10 | damindu |
| 11 | damithudaya |
| 12 | dasuni |
| 13 | dhanux94 |
| 14 | dilchamo |
| 15 | dilshan96 |
| 16 | dulip |
| 17 | goldcoin |
| 18 | hansihmd |
| 19 | imanthadd |
| 20 | inshi |
| 21 | inudi |
| 22 | ishdeva |
| 23 | janakee |
| 24 | janindu |
| 25 | madhumunasinghe |
| 26 | madushanka |
| 27 | malinga |
| 28 | mayu95 |
| 29 | nalin10 |
| 30 | nethanya45 |
| 31 | nilumadu |
| 32 | oshadie |
| 33 | oshimadu |
| 34 | pasindukd |
| 35 | prasadi |
| 36 | pushpa99 |
| 37 | pushpika |
| 38 | randulakoralage |
| 39 | ransika |
| 40 | rasinkani |
| 41 | reddileep |
| 42 | roshipeiris |
| 43 | ruwani |
| 44 | ruwankumara |
| 45 | saman88 |
| 46 | sandu |
| 47 | sandun98 |
| 48 | sandupi |
| 49 | sanuri |
| 50 | sarath72 |
| 51 | sasanka96 |
| 52 | sathsara |
| 53 | sindi16 |
| 54 | sithara |
| 55 | sridhara |
| 56 | sudaraka |
| 57 | templeflower |
| 58 | tharushi2006 |
| 59 | thimalteb |
| 60 | thimira |
| 61 | thisarani96 |
| 62 | thisaru |
| 63 | udsm |
| 64 | vishwara |
| 65 | vngraphy |
| 66 | warunarukshan |
| 67 | wasana |