Team 2 | Curation Guidelines for March 2023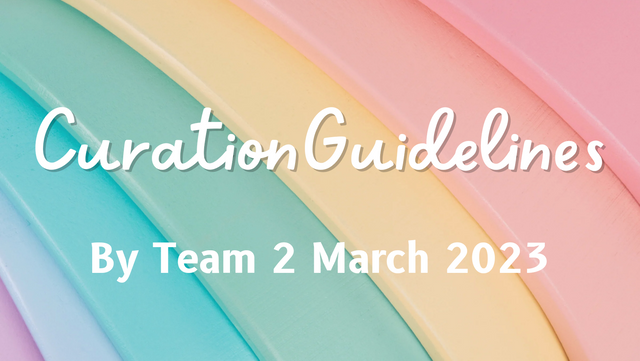 We are again selected for March month curation and we are glad that we got this opportunity, the steemit team has allowed us to support users. We are thankful to @steemitblog and the steemit team for this opportunity.
As there are a total of 7 teams selected for March 2023. Our team members are
Curation Days
We will curate on the following days
We will use the following pattern to comment on users' posts after upvoting a user post or comment.
Your post has been supported with a 30/40/50% upvote by @user from TEAM 2 of the Community Curation Program. We invite you to continue sharing quality content on the platform, and continue to enjoy the support, and also a likely spot in our weekly top 7.
Voting date: March 2023

We will support original and quality content. We will reward quality content and not support plagiarised content. You have to carefully check your post plagiarism before publishing on steemit. You can use different plagiarism detectors for checking plagiarism e.g https://smallseotools.com/plagiarism-checker/, https://www.duplichecker.com/.
Curation Guidelines
We will not follow tags for specific topics but we will support quality content and comments.
Post should be 300 words
Content must be plagiarism free
Content must be steemexclusive
Images must be copyrighted free and the source should be mentioned.
Users are not using any bid bot votes.
Vote Percentage
---
Club
Voting %
Null
Club5050
30%
35%
Club75
40%
45%
Club100
50%
55%
Comments (Minimum 50 words)
10%
At the end of the week, we will post our weekly report which will show our whole week's activities, how many posts are curated, how many languages are covered, and how many communities we visited and countries. We will choose the 7 best posts for weekly nominations which will be chosen by each member and we choose the quality content for weekly nominations.
Best of luck to all the users for March 2023 and hope you will post more quality content in the coming year. If you still need any kind of help we are here for your guidance and support.