Hisuian Braviary Raid Day Recap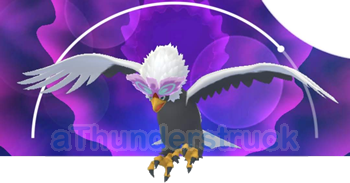 Ahoy, this past Sunday a Hisuian Braviary Raid Day took place from 11 am through 2 pm local time as part of the Ultra Unlocks for the Hisuian Discoveries event. All Gyms hosted Hisuian Braviary Raids for the full 3 hour window of the Raid Day and we could get 5 free Raid Passes by spinning the Photo Disc at Gyms during the event (or up to 2 hours after). This is the daily free pass + 4 more.
I met up with two friends around 1 pm that day to do these Raids. As we weren't planning to do many, if any, with premium Raid Passes we didn't really have to start at 11 am. Just meet up in the city centre and walk to a few of the Gyms.
It was actually great timing, because I was walking to our meetup location and it was like Partially Cloudy or maybe Sunny weather. But then at 1 pm the in-game weather changed to Windy, so that was great timing to get some weather boosted Braviary!
Here is my first encounter and its stats.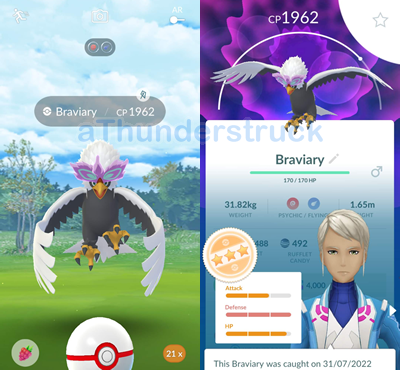 The Raid Day event bonuses included more XP from Raids, these Braviary Raids were 3-star Raids so it was like 7500 XP per Raid. Also more chance to receive Rare Candy XL. Although with them being 3-star Raids this chance was still really low I guess. Because I ended up getting 2 Rare Candy XL from those 5 Raids that I did.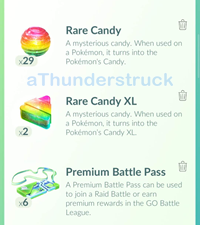 My regular Rare Candy aren't all from those Raids, I sitll had some in my item bag before the Raid Day started.
I ended up doing 5 Hisuian Braviary Raids in total. My highest CP was a 1978, which was from my 2nd Raid. You can see the 5 I caught in this screenshot and then I also show the stats for the highest one that I got. I already had Lucky Braviary in my Pokédex from evolving a Lucky Rufflet once. This was the regular Braviary, but since Hisuian form shares the same Pokédex number it's also Lucky. That's why the number for caught is at 6, 1 from evolving a Lucky Rufflet sometime and then 5 from those Hisuian Braviary Raids.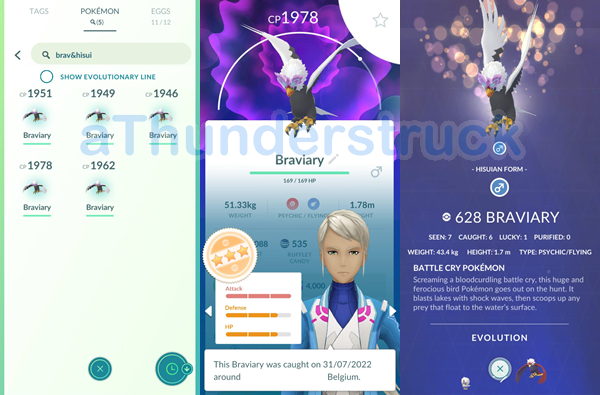 After we did some Raids, the 3 of us walked around for a while too as it was quite good weather to enjoy while walking around, talking with each other and catching some Pokémon.
Did you use your Raid Passes during the Hisuian Braviary Raid Day and did you get a good one?